Are you a wrestling fan who is worried about missing the next match because you don't have a cable connection? Not to worry, just ask a friend who has a cable to record the match and send it to you. But, in such a case, you won't be able to relate that much to those sweaty actions. Also, if you're going with any bet, viewing the match later is not even logical. And we presume you are overwhelmed, scratching here and there to find out how to watch AEW without cable. Here, we cover all possible aspects of the question.
7 Reasons Why You Have to Watch AEW Without Cable
With our professional observation, we've identified the following common reasons why people look for ways to watch AEW without cable:
Certainly, the first possible reason is no cable connection.
You are on tour and reside in a geo-restricted (for AEW matches) location.
Fund issue or technical problem associated with your payment method.
You are on the road, and your cable-connected device is in the house.
Your cable connection is allowed for only one device, and the TV room is full of guests.
There was a storm, and the cable connection went out. Restoration will take time.
The cable package does not include TNT or TBS.
If you fall into any of the above criteria, you will definitely need a solution to watch AEW without a cable connection. So, what are the most suitable ways?
How to Watch AEW without Cable?
We have categorized the ways into three segments: using a VPN, using live streaming services, and using live streaming devices.
Using Live Streaming Services
There are tons of live-streaming services. Here, we list only legitimate and quality services.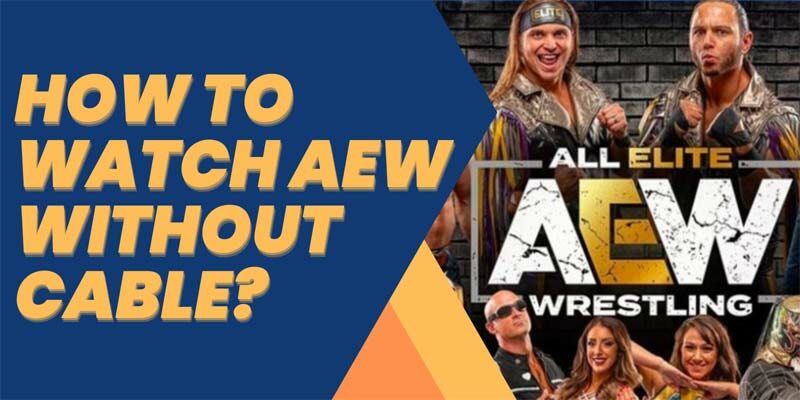 1. HULU+Live TV
HULU is now one of the most popular live-streaming solutions. If you don't have a cable connection or your cable service package does not include TBS or TNT, HULU's Live TV is a lucrative solution to watching AEW. You can enjoy AEW's live episodes by subscribing to HULU's service, which not only serves TNT and TBS but also more than 70 other channels. To use this HULU service, you need any sort of digital TV solution, like Android TV, Apple TV, LG Smart TV, Samsung Smart TV, a laptop, desktop, iOS, or Mac mobile or tablet device, etc.
To use this service, follow the below-listed steps.
Get a HULU subscription (a free trial for seven days at $9.99 and monthly at $69.99).
Launch the Hulu site or app.
Go to "Live TV."
There is a three-line icon at the lower left; click on that.
Scrool the channels and find TBS or TNT.
You will be able to see the live AEW match now.
Related Article: How Can You Watch Hulu at Two Different Houses? (Make it Possible!)
2. YouTube TV
For any type of video or live streaming solution, YouTube surely stands within the top three positions. You can watch AEW matches more conveniently if you subscribe to YouTube TV (monthly $64.99 for 85+ channels, with a 60-day free trial period available). Check out the guidelines below to learn how to use YouTube TV.
Install the YouTube app on the respective device (phone, laptop, smart TV, etc.).
Find and press the "Cast" tab.
Find and select the device you want to use for watching.
The respective video player will be opened, and you can watch the AEW match now.
3. DirectTV Stream
DirectTV Stream is another fascinating replacement for cable solutions. It offers 65+ channels (including TNT and TBS) at a price of only $74.99 per month. There is also a five-day free trial period available. To use, follow the below instructions:
Purchase the subscription or sign up for a free trial.
Download the app and connect the device (phone, TV, laptop, etc.).
Just go to the respective channel and stream.
4. Sling TV
Sling TV is the cheapest solution. It costs only $40 per month for 30 channels, including TBS. To use this service, follow the below steps:
Sign up for an account and purchase a plan.
Download its app and connect the respective device.
Find TBS and stream the AEW. It is simple.
Using Live Streaming Devices
Well, the above services you can use on any type of smart TV, Mac, or iOS device, i.e., you need to deal with many parties' services regarding the viewing device, app, channel, financial media, etc. Also, if you are not tech-savvy, you will have problems with those. Here are some specialized live-stream TV solutions (via a set-top box) that are more straight forward to use. We have them listed below.
1. Apple TV
Supports TBS. The cost varies depending on the plan and typically ranges between $6.00 and $16.95 per month.
2. Roku
You can watch AEW matches live via Roku. The price ranges between $22.99 and $24.99
3. Fire TV
At present, it is an exclusive and highly desirable streaming solution. Monthly fees range between $29.99 and $399.99.
4. Chromecast
For this, you have to spend $30 per month.
5. Amazon Fire TV
It will cost you $59.95 per month.
Using VPN
Well, if you are traveling and are currently in a country where AEW is not allowed to broadcast, this option is for you. Activate a legit VPN service like Nord VPN, Express VPN, etc., and use that to avoid geo-restriction. We suggest you avoid free options (due to low-quality visual outcomes) and get a paid one.
Final Thought
Now you know how to watch AEW without cable. By adopting any of the above approaches, you will be able to watch the wrestling matches in HD quality. However, people often make mistakes and purchase plans for the Fubo and Philo packages. But, these do not support TBS, and will not allow you to stream AEW broadcastings.
Frequently Asked Question
How to watch AEW online?
By purchasing a plan from HULU, Apple TV, YouTube TV, etc., you can watch AEW online.
Can I watch AEW on PS4?
Yes, you can. From the "Live Events" section, you can check for AEW shows.
Is AEW on Peacock?
On Peacock, you can watch live WWE events only.