When it's to the apps that help to stream from YouTube, you will face the battle, 'NewPipe vs Vanced' and it is often considered the talk of the town. Both apps offer tons of useful and handy features and customization options that you will need for the best YouTube experience.
Usually, NewPipe is an open-source app that provides users with an ad-free and privacy-oriented YouTube experience. It comes with a clean and straightforward interface that lets users stream and download videos from YouTube without any ads.
On the contrary, Vanced is a popular modded version of the official YouTube app. Like NewPipe, it also offers ad-free and background playback features, and a lot of customization options, including the ability to change the app's theme and color scheme.
While both NewPipe and Vanced offer similar features, they differ in some specific ways. NewPipe is completely open-source and is not associated with Google, the owner of YouTube, in any way. Vanced, on the other hand, is a modded version of the official app and is not available on the Google Play Store.
Main Differences Between Newpipe vs Vanced
There are a lot of differences between NewPipe vs Vanced. Some of them are as followed.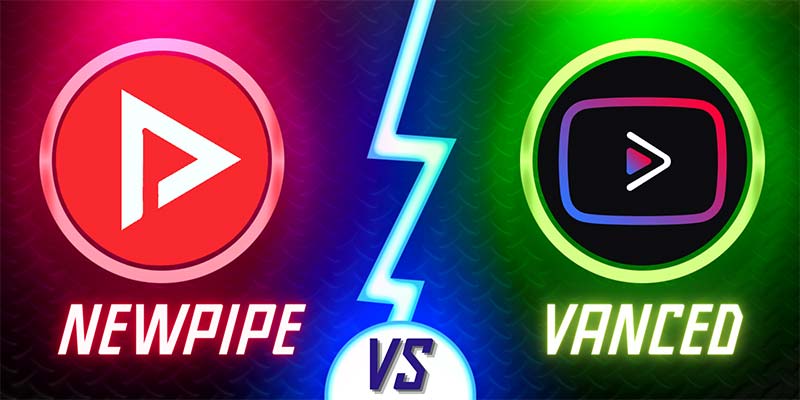 NewPipe has a clean and simple user interface, while Vanced tries to mimic the official YouTube app's look and feel.
NewPipe is open-source and licensed under the GNU General Public License, whereas Vanced is not officially endorsed by Google and may potentially infringe on YouTube's terms of service.
Vanced has more features than NewPipe, including an ad-blocker, background playback, and PiP (Picture-in-Picture) mode. NewPipe has some unique features, such as the ability to download videos in various resolutions and formats, and support for multiple video platforms other than YouTube.
Users can install NewPipe from the F-Droid app store, while Vanced requires users to download and install a custom APK file from its website.
The privacy-focused features of NewPipe are richer than Venced. Newpipe includes the ability to browse anonymously and the option to use a proxy connection. Vanced does not offer these privacy features.
Vanced offers more options for customization, such as choosing between different themes and app icons, whereas NewPipe has limited customization options.
NewPipe is known for its lightweight and fast performance, while some users have reported occasional lags or crash with Vanced.
---
NewPipe Overview
As I've already said, NewPipe is one of the most popular free and open-source Android apps for streaming and downloading videos from various platforms. Using this app, users can stream and download files from YouTube, SoundCloud, PeerTube, and many other platforms. NewPipe comes with a lot of built-in features that lets users watch videos in background mode, use PiP (Picture-in-Picture) mode, and download videos in various resolutions and formats. Also, it lets users create and manage their own playlists, view comments, and search for videos.
Features
NewPipe got popularity overnight for its extraordinary features and so many customizing options. If you are confused about NewPipe vs Vanced, you need to learn about their features properly. Here are the top features of NewPipe.
Privacy Oriented
NewPipe does not require users to sign in to their Google account or use the YouTube API. That means it does not track or collect user data in any state. Eventually, it offers a proxy connection option for added privacy.
Free From Ad
As usual, NewPipe is made with a system that never lets ads pop up in front of you while using it. So, you can watch videos without any interruptions or distractions.
PiP (Picture-in-Picture) Mode
NewPipe allows users to use PiP mode while streaming or installing videos from different platforms. So, you can watch videos in a small window while using other apps or browsing the web.
Play in the Background
Apparently, NewPipe lets users play videos in background mode. So, they can listen to music or podcasts while using other apps or locking their device.
Lightweight User Interface
NewPipe has come with a very lightweight and minimalist user interface. So, you can run it smoothly even on older or less powerful Android devices.
Search and Explore
NewPipe has a powerful search function that lets you find videos and channels quickly. You can also explore trending and popular videos with this app.
Multi-language Support
This handy app also supports around 106 different languages, including English, Spanish, French, German, Italian, and more.
Multiple Streaming Options
NewPipe offers a variety of streaming options including different video resolutions, audio quality, and codecs. Eventually, you can stream multiple videos at the same time using this app.
Download Files
You can download videos and audio files to watch or listen to them offline using NewPipe.
Background and Audio Only Playback.
You can listen to music videos in the background while doing other things on your phone or even when the screen is off using NewPipe. It also offers the option to play audio only for videos, which can save bandwidth and battery life.
Price and Availability
NewPipe is a hundred percent free app that is simply available on F-droid. You can also install it from Github and
---
Vanced Overview
To be specific, Vanced is the unofficial, modified version of the YouTube app for Android devices. It is created by independent developers and is not affiliated with YouTube or its parent company Google.
Vanced offers tons of extra features that are not available in the official YouTube app. It should be noted that using a modified app like Vanced may violate YouTube's terms of service, and there is a potential risk of account suspension or termination.
Features
Like NewPipe. Vanced comes with a bucket full of essential features that Youtube won't let you enjoy for free. Using Vanced is easy and the interface is quite alike the one on YouTube. Let's check out the basic features of this app.
Free From Commercials
Vanced is designed to be operated without exposing any commercials. It simply blocks ads from YouTube videos, including pre-roll ads, banners, and sponsored content.
Picture-in-picture (PiP) Mode
You can use the PiP mode of Vanced to watch YouTube videos in a small window while you use other apps on your phone.
Custom Themes
Vanced is pretty much a theme-oriented app. It comes with tons of customization options for the theme to increase the user experience. The options include dark mode and a choice of accent colors.
Background Playback Controls
This one is a very essential feature that simply allows you to control playback without opening the app, using notifications or lock screen controls. Vanced also allows you to listen to audio from YouTube videos even when it is in the background or the screen is turned off.
Video Resolution Override
With Vanced, you can force the app to play videos at a higher or lower resolution than the default setting. So, you will have complete control over the resolution of the videos you will watch on this app.
Direct Download
You can also download YouTube videos directly to your device using Vanced. For that, you don't even need the help of any other app or tool.
Swipe Controls
You can use swipe gestures to control playback and navigate through videos with Vanced. It also allows you to automatically replay a video or playlist once it reaches the end.
Price and Availability
Just like NewPipe, Vanced is also free to install. But it is not available like NewPipe. You can only install the APK file on your android device to use Vanced.
---
Wrapping Up
No doubt that NewPipe and Vanced are two popular third-party apps for YouTube, which have been popular in no time for their extra features. While both apps have similar features, Vanced offers additional customization options such as dark mode and the ability to play videos in HDR, and NewPipe is good for its minimalist user interface.
However, both apps are only available for Android devices and are not available on the Google Play Store, which could pose a security risk. Ultimately, the choice between NewPipe and Vanced comes down to personal preference and the features that are most important to you as a user.
Frequently Asked Question (FAQ)
Can I install NewPipe and Vanced from PlayStore?
No, these apps are not available on the Google Play Store. Eventually, both of them are discontinued officially. But they are available on some other sites for sure. They must be downloaded from third-party websites, which could pose a security risk.
Are NewPipe and Vanced safe to use?
Both NewPipe and Vanced are considered safe to use, as they do not require users to log in to their YouTube accounts. Eventually, they do not collect any personal information. But they need to be installed from third-party websites and those sites may not be secure and protective.
Can I install NewPipe and Vanced on my iPhone or iPad?
No, both NewPipe and Vanced are only available for Android devices. But you can find many similar third-party apps available for iOS devices.