Straight Talk is different from other prepaid services because it lets customers choose which of the four largest U.S. carriers (Verizon, AT&T, Sprint, or T-Mobile) they want to use as their virtual network. Straight Talk lets you choose the network that works with your phone, and it works with almost every phone on the market. Straight Talk's "Bring Your Own Phone" (BYOP) program lets customers use their own phones with the company's cell phone service. For no-contract services from Straight Talk, you need a phone that works with the company's network. Let's check if we can find you the Unlocked Phones Compatible with Straight Talk.
24 Popular Unlocked Phones Compatible with Straight Talk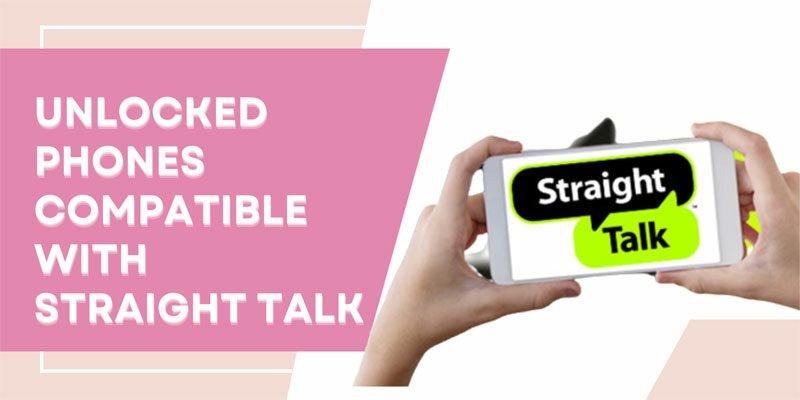 Here is a list of the most common phones that work with Straight Talk SIM cards. Don't forget to bring your phone with you. This means that if the original carrier wasn't AT&T, T-Mobile, Sprint, or Verizon, the phone will need to be unlocked before it can be used with Straight Talk. Your current service provider may be able to help you unlock your phone, or you can buy a book from Amazon that explains how to do it.
Apple iPhone 13 All – Mini, Pro, Pro Max
Apple iPhone SE (3rd)
Apple iPhone 14 All – Plus, Pro, Pro Max
BLU Advance 5.2 HD (No 4G)
BLU Studio Mega 2018 (No 4G)
BLU Studio X8 / HD (T-Mobile only, No 4G)
Google Pixel 5 / 5a
Google Pixel 6 / 6a / 6 Pro
Google Pixel 7 / 7 Pro
HTC myTouch 4G Slide / 4G / 3G Slide
HTC One – M7, M8, M9
HTC 10 / Evo
Huawei P20 / Pro
Huawei P30 / Pro
Honor 7X
LG V30
LG V35
Motorola Moto Z2 – All Models
Motorola Moto Z3 – All Models
Nokia Lumia 800
Nokia Lumia 900
Samsung Galaxy S III – i9300
Samsung Galaxy S III Mini – i8190
Samsung Google Nexus S – GT i9020
Related Article: List of Straight Talk Phones That Use At&t Towers
Requirements for Phones to work with Straight Talk
Here are the requirements for a unlocked phone to work with Straight Talk.
Look above at the list of phones & make sure your phone is unlocked or locked to Verizon, AT&T, T-Mobile or Sprint, it will work on Straight Talk.
If your phone is not on the list, it may still work if it is unlocked, or locked to AT&T, locked to Verizon, locked to Sprint, or locked to T-Mobile.
You must

request to unlock your phone if your phone is locked

. This is free for current and former Straight Talk customers but may require a fee for those who are not former customers.
Your phone must have been activated on the Straight Talk network for at least 12 months, and your data plan must be activated.
Straight Talk Unlocking Conditions for Apple Devices
Straight Talk will automatically unlock your Apple device if it meets the eligibility for unlocking. The terms for unlocking Apple devices include:
12 months of active Straight Talk service for devices activated before November 23, 2021
60 days of active Straight Talk service for devices activated on or after November 23, 2021
Absence of fraud
Straight Talk Unlocking Policy for Android Phones
If you don't have an iPhone and meet the requirements to unlock it, you'll need to send a request to Straight Talk to have your phone unlocked. If you want to get your Straight Talk-locked Android phone or tablet unlocked, you'll need to do the following:
For newer devices activated after November 23, 2021, the service will be available for 60 days.
If you turn on your Straight Talk phone prior to actually November 23, 2021, you'll receive 12 months of service for free.
The phone is in good shape and works well.
Not marked as missing, stolen, or fraudulent
If Straight Talk can't get your phone unlocked, you might be able to get a refund or a credit toward a new phone. To get the half payment, though, you must meet the following Straight Talk requirements:
Locked on Straight Talk for at least a year
Redeemed an airtime card for one year
Neither a phone that has been moved nor one that has been used before
This phone was set up after February 11, 2014,
The phone is in perfect working order.
Is My Straight Talk Phone Unlocked?
After submitting an unlock request (for Android users) or waiting the required amount of time for activation (for iPhone users), Straight Talk customers can call (888) 442-5102 to find out if their phones have been unlocked.
20 Phones That Won't Work with Straight Talk SIM 
You have to unlock your phone before you can use it with these service providers.
C Spire Wireless Phones
BlackBerry Phones (may not work even if unlocked)
Virgin Mobile Phones
US Cellular Phones
SafeLink Phones
Jitterbug Phones
Straight Talk Phones
Nextel Phones (may not work even if unlocked)
TracFone Phones
Republic Wireless Phones
Greatcall Phones
Metro PCS Phones
Cricket Phones
nTelos Wireless Phones
PagePlus Phones
AT&T Go Phones
Verizon Prepaid Phones
NET10 Phones
Boost Mobile Phones
Total Wireless Phones
Although if your phone is unlocked, Straight Talk might not be able to use it if its frequency range is not the same as the network's. This is especially true for phones made in countries other than the United States. A Check on How Often If your phone is one of these, you can find out if it works with the Straight Talk network you want to use.
How to Check Your Straight Talk Phone Compatibility?
You can find out if your phone is compatible with Straight Talk's service by sending a text, going to their website, calling their customer service, or going into a store.
Make sure you can get to stbyop.com from your mobile device before moving on.
Press "Check Compatibility" after reading the instructions.
If your phone is compatible with the service, the website will ask for a Straight Talk BYOP SIM card and encourage you to buy one.
If you buy a 4G LTE Straight Talk Activation Kit at Walmart, you can get a Straight Talk BYOP SIM card. And if you want one, you can place an order at stbyop.com.
Click "Check Compatibility," and then go through the rest of the checkout steps.
Final Verdict
You can find out if your unlocked phones compatible with Straight Talk by using any of the above methods. But if you find that your phone doesn't work well with the network, you can choose from the devices that Straight Talk sells. If you bought your phone from Straight Talk, it may be locked based on the terms of your purchase agreement. So keep that in mind and find out the ways to unlock it in the end. There are also many ways you can unlock a phone.