The government is making sure that nobody is left behind on the internet, particularly after the COVID lockdown proved how much the internet has impacted living quality and productivity. They have made sure that low-income families can get online by offering discount programs. AT&T is probably the best internet service provider in the US. It provides services to more than 53 million households. Households that are eligible for the SNAP can now get a discounted internet service called "AT&T Access." Looking for Internet programs at a lower rate? If you're looking for an affordable internet option, AT&T Snap Internet Program has you covered.
What is The AT&T Access Program?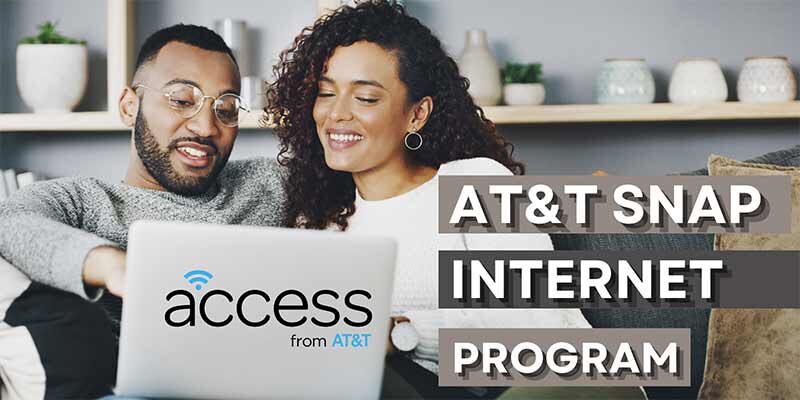 AT&T's Access initiative provides high-speed fiber internet connections to consumers in all areas, regardless of their economic situation. AT&T offers a discounted AT&T Access plan for customers who are SNAP (Supplemental Nutrition Assistance Program) participants.
Internet Speed and Price
AT&T will give the applicant the highest speed tier available at their address. Here are the different levels of speed that are currently available. However, the plan's speeds are slower than what customers get.
You can get 150 GB of data at 10 mbps for $10 per month. Now, what you can get where you live is going to differ significantly. At 5 mbps speed and $10 per month, you can get 250 GB of data. The same is true for this: your location will determine the internet performance. At a speed of 3 mbps, 250 GB of data costs $5 per month. Sometimes you'll have to settle with 1.5 Mbps or 768 Kbps.
You will be able to use the internet, email, news sites, and job search websites with these plans, despite the fact that these plans will not give the necessary speed.
Data Caps
AT&T will charge you an extra $10 if you use more than your 50 GB of data each month. But we don't think that most people would use that much data. Or you can splurge on unlimited data for an extra $30 a month. It's actually part of the AT&T's DSL internet.
Equipment
You probably won't need a separate router to set up a Wi-Fi network when you get an AT&T internet service plan since the plan comes with a Wi-Fi gateway modem/router. Also, the monthly rental rate of $10 for that Wi-Fi gateway equipment is among the lowest for any ISP services. It's also convenient for you, that you will get internet service and then have the tools necessary delivered right to your home.
Contracts
The lack of a contract and deposit also reduces the out-of-pocket expense associated with the service. This means that if you ever want to switch providers, you won't be forced to stick with the connection. Also, if you do not have a contract for your internet service, you don't have to bother about shifting or changing your service plan.
Service fees
AT&T will send you a self-installation kit along with step-by-step instructions so that you can do the installation yourself. But if you can't do the self-installation, you can also ask for a technician to help you for free if you can't do it. The service charge is only free for this program.
Customer Service
Every service provider seems to have trouble with customer service, and AT&T is no different. The American Customer Satisfaction Index (ACSI) for 2021, on the other hand, gives it a score of 71 out of 100. It is among the greatest internet service providers. Over the past two years, AT&T's customer service has improved. The year before, the rating was only 68. The average score is 65 out of 100, So, this is preferable to that.
Learn More: How Do You Qualify for Spectrum Internet Assist? Best Instruction
How Can I Qualify For At&T SNAP Benefits?
If you are eligible for this program, you can find out through going to att.com/access. There, you can find out if the service is available at your home address and apply to see if your family meets the requirements. You must satisfy one of these requirements to submit an application for review.
At least one person in a family should be registered in the Supplemental Nutrition Assistance Program (SNAP) in the United States (SNAP).
Your residence must be in one of the 21 states that AT&T serves with its wired home Internet service.
All AT&T internet service debts from the last 6 months must also be paid off. This includes debts from the Access program.
Supplemental Security Income (SSI) is only for people who live in California. You might also be eligible if you meet the same requirements as people who get SNAP.
What Information Do I Need To Give AT&T To Join Access Program?
As someone who wants to apply for this program, you need to give important information. These include the area where you'd want to have this service installed, as well as your own personal details as the applicant. To verify their identity, applicants might provide any of the following:
Full Legal Name
Date of Birth
Social Security Number.
U.S. Military ID.
U.S. Driver's License.
Tribal Identification Number.
Other Government-issued ID, such as a state ID.
Passport.
Individual Taxpayer Identification Number.
Also, you have to give information about each member of your family who is in the SNAP program (Name, Date of Birth, Taxpayer ID, Social Security Number or Tribal ID). Also, you will have to provide copies of valid documents that show you are taking part in the SNAP program. This means a current SNAP benefits letter or a valid SNAP card with the person's name on it.
How to Apply for AT&T Access?
To join Access from AT&T, you'll need to do the following:
First go to the site for the ACP. Or visit https://www.att.com/shop/Internet/access/index.html
Fill out the application and send it in. It can also be sent by mail.
You should let AT&T know that you've applied for ACP.
Choose a plan because then AT&T can give you the discount for which you are eligible.
AT&T will respond to your application via mail with their decision. The letter will tell you if you can join the Access program depending on the information you give. You'll be given a phone number to call to confirm your eligibility if you meet the conditions.
A Few Things to Bear in Mind About AT&T SNAP Internet Program
You should be aware of these issues before joining the program.
AT&T only works in 21 states right now, but its coverage is best in California, Texas, and Florida.
AT&T's SNAP Internet Program has speeds that aren't fast enough and change all the time. Even for low-income homes, the internet speed might not be fast enough.
Some of the speeds that AT&T says it can offer could not be possible in most of the areas. How close you are to an AT&T data center or service region can affect how long it takes to connect. Also, it's not for people who don't live in large cities.
If you have the AT&T Access Program, you can only use about 1 TB of data unless you pay extra for more.
Unfortunately, no Internet service provider (ISP) stands out for having excellent customer support. So don't expect much from AT&T.
Final Words
With the AT&T Access plan, it's easy to stay in touch with family and friends and put in hours at your own pace without leaving the house. All you have to do is to submit the application. As long as you meet the requirements, you will easily be able to save money on your AT&T Snap Internet Program every month. Many low-income families who are having a hard time financially have been saved by this AT&T Access program. I hope this post gives you all the information you need to get the AT&T Snap Internet Program.