The Nintendo Wii is a device for playing games that lets you use your body movements instead of buttons and joysticks. Putting your Wii in front of a TV will give you the most engaging and satisfying experience. Even if you lose your AV cable, it's not the end of the world. It's easy to connect your Wii to your TV. RGB, VGA, and HDMI cables can be used to connect your Wii to your TV. Keeping that in mind, this article will explain how to connect a Wii to a TV without using AV cables.
How to Connect Wii to TV With AV Cable?
If your TV has ports for a regular component AV cable, you can connect your Wii to it just like you could with TVs when the Wii was popular. We found a great video that shows you from the beginning to the end how to do it right.
Find the yellow, white, and red TV inputs and plug them in (AV inputs)
Don't forget to connect the AV cables in the right order based on color.
Hook up the other end of the AV cable to your Wii.
Pick an input or source.
You can watch your Wii by using the AV menu.
How to Connect Wii to TV Without AV Cables?
You're worried that your Nintendo Wii's TV-out jack won't work with your new TV because it's not compatible. Even though it might not seem like it at first, there are other ways to hook up a Nintendo Wii to a TV. There is also an adapter for the Wii to HDMI. The Wii can be hooked up to a TV through:
RGB
S-Video
SCART
VGA
Component
HDMI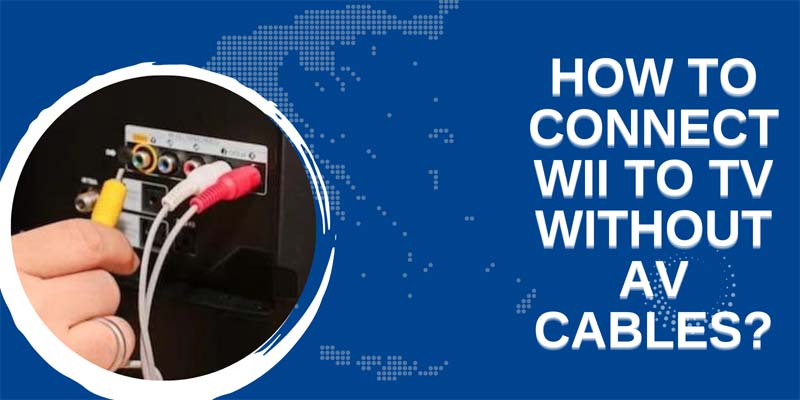 How To Connect Your Wii To Your TV With HDMI?
The Wii came out at a time when HD TVs were far from ubiquitous, and as the Wii itself only outputs a standard definition image, there was little point in making the console HDMI compatible. Fortunately, there are a couple of options. You can opt to get hold of an AV to HDMI adaptor, which will allow you to pass your Wii cable into the adapter and an HDMI cable from there to your TV.
Or alternatively, you can purchase an aftermarket HDMI adaptor for the Wii itself, which allows you to connect an HDMI cable to the Wii. Here is the easiest way to connect Wii to TV with a Wii to HDMI adapter:
Get a Wii to HDMI adapter
Bring it into your Wii
Plug it into the opposite end of your HDMI cable.
Plug it into the TV
Select Input/Source
Select HDMI to view your Wii
How To Connect Your Wii To Your TV With A SCART Connector Cable?
Another option is to use a SCART cable to connect a Wii to a Smart TV. The best choice is to have a SCART adapter that works. If you don't have one, you can get one quickly at any good electronics store. Check that the SCART converter has a SCART connector if you want to use an AV cable with your Wii. After that, follow these easy steps to connect your Wii to your smart TV:
Carefully Link the AV multi-out port on the Wii to one end of the adapter.
Connect the other end to the SCART port on the TV.
Make sure that the input is set to SCART.
You are now ready to play games.
How To Connect A Wii To A TV Using A Component Cable?
The A/V cable and the component cable are easy to compare. Since this is the case, it's easy to connect the Wii to the TV by doing the following:
Find the ports for putting and taking out audio. Sometimes you'll have to look behind the secret panel on your TV to find it.
The square jack on the Component Cable goes into the AV Out port on the back of the Wii.
Connect the component cable to the TV. Connect the cables of each color in order. Also, we joined the red and white wires together with black banded audio.
Now, switch to Progressive Scan mode right away.
Turn on your Wii and use the TV/Video button on your control pad or TV to get to the Input Select icon.
Learn More
How To Connect A Wii To A TV With RCA And VGA Breakout Cables?
Most VGA cables really don't support audio, so you can use a different cable to do so. But if you don't have an AV cable, you can still use these methods to connect your Wii to your smart TV.
Carefully attach your Wii cord towards the VGA input.
After that, connect the Wii carefully to the AV cable.
Next, you need to find the cable and plug it in.
If you want to view the Wii, you can change your output to VGA.
Connecting A Wii To A Smart TV With S- Video Cable?
If you don't have an AV cable, you can also connect your Wii to your Smart TV with an S-video cable. Here are the easy steps to take to get in touch:
At the same time, connect the red and white audio wires to the TV and the S-video. The red and white audio connectors are usually on the back or side of the TV.
Next, you should turn on the TV and the Wii.
Once you've connected your Wii, you can use the controller to find and fine-tune the signals coming from the console.
Improving Picture and Audio After Connecting Your Wii To Your TV Without An Av Cable
As with most fashion trends, some tech trends go out of style quickly. At first, the Wii only came with an AV cable to connect it to a TV. Smart TVs of today, on the other hand, don't let you connect them with A/V cables. So, you will have to use a different method to connect your Wii to your TV. But you'll have to do this on your own because some of these other ways, like the RCA and VCA breakout cable, don't let you use audio signals once they're connected. If you want the best video possible, you might want to think about making the quality better.
Here's how to play the sound effects in a few easy steps:
Find the icon that looks like a gear, and then click on it.
Next, click on System Setting to choose it.
You can also click the Audio button.
Lastly, choose between mono and stereo.
Here are the things you need to do to improve your video.
First, plug the Wii into the TV. Then, go into the Wii's configuration menu.
Then, move your mouse around and down, and then click the screen icon.
Choose the Screen Position you want and go on.
Then, choose a screen size you like.
Select "OK" when asked to finish.
Why Can't I Connect WII to TV Without AV Cables?
Most of the new Nintendo Wiis that came out recently only work with one type of external connection. There are a few reasons why your TV and Wii might not be able to talk to each other.
1. Using a Different Cable
If you are using a Wii component video cable, you should try a different cable first.
2. Unreliable Connectivity
There could be a number of reasons why your Wii Nintendo and smart TV don't work well together. Here's what you need to do to make it better.
Make a new profile for your networking group.
Check to see if there is any wireless interference.
After you plug the Nintendo Wii back in, check the connection one more time.
Get the Wii out of the house and away from anything that could mess up the network.
3. Improper Settings
The settings for connecting your Wii to your TV can never be wrong. Follow these steps to make sure that your configuration is correct.
Connect all the cords you need, then go to the TV's menu system.
Find the right connection.
To watch premium TV on your Wii, just point and click on the connection, then choose it as an input/source.
Final Thoughts
Some of the many good things about the technology infrastructure of today are that it is all-encompassing and can solve problems. The good news is that your Nintendo Wii can give you the same fun. People who don't have access to AV cables can still use the Wii in these other ways. But if you don't have an AV connection, it might be a hassle to hook up your Wii Nintendo to your Smart TV. You can change the settings on your Wii game after you've connected it to your TV without an AV cable to improve the way it looks and sounds. Here we tried to give you the best answer about how to connect a Wii to a TV without using AV cables. This will be the better guide line for you.