Tinder is now the most used dating app, and only Instagram has more users overall. We were about to release a new mobile dating app that helps people find real matches, but we were worried that users wouldn't be interested for long. The official Tinder app has gotten better over the years as more features have been added to make it work better, but it still doesn't have as many features as some third-party apps you can find in the Google Play Store. If you want to do better than Tinder, try one of these other apps. We found a lot of mobile phone apps that work with Tinder service. Let's get to know them better.
10 Type of Apps You Might Need for Tinder
You might be able to get around Tinder's verification steps with some apps and start swiping right away. Tinder makes sure that its users are real by asking for a phone number during the sign-up process. Still, some Tinder users don't want to give out their personal contact information because they're afraid of what might happen if they do. Users of Tinder may find it helpful to use a texting app or a burner phone number app to make their tinder game going.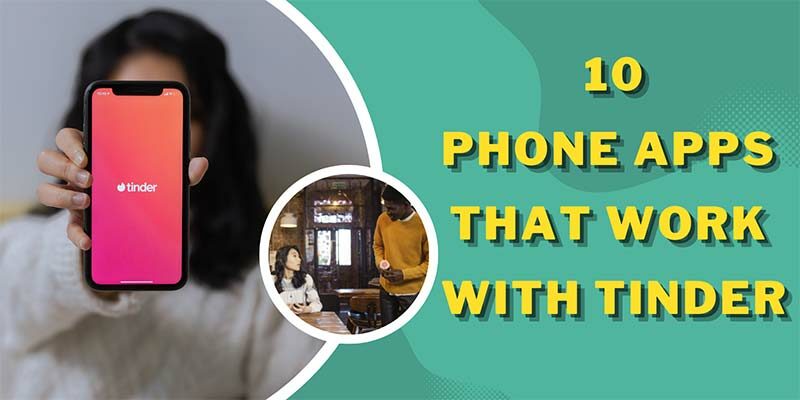 1. Burner Numbers
A burner number is a temporary number that can be used for many different things. It is much cheaper to use a burner number than a permanent one. After the user's needs have been met, the burner number can be thrown away right away. There are burner numbers that only work with Tinder and burner numbers that can be used for anything. Providers of burner numbers who can help you set up a new Tinder account; "Burner" phone apps that work with Tinder.
2. Phoner 
Phoner is a free app that both Apple and Android users can use. Phoner lets you use a second phone number to text and call, so you can feel safe when you're dating. Buying a Premium US number on Phoner is a cheap way to get a new US mobile number for calling and texting. Using Phoner makes it easy and safe to sign up for Tinder, and you can keep talking to your match even after you've met in person using the same Phoner number. If you want your phone number to show where you are, being able to choose an international number is very helpful. This app was made for general use, but it could also be used for Tinder.
3. Ping Me
Even though Ping Me wasn't made for Tinder's SMS verification, it can be used for that. As a result, it could be good for Tinder. It lets you get a US phone number, call that number for free, and send and get SMS messages for free. You can skip through SMS verification steps with PingMe's Verification Code Helper. If you use its cloud-based SIM, you can get both an international number and cheap international calls. Tinder gives each user a temporary phone number in the U.S. or Canada. You don't have to pay to get messages at the disposable number you're given, but you do have to pay if you want to send messages or make calls with that number.
4. Hushed
With Hushed you get to send messages and make phone calls very similar to a regular phone number. However, it's not entirely clear whether they provide the same numbers, or they provide unique ones for each customer. Despite that, Hushed can work for Tinder, but with a slight risk of not working. it may not be the most original app out there, with the CEO of a similar app called Burner calling it an "Obvious Clone" — but it certainly gets the job done. They're not free of charge, which makes it a little bit of a risky step to take for your Tinder account due to the uncertainty of the uniqueness of the number you get.
5. Texting Apps
With a temporary phone number, you can use texting apps or websites to send and receive texts. To use these services, you can either pay a fee or get them for free. Because of how they work, not all messaging apps are compatible with Tinder. There are some texting apps and sites that might come in handy with your new Tinder account.
6. Text Now
TextNow is a full phone service that is only available through a mobile app. You won't be charged to make or receive calls or send messages when you're at home or connected to a Wi Fi network. Text Now has both text messaging and data services, so you can buy the whole package from them. A great unlimited deal starts at just $39.99 per month (and it gets you unlimited everything). Text Now's free phone and messaging features are well-known, but the data features are brand new. Like other free software and websites, this one might have certain number patterns that keep coming up. If the phone numbers are the same, Tinder's phone verification system could be hard to use.
7. Text Free
Text Free is an app that, as the name suggests, lets you send free SMS messages to your friends and family, even if they don't have the app themselves. Text Free uses VoIP (Voice Over Internet Protocol) technology to let customers create and call each other for free (or at discounted rates, depending on the type of call), conversation on Facebook, and sending and receiving SMS texts all from a single U.S. phone number. 
9. Text Plus
You can call the number. Text Plus is free in the United States and Canada, but you have to pay for it everywhere else. Text Plus lets you send free text messages to any phone number in the US or Canada. You can talk to anyone who has Text Plus as long as you both have it. Text Free's free features make it easy and cheap to get a second phone number that can be used for international calls. The only thing you can't keep is your Tinder account.
10. Google Voice Number for Tinder
Google Voice numbers can now be used on Tinder. With Google Voice, you can give your cell phone a second number. It has been our main business phone number for a long time. The best thing about it is that it works perfectly on my phone, no matter where you are. I wish adding more phone numbers to my Google account was easier. This service is only available outside of Google Works in the United States, Canada, France, Portugal, Denmark, Spain, the United Kingdom, Sweden, and Switzerland.
Since Google Voice is not yet available in all countries, people who want to use it must have a mobile number in the United States or in a few European countries. This means that you might get a phone number that was used before. Even the gods don't know what else this number could have been used for. But we have hardly a right to complain about a free service provided by the government. To use a Google Voice number with Tinder, do the following:
Uninstall Tinder.
Change the Apple ID you use.
To start changing the IP address, use a VPN.
Conclusion
If you wish to sign up for Tinder, you'll need to give the staff your phone number. You can get around Tinder's number verification by spending a little time and money on one of the apps above. This will give you a second number that you can only use with Tinder. Before you choose a messaging app or Burner Numbers app for Tinder, think about how easy it is to use, how safe it is, and how easy it is to get to. This page should be enough to help you find mobile phone apps that work with Tinder.
Frequently Asked Question (FAQ)
Can I get Tinder without a phone number?
For Tinder registration, you need to verify your phone number. You can make a Tinder account even if you don't have a phone number. You don't have to use your own phone number to sign up for Tinder. Instead, you can use a second phone number.
What free phone app can I receive verification codes for?
vNu is an app that gives people FREE phone numbers from different places to use online so they can hide their phone numbers and get OTP (One Time Password) Verification codes when they sign up for or use online services, apps, and websites.