When streaming movies or listening to music, do you have slow internet connections that appear out of nowhere? Does your internet service provider (ISP) sometimes put certain restrictions on your bandwidth use? It means, your internet service provider throttles your connection depending on what you're seeing. This is known as bandwidth throttling.
In mobile and wireless networks, throttling is typical, but not so much in cable, DSL, or Fiber connections. Do you use HughesNet for no credit satellite internet? HughesNet, like other ISPs, limits your internet speed to a certain degree.
Have you ever encountered throttling on HughesNet? If HughesNet throttling has been an issue for you in the past, and you'd want to bypass HughesNet Throttle Speed, this post is absolutely for you.
What is Internet Throttling?
When your internet service provider (ISP) purposely restricts your internet bandwidth, this is referred to as internet throttling. It's time to stop internet throttling. The most likely cause of internet service slowdown is network management during peak traffic periods, but the most common cause for satellite internet customers is a data limit overage. There are a few other reasons an ISP could reduce your bandwidth.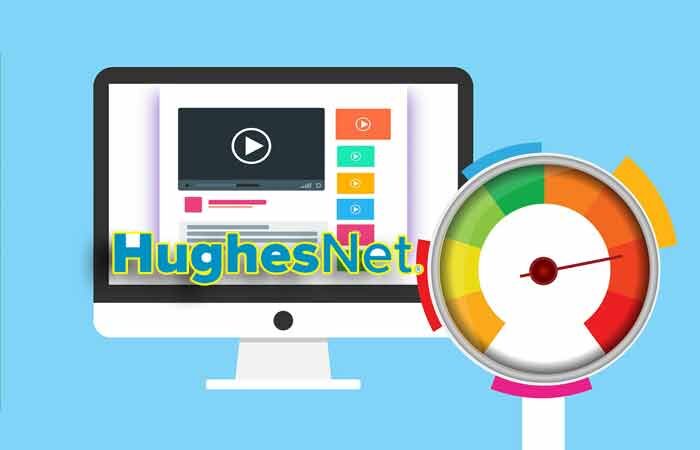 Does HughesNet Throttle Speed?
HughesNet has over 1 million clients in the US and is one of the top satellite Internet providers. When you are going to choose a reliable internet service provider, HughesNet isn't different from the others. HughesNet could slow or restrict your connection speeds without notifying you from time to time to free up bandwidth for other customers using the same cell tower.
HughesNet typically only throttles "Heavy" online users during "Period of peak traffic," according to its own definition.
How Can I Know if My Internet is Throttled?
To see whether your internet speed or bandwidth is being throttled, all you have to do is run a simple test. You can measure your downloading and browsing speeds using a lot of Internet speed monitoring tools accessible on the internet.
However, a VPN service is the only way to know for sure whether your internet is being slowed down. Follow these easy methods to see whether your internet is being throttled:
Check internet connection speed.
Install and start using a reliable virtual private network (VPN)
Repeat the speed test to see whether the results have changed.
If you don't see any improvement, there's probably something else going on with your internet speed. To find out that you're paying for less speed than you're receiving after doing a speed test might be irritating.
Other Reasons for Low Bandwidth
The internet service provider isn't always at blame for slowing down your connection. To be sure, household appliances can cause network latency, and that can lead to poor internet access. The distance between your computer and the modem, in the same way, is a contributing factor to your slow bandwidth.
Before you think you're being throttled, go through the following checklist to be sure there isn't another problem:
Reset your router if it hasn't already been done. Occasionally, a simple reboot of the system is all that's required to restore your internet connection to full speed on router.
Connecting with an Ethernet connection can show you the main problem is your wi-fi.
Try connecting with another device to determine whether the issue is limited to a single PC.
Use a trusted antivirus and malware scanner to look for any infections.
Any technical problems can be detected by calling your service provider.
Thanks to these techniques, you can get HughesNet to stop throttling once again.
Related Article: 9 Amazing Ways to Get Reliable Wi-Fi at Home or Out Where You Go
Monitor Your Data Use for The Month
If you've reached your data limits on a capped plan, you can typically prevent the problem in the future by properly monitoring your consumption or switching to a plan with larger data limits. However, if your data is meant to be "Unlimited," there is no quick fix.
How to Check the Monthly Bandwidth Usage?
Here are the ways you can always check your monthly usage.
Monitor your router's bandwidth usage. Your router is the ideal spot to begin your investigation into how much bandwidth you are using.
Capsa allows you to check your bandwidth usage.
Malware scan your computer to make sure it's clean.
To find out what's about your network, just use Netstat.
Use Windows Resource Monitor to keep an eye on network activity.
How to Stop Hughesnet Internet Throttling
Use a VPN
To bypass bandwidth throttling and enable high-speed data after being throttled, a VPN must have strong encryption techniques such as AES 256-bit encryption. That's why, we'll demonstrate how to bypass HughesNet throttling using ExpressVPN, our personal preference. A VPN, however, won't assist you to get around network congestion or data limit overages that restrict your bandwidth.
Sign up for the VPN you Chose
Decide on a price plan and finish the registration procedure on the VPN's website.
Install the VPN After Downloading It
Enter the VPN verification code that was supplied to your email into your account dashboard. Depending on your device's operating system, choose the appropriate app and download it. The next step is to find the installation file and double-click it. Then just click "install".
Setup and Connect to a Virtual Private Network (VPN).
Activate the app and login in with your credentials after it has been downloaded to your mobile device.
Setup is now complete
Follow the wizard's instructions, particularly if the VPN wants you to pick a language or region during setup.
Connect to your Favorite Server
Choosing a server is the next step in establishing a connection. To get optimal speed, choose the closest server.
Once you're connected, go to your preferred channel and start watching videos. Because a VPN encrypts all of your traffic, you won't have to worry about HughesNet traffic throttling.
Related Article: Best 6 Ways to Bypass T-Mobile Throttling Issue
3 Best VPNs to Bypass HughesNet Throttling
Can a VPN bypass ISP throttling? Yes, you can avoid getting throttled while using a VPN since HughesNet won't be able to detect where your traffic is coming from. Here are the top three solutions to avoid HughesNet from slowing down your internet connection.
ExpressVPN is a top-notch security and speed provider.
NordVPN – High-quality encryption and cloaked VPN servers
CyberGhost – VPN servers that are affordable and designed for streaming and torrenting.
Terminate Your Internet Subscription and Find Another One
If your HughesNet internet connection is constantly throttled, it's time to switch providers. HughesNet is currently infamous for slowing down service. However, practically every ISP sets its own limit on the amount of data that could be used by its customers.
HughesNet Internet is particularly slow because it oversold bandwidth, has a huge number of customers it cannot supply and uses a limited number of geosynchronous satellites. The only solution to improve your internet connection is to stop using HughesNet and find another provider.
Inform Your Government Officials of Your Concerns
If none of these solutions work for you, your only choice is to contact your government representatives and the FCC and ask them to support making the internet more open. You can join the voice of people opposing exploitative throttling and content prioritizing by contacting the FCC or your elected official.
Related Article:
Summing up
HughesNet throttling speed has been thoroughly explained in this post. Service providers throttle speed, but there are key factors to consider.
Our recommendation is to use a VPN if your HughesNet throttles your bandwidth when it detects traffic from streaming or torrenting sites. Hopefully, you'll be able to Bypass HughesNet Throttle Speed after reading this post.