We know, in trading platforms Robinhood is a well-known app to invest especially for young investors. There are many more investable features available here. Suppose, if you wish to switch Robinhood to another investment app, you can easily transfer Robinhood security to a new brokerage account. Additionally, sell your crypto and stocks to return money to your bank account. To sell on Robinhood, you must buy some assets. Buying power is the amount of money that can be used to purchase trading assets on Robinhood. Generally, users want to accumulate more buying power than they earn. But, wise investors want to withdraw a little part or a whole amount of money. So, we will research how to transfer buying power from Robinhood to Bank and share it with you.
What is Buying Power in Robinhood?
Buying power in Robinhood means, you have sufficient amount to buy stocks, crypto, options, ETF, etc. Robinhood has two separate systems to optimize assets to grow money. One is Robinhood Financial and another is Robinhood Crypto. Shares Trading and Options from brokerage accounts are handled by Robinhood Financial. And Cryptocurrency buy-selling is handled by Robinhood Crypto system. No matter your buying power, they are separated by themselves, but you can see all of them in one place on Robinhood app or Robinhood website.
Learn More
How to Transfer Buying Power From Robinhood to Bank?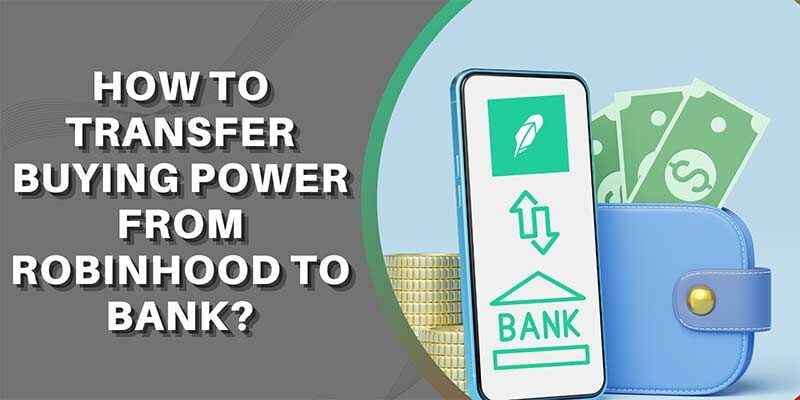 While you are trying to transfer buying power from Robinhood, we are ready to deliver the exact information. Without a doubt, Robinhood is a commission-free trading platform and has a great way to withdraw buying power easily from Robinhood app or website. Have a look over the ways of transferring the money without any time and everywhere-
Transfer Buying Power From Robinhood to Bank Through Mobile App (iOS-Android)
Login to Robinhood account with email and username
Tap on "Account" icon
Now, Tap on "Transfer" then Choose "Transfer to Your Bank"
Enter your amount in $ currency
Tap on "Continue" button
Select Robinhood in "From" field and select your bank account in "To" field
Check all details then tap on "Transfer" to start transferring
Transfer Buying Power From Robinhood to Bank Through Website
Visit to https://robinhood.com/us/en/
Login to Robinhood account with email and username
Select "Account" tab from right corner
Then "Transfer"
Fill up necessary details (such as "From" and "To" field)
Type to amount to transfer
Tap on "Review Transfer"
Finally "Submit"
Important Notes on Robinhood withdrawal
Generally, users can withdraw up to $50000 Robinhood buying power to their bank account five times every business day. But, not all Robinhood investors can withdraw buying power to their bank account till they trade stocks and wait for "Settle".
Why Can't I Withdraw My Buying Power from Robinhood?
It is normally found that this incidence happens when the settlement period comes. Your Robinhood account needs to make a successful settlement before transferring. A few days are needed to complete the whole procedure. That's why you can't withdraw at least two days of settlement. But, on the third day, you can try another attempt at withdrawal. Remember that you, have up to 5 withdrawals you can make in a single day.