The Green Dot account is designed to facilitate seamless transactions. The app gives you the power to bank affordably and with confidence. When you open an account online, you can purchase a debit card for $1.95 at a retail store or by ordering it online. Green dot is worth acquiring as it offers prepaid card products for people without a bank account. The company is one of the best alternatives for traditional banking, as there are no overdraft fees, no need for a teller, and you can deposit and make withdrawals from multiple retailers. A common question among Green dot users and newbies is, 'how to get money off green dot account without card?' Read on to find the best solution for you.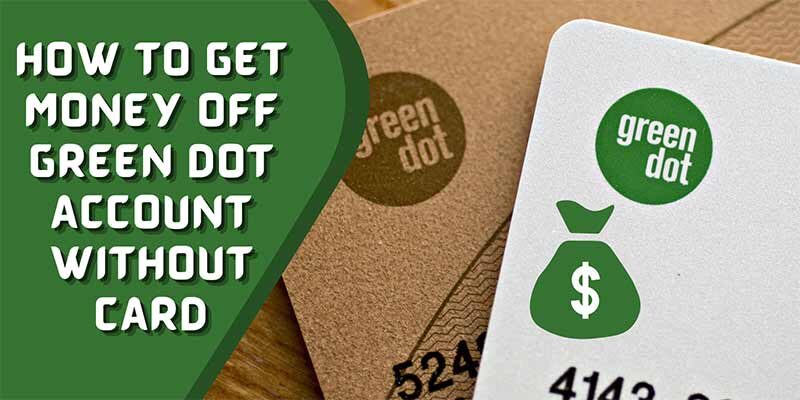 Solution 1: Withdraw from Retailers
Green dot has over 90,000 participating local retailers, including Walmart, Rite Aid, 7-Eleven, Kroeger, Walgreens, Safeway, Family Dollar, CVS pharmacy, Dollar General, and many more. Visit any Walmart or retail store affiliated with Green dot to transfer funds without the card. Go to the money center or customer service center, tell the associate you want to pick up cash and show them the barcode generated with the Green Dot app.
When you downloaded the Green dot app you were prompted to register. The 'Register' option is located as an option in the add funds section of your account. Choose the retailer you'll visit and the app will make a custom barcode for you. Use this barcode to withdraw funds without a card from the selected retailer. You have to show your government issued ID when you withdraw. There's also a $3 service fee that you pay for the withdrawal.
Solution 2: Apply for a Replacement Card
Withdrawing cash from Green dot without a card comes with the inconvenience of a $ service fee. You can access some money multiple times from your local retailer if your card is lost or stolen. However, you should apply for a replacement card immediately. Follow these three simple steps in applying for a replacement card:
Go to 'Manage Card' on your Green Dot app.
Go to 'Report Card Lost or Stolen.'
Enter the information requested.
Confirm the information entered, then report to request payment.
It typically takes seven business days for you to get your new card. Your old card will be deactivated, and you'll be charged $5 as a replacement fee.
Solution 3: Transfer the Amount to Another Bank
There are banks that have partnered with Green dot such as GoBank and Moneypass. Such banks offer a seamless experience of transferring funds from one bank to another. It's possible to transfer funds from Green Dot to any bank in the U.S. On the downside, the process is tedious, but you'll eventually receive money from your bank account. When you open an account with banks affiliated with Green Dot the process is less tedious and less costly.
Solution 4: Transfer Money to Payoneer, Venmo, and Cash App
Green Dot allows you to transfer funds from your account to Venmo, Cash app, Paypal, and Payonner. All you have to do is link your Green Dot with any of the financial services to start the transfer. For example, if you want to withdraw from Paypal. Follow the steps below:
Log in to your personal Paypal account.
Go to 'My Account.' Next, select 'Add funds.'
Select the option 'Add MoneyPak funds.'
Fill in the form provided.
Wait for the information to be processed.
Add your personal details and click 'continue.'
A confirmation email will be sent to you to complete the application.
Once you link both accounts, you can make online purchases and transfer funds. Kindly note, however, that only certain Green Dot card holders are eligible to connect their accounts with other peer-to-peer services. The process is tedious, but in the end, you'll get the funds. Click here to check your card's eligibility.
Do You Want Quick Transfer?
Solution 5: Send the Funds to a Trusted Friend or Family Member
If you want to access your funds quickly without a card, you can send the amount you wish to withdraw to a trusted friend or family member. Green Dot allows you to transfer funds to other Green Dot holders. You can also send the money via the leading peer-to-peer financial services and have them give the funds to you. This approach can work if your friend or relative is close by. But it's an equally tedious process.
Solution 6: Money Transfer
You can send money to any Green Dot account provided the account owner is in the U.S. This feature covers your friends and family and yourself. Simply go to the send money option after you sign in. Next, enter your name, phone number, and email address into the recipient's field, plus the amount of money you want to send. Green Dot will send you a money transfer notification once you complete the process.
The notification will arrive in your preferred method-text or email. Follow the link in the notification to complete the transfer. You can transfer the funds to a registered prepaid debit card, another Green Dot card, money transfer services such as Western Union, or the debit card associated with your bank account.
Solution 7: Get the Temporary Green Dot Card
You can apply for a temporary Green Dot card and use it to make purchases in the meantime. This card is usually ready for use within two business days. You cannot reload this card or use it in an ATM. Also, you cannot use it for international transactions. The card is only for purchases.
Solution 8: Write Yourself a Check
You can write yourself a check from your Green Dot account to your bank account. You can set up this process now so that it will be easier when you need it. The steps you should take are:-
Go to your Green Dot app or Green Dot.com.
Click on the Pay menu.
Go to "Paper Checks."
Ensure your name and email address are accurate to complete the setup.
Green Dot checks are more expensive than what you find in banks. You pay $5.95 for a checkbook of 12 checks. You can occasionally use this option to transfer money to your bank account.
To Conclude
You can get money off green dot account without card. The easiest option is through a local retailer such as Walmart or Walgreen. The other solutions are still workable but lengthy.