Nowadays, cell phones are like oxygen. Internet service is a body. We can't spend a single moment without an internet connection. Also, internet coverage availability is the major factor to consider. There are times when I find myself confused about which internet service provider has better coverage. This is especially true when traveling abroad. It's always good to know what kind of coverage we will get in a particular area before you decide where to go. Cell phone coverage map comparison shows you where you can get good coverage. In the coverage map, signal strength of different networks is also visible.
How to Compare Cell Phone Coverage Maps?
Comparison really comes from differences. By looking up the difference between one cell phone coverage to another, you can decide which is perfect for you. Robust network, stable network signal, 5G, 4G, 3G network coverage percentage are the most important factors to look up in comparison. If any device coverage can feed your demand even in rural areas, you should definitely choose.
The Difference Between Wireless Coverage and Capacity
I had confusion on coverage and capacity. Previously, networks were built with coverage or capacity. Nowadays, wi-fi becomes strict and follows up on connectivity performance. Their interplay is crucial. Understanding the difference between capacity and coverage will make you an expert on how to balance these elements.
– Wireless Coverage
The wireless network coverage explains how far a wireless signal transmits. If you are running an organization make sure WLAN coverage is reached in every corner, otherwise you can't get a smooth internet speed. Covering the best WLAN coverage is not always easy. Several factors may act as barriers in actual coverage such as wrong direction antenna, environmental obstacles, and power settings. A wireless survey is an accurate way to gain reliable coverage. It also includes spectrum analysis and heat map.
– Wireless Capacity
Wireless capacity tells us what number of users can use a single wireless line at a time and how they are using bandwidth. Wireless capacity is a key element to think about when designing a new WLAN. Because, if the WLAN network does not meet wireless capacity in a specific location. It will be an unstable connection. In school, college students gather to study, socialize and check education information online. It is important to maximize wi-fi or wireless capacity in those areas.
Below You can check out the coverage maps of each carrier here:
1. Verizon Coverage Map
Who has the best mobile data coverage? No doubt, Verizon coverage is at a standard level when it comes to comparing wireless network coverage. This major carrier has provided almost 70% 4G LTE coverage in the country. Take a quick look at the Verizon Wireless Coverage Map and you'll see a country covered by Verizon Coverage. Verizon provides 27 states with almost 90% cellular coverage. Arkansas, Georgia, and Kansas are well-known cities that are covered by Verizon. In 27 cities, rural and urban areas are blanketed with Verizon shadow.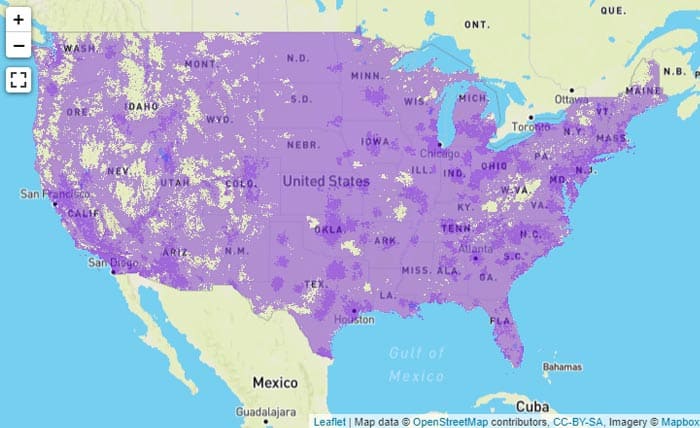 As a reliable network with effective internet speed and connectivity, Verizon's cell phone plan is the first choice. Rural areas users should look up Verizon plans because these areas are likely to get the utmost service.
Related Topics
Pros
Best nationwide coverage
Awesome streaming perks
Great international feature
Good Hotspot speed
2. T-Mobile Coverage Map
If you are looking for solid network coverage with exciting features, T-Mobile is one of the best choices to enroll in. T-Mobile plans include a no-interest phone payments plan, reasonable prices on a plan, and international coverage. Let's see why T-mobile is a popular carrier in the plan race.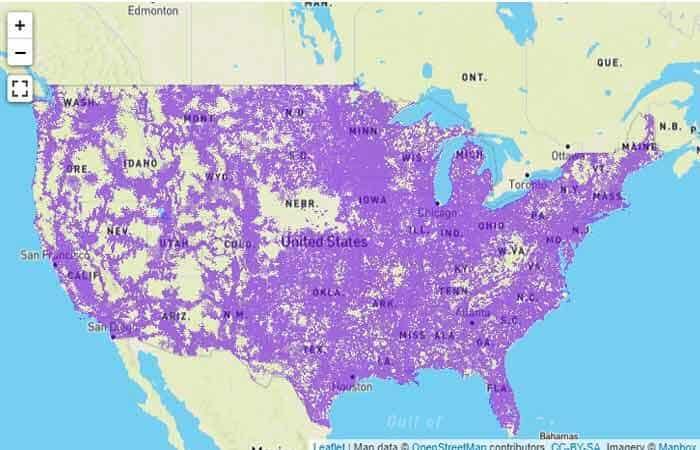 Unlimited domestic talk, text, and data
Unlimited talk, text, and 2G data in Canada and Mexico
Unlimited 3G mobile hotspot
Unlimited texting to 210+ countries
Their cheapest internet for four and five lines includes Magenta plus and Magenta, which cost around $50 and $40. T-Mobile coverage map clearly describes, they successfully covered huge areas in the United States. Undoubtedly, T-Mobile serves excellent coverage and extends the border to MVNO's. A group of networks such as Mint Mobile, Red Pocket runs T-Mobile's network.
Related Topics
Pros
Covered 62% of 4G LTE coverage on 48 states
Fastest Voice app experience
Claps for crazy-fast speed
Second-best download experience
Comparatively cheaper than other providers
Cons
Only 21% coverage on 3G network
Spotty coverage on West and Midwest
3. Sprint Coverage Map
In cell phone carriers coverage map comparison, Sprint is a well-known service that participates. Comparing Sprint's coverage to all major carriers, it is clear that Sprint has the worst network coverage. When you look at the Sprint coverage map, you will see blank spaces. That means, their network capability is too low, and not reached in the whole country. In fact, they are left behind in 4G coverage, only covering 28% of the country. Sprint is aware of its densely populated urban areas.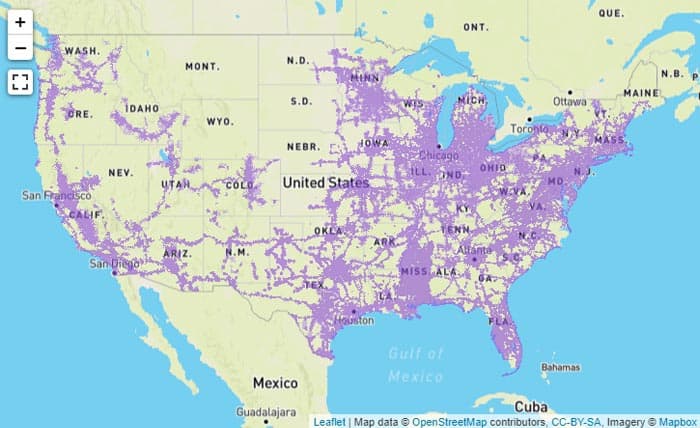 They don't care about rural areas. Consider Sprint as a secondary carrier, if your cell phone isn't so much use or you don't need vast coverage. Network performance also in a cage, you won't get crazy-fast speed, average download speeds issue still exists. But, their plans are affordable compared to others. They offer cheap cell phone plans to existing and new users. You may find extra features on Sprint such as Hulu, Tidal, Amazon Prime subscription as well as free international calling-roaming in Canada and Mexico.
Pros
Strong coverage in highly populated areas
Plans are perk and relatively low prices
Cons
Worst coverage in rural areas compared to other major carriers
Reaches only 30% 4G coverage
Falls behind with competitors in network speed
4. AT&T Coverage Map
At&t provides the second-best 4G LTE coverage in the country. Verizon offers only 2% more. In the United States, it covers 68% 4G network coverage while 3G network already covered 70%. At&t network capability is slightly less than T-Mobile but not so much. With good relations with At&t, you will find yourself in a reliable coverage area. Even the 3G network surprisingly works well.
Related Topics: Best Way to Cancel At&t Internet – Easy Method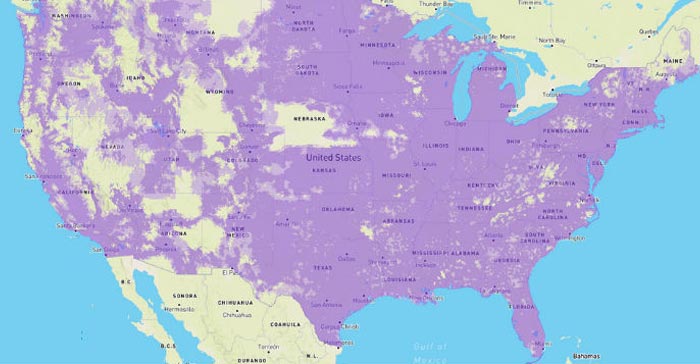 Though four major carriers lead in urban/rural areas, At&t placed their position stable. Aside from nationwide coverage, At&t offers different plan options like Unlimited Plan (Starter and Extra). These affordable plans also include unlimited talk, text, and data in Canada, the US, Mexico. Extra plans added Unlimited & 15GB Mobile Hotspot Data Plan. 50GB of Premium data and 5G access. Considering the data plan and coverage aspects, AT&T is definitely a good carrier.
Pros
At&t has 68% 4G and 70% 3G coverage
Best latency experience
3G network speed is far better than T-Mobile and Verizon
Cons
4G coverage less than Verizon
Costly plans
Lowest Video resolution experience
Related: Switching from At&t to Metro PCS – Free Guides – Free Tips for You
5. MetroPCS (Metro by T-Mobile) Coverage Map
MetroPCS is former name. Currently, we know it as a Metro by T-Mobile. It operates on T-Mobile's network. Metro by T-Mobile has 62% 4G LTE coverage and 40% 5G coverage. A ratio says you can get your expected coverage in urban areas or cities. There might be a few drawbacks in rural areas or remote parts but not heavily. Metro is a partner of MVNO (Mobile Virtual Network Operator).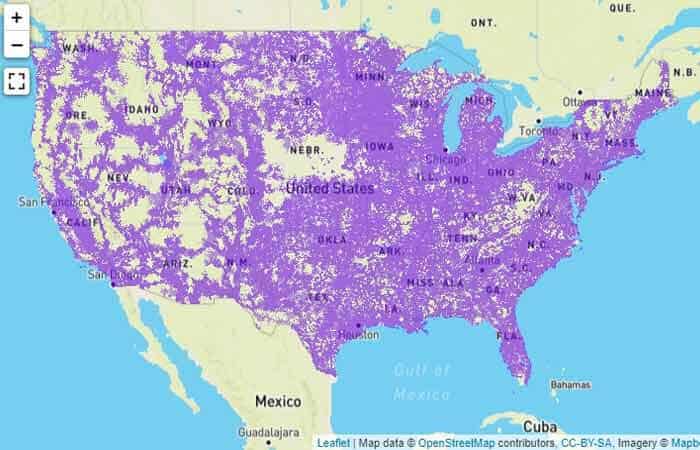 It can provide coverage like T-Mobile and internet plans are the same as T-Mobile. Deprioritization is the main disadvantage of MVNO. It may face slower internet speeds in populated areas because you are not an officially approved customer of T-Mobile. Metro by T-Mobile coverage will be the same as T-Mobile. You will get 100% U.S.-based customer service from T-Mobile customer care. So, you can treat yourself as a T-Mobile user, because you are getting the same benefit from T-Mobile.
Pros
99% of Americans covered by 4G LTE network
Best 5G network so far
Internal calling on 140 countries
Cons
Empty space in a rural area
De-prioritization after 35 GB of data use
6. Tracfone Coverage Map
Are you looking for a great alternative from cell phone coverage map comparison to save some money as well as get the best network coverage? Tracfone is a great alternative that provides low-cost plans, phones, and good coverage. Tracfone is an MVNO partner that runs four renowned networks such as At&t, Verizon, T-Mobile, and Sprint. It also operates other brands like Straight Talk, Simple Mobile, Total Wireless. The good news is Tracfone offers both GSM and CDMA coverage.
Related Topic: Can I Use TracFone in Europe? Answer Reveals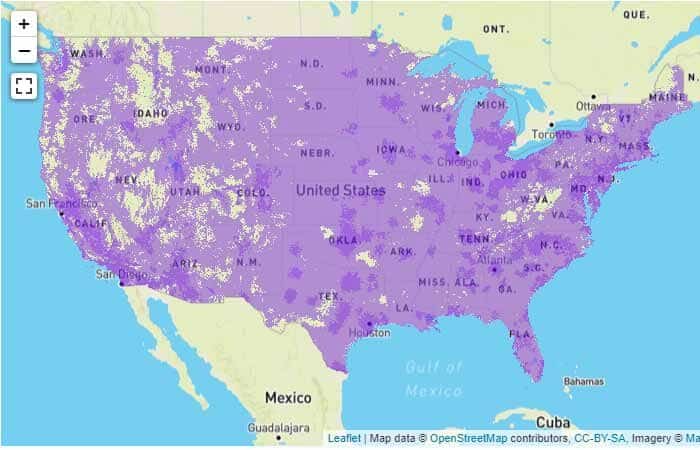 Though both networks offer super nationwide coverage, CDMA is far better than GSM coverage. Tracfone's 3G coverage has some dead spots in populated areas. 4G coverage is available when it comes to 4G LTE. Unfortunately, Tracfone doesn't provide wifi coverage, but if your phone is compatible, it will be connected to open wifi. Basically, coverage depends on some factors like weather, distance, crowded or non-crowded areas. If every factor is positive, you will get blazing speed.
Pros
Cheap and flexible plans
Great network coverage
Cons
No family plans or unlimited data plans
7. Virgin Coverage Map
Virgin Mobile is an MVNO brand that runs its network on Sprint's tower. It also acts as a subsidiary company of Sprint. The coverage you get on the Sprint network, same coverage you will get on Virgin. Of the three major networks as Verizon, At&t, T-Mobile, Sprint and Virgin can cover the least area of the US with their 3G and 4G LTE network.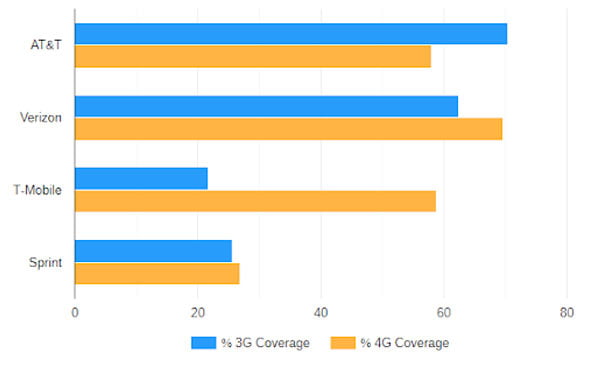 This infographic demonstrates that Sprint or Virgin Mobile achieved 4th position on the coverage map. Midwest, Southwest, Mountain West, and Northwest are uncovered as the report says. But eastern seaboard is solid for great coverage.
Pros
Up to 35 GB of high-speed data per month
Member benefits and discounts
Cons
Low streaming and gaming quality
No family plans
BYO iPhones only
8. Boost Mobile Coverage Map
Boost Mobile is a part of the MVNO program. It serves wireless service from T-Mobile's network. We have no doubt, T-Mobile has one of the biggest network capabilities in the US. So, Boost Mobile users can expect reliable coverage. The common downside for each MVNO user is slow internet issues in peak time or when the network is busy. The good side is Boost Mobile offers a hotspot data plan which is better than MVNO. There is no major difference between the Boost Mobile Coverage map and the T-Mobile coverage map.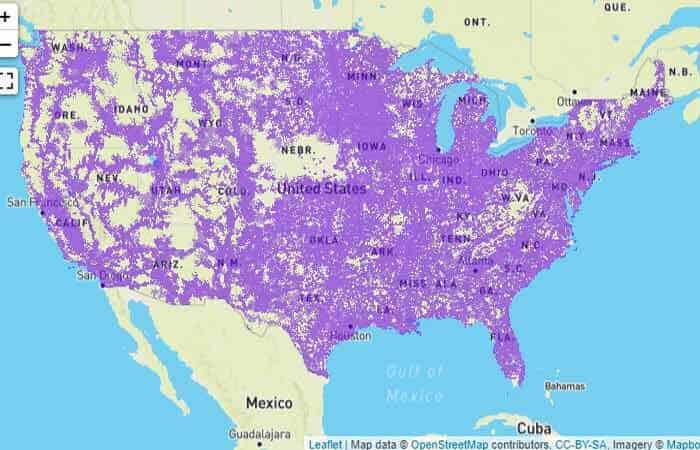 Related Topic: Key Factors in Boost Mobile Insurance
As per stats, T-Mobile or Boost Mobile successfully covers 62% area of the country with wireless coverage. Though T-Mobile took place at 3, still you can get fruitful service on Boost. Additionally, Boost mobile expands coverage in urban areas. So, the 4G LTE connection of Boost Mobile is the most reliable provider you can depend on. They also interfere with the 5G network, but still, it is in the processing section. Currently, Boost Mobile's 5G network is available in particular areas like Los Angeles, Chicago, New York. You can further check 5G coverage in your area. Just put the ZIP code at the official Boost Mobile Site.
Pros
Unlimited music streaming on all plans
Sufficient hotspot data on an unlimited plan
Cons
Dead coverage in rural areas
9. Cricket Coverage Map
Cricket is also a part of MVNO but it is owned by At&t so that they run Cricket on their network. Cricket feels proud to have the best coverage in the country. If you want cheap wireless and good reliable coverage, Cricket is the best wireless alternative. As you can see from the Cricket coverage map, a vast amount of portion is covered by Cricket wireless. Some dead zones may look up in the mountainside of the US (Idaho, Montana, Arizona, Utah, Nevada, Wyoming). Cricket wireless started to contribute to the 5G journey, still in process. We hope they will cover a big part soon.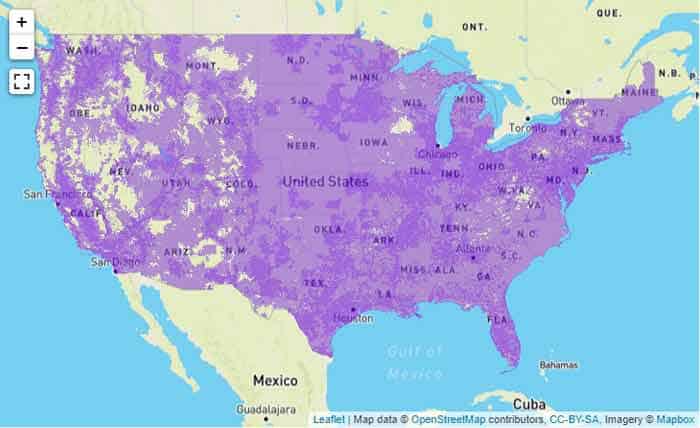 Pros
Cheap unlimited plans
Cheap low-data options
Cons
Less coverage in rural areas
10. Straight Talk Coverage Map
Straight talk works on all networks in the country. These networks are Verizon, At&t, T-Mobile, Sprint, 4G LTE, and 5G networks. Straight talk customers can also use Verizon's 4G LTE network to get outstanding coverage. Verizon never compromises with coverage, they try 100% to give unbeatable coverage. They already covered 70% out of 100%. Check out more details on the Straight Talk Wireless Coverage Map.
All Cell Phone Carrier Comparison Table
| | | | | | |
| --- | --- | --- | --- | --- | --- |
| Carrier | 5G Coverage in US | Nationwide 4G LTE Coverage | Nationwide 3G Coverage | Average States Coverage | Customer Ratings⭐ |
| Verizon | 10.9% | 71% | 62% | 85.41% | 4⭐ |
| T-Mobile | 36.7% | 62% | 21% | 86.8% | 3⭐ |
| Sprint | 14.1% | 27% | 26% | 48.81% | 2⭐ |
| AT&T | 15.99% | 68% | 70% | 88% | 3.75⭐ |
| MetroPCS | 40% | 63% | 21% | 86.8% | 3.5⭐ |
| Tracfone | 36% | 27% | 45% | 77.25 | 2.5⭐ |
| Virgin | 16% | 29% | 99% | 48.81% | 1.5⭐ |
| Boost | – | 62% | 99% | 62% | 3⭐ |
| Cricket | 15.39% | 68% | 70% | 88.01% | 3.5⭐ |
| Straight Talk | 70% | 70% | 51% | 75% | 3.5⭐ |
Small Suggestion for You
Compare cell phone coverage maps across the US and Canada.
Find out if your carrier has better coverage than others.
See which carriers have the best coverage where you live.
Save money by choosing the carrier with the strongest signal.
Frequently Asked Question (FAQ)
Who has the best cell phone coverage?
Verizon has the best cell phone coverage compared to the other 9 providers. Verizon already covered 70% of the country with a 4G LTE connection. At&t covers 68% and T-Mobile 62%.
Who has the best cell coverage in Canada?
Telus has the best coverage in Canada. It is the fastest, reliable and available. Aside, Bell and Rogers contribute to a limited part of the coverage map. They covered around 30% of Canada.
How accurate are cell coverage maps?
Accuracy depends on reliability. All providers such as T-Mobile, Verizon, At&t, Sprint have internal databases. We know what they reveal. If they provide wrong answers about coverage maps. We can't do anything. All the information we provided in this article comes from their official source. I hope this information is accurate.
Who is the #1 cell phone carrier?
According to Statista, At&t is the leader of all mobile services in the US. It has a 44.8% wireless subscription share in 2021.
Conclusion
A cell phone coverage map compares the signal strength of different networks around the world. It shows where you can get service from each network. In some places, there are no signals at all. In Cell phone coverage map comparison, the first thing you need to do is figure out which cell phone carrier you are using. Then, you can compare carriers by looking at their coverage maps.
Most carriers have different levels of service depending on where you live. For example, Verizon has better coverage in urban areas than Sprint does. However, not all providers are made for blazing speed or cool coverage, Some may fall behind in the carrier race. You should grab a profitable provider, which can meet your demand.
Learn More