When it comes to choosing from Pure Talk Vs Cricket Wireless, many people will get confused. Both MVNOs in the US are competent and provide attractive plans for the users. If you are facing difficulties choosing between Pure Talk vs Cricket Wireless, you are on the right Track. Today, our discussion will follow everything about these two operators. And the ultimate goal is to help you choose the right one. So, let's start with a general introduction to these operators.
What Is Pure Talk?
Pure Talk is a Mobile Virtual Network operator (MVNO) that provides prepaid wireless phone service to customers in the United States. This operator is becoming more popular nowadays because of its affordable plans and features. Also, it has no hidden fees or surprise charges as well. So, customers can easily understand and predict their monthly phone costs with Pure Talk.
It's a no-contract wireless provider, meaning customers are not required to sign a long-term contract to use their services. Alternatively, customers can choose from various prepaid plans that offer different amounts of data, minutes, and text messages. It also offers all essential services, like international calling and roaming, to help customers stay connected while traveling abroad.
Pros
Affordable plans with no hidden fees or long-term contracts
Unlimited talk, text, and data options are available
Coverage on the AT&T network
Sales unlocked devices with eSIM support
Cons
Limited international calling options
No family plans available
May not have coverage in all areas
What Is Cricket Wireless?
Cricket Wireless is a prepaid wireless service provider operating on the AT&T network. It is most preferred for people using heavyweight data. Customers looking for affordable cell phone plans without a contract are more fond of this provider. This popular carrier offers various plan options, from introductory talk and text to unlimited data-streaming. Customers can choose from smartphones and bring their devices to the network. Cricket Wireless is now considered one of the most reliable and cost-effective options for people looking for a hassle-free wireless service. It also offers users a complimentary subscription to the popular streaming service like HBO Max.
Pros
Very affordable pricing and no activation fees
Requires no commitment or contract
Suitable for domestic roaming with 5G and LTE browsing speed
Users can roam in Canada and Mexico for free
A high-quality video streaming option is available
Cons
No eSIM and BYOP support
Deprioritized data
No free hotspot plans
Comparison Table
| Fact | Pure Talk | Cricket Wireless |
| --- | --- | --- |
| Launched | 2009 | 1999 |
| Headquarter | Covington, Georgia, the United States | Atlanta, Georgia, The United States |
| Carrier Network | AT&T | AT&T |
| Required Contract | N/A | N/A |
| Cheapest rate for Phone Plan | Less than $20 | Approximately $30 |
| Regional Coverage | 15 states | 40 states |
| BYOP support | Yes | N/A |
| eSIM | Yes | N/A |
| Unlimited data | Available with cap | Available with no cap |
| Device financing | N/A | Yes |
| Cloud Storage support | N/A | Up to 150GB |
| 1080p HD Video Streaming | Yes | Yes |
| Phone Unlock Period | Unlocked while purchasing | 180 days after purchasing |
| Live Chat Customer service | N/A | Yes |
| Data Speed | 4G LTE speeds | 4G LTE speeds |
| Abroad roaming | Canada & Mexico | Canada & Mexico |
| Data rollover | N/A | Available in specific plans |
| Device Selection | Limited | Wide Selection |
Related: Pure Talk vs Patriot Mobile – Grab The Best One!
Pure Talk vs Cricket: Comparison Side by Side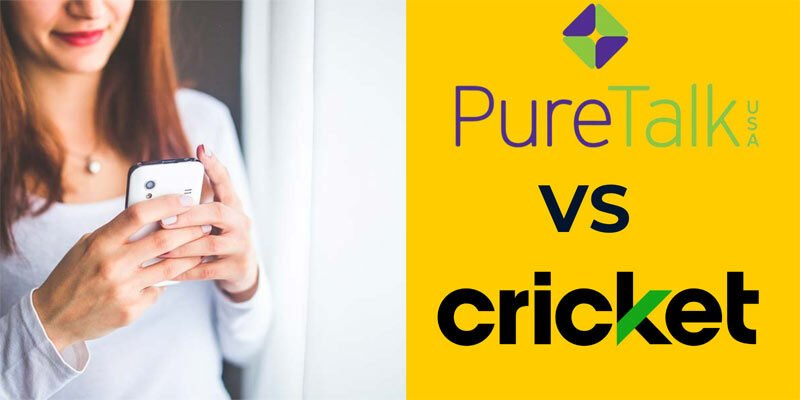 Regional Coverage Pure Talk
Pure Talk is a relatively smaller company that focuses on providing low-cost plans to customers in the southeast and southwest regions of the United States. Outside the US, Pure Talk is also available in Canada and Mexico. However, they offer service in the most crowded states in the US. Some of them are –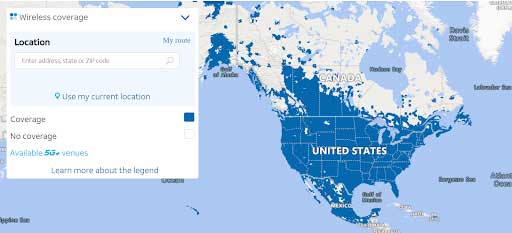 Alabama
Arkansas
Georgia
Louisiana
Mississippi
Oklahoma
Texas
Florida
New Hampshire
There are most states available and you can find them here.
Regional Coverage Cricket Wireless
On the other hand, Cricket Wireless is a larger company that offers services in more than 40 states across the United States. As a result, it will win the match of Pure Talk Vs Cricket Wireless. They have a strong presence in the west and southwest, with state coverage. Some of them are –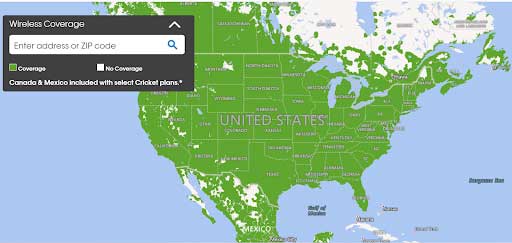 Arizona
California
Colorado
Nevada
New Mexico
Illinois
New York
Pennsylvania
In terms of coverage area, people can't argue about Pure Talk vs Cricket Wireless. It's because Cricket wireless is a few steps upward than the Pure Talk service. You can check out the Cricket wireless coverage map to learn about their service coverage. Cricket Wireless is also available in Canada and Mexico for text and calls. But it is available in 37 more countries for text only. Some of them are –
Canada
Mexico
China
Australia
France
Germany
Greece
Italy
Japan
South Korea
You can check the list of country coverage by Cricket wireless here.
4G Coverage
Both Pure Talk and Cricket Wireless offer 4G coverage to their customers. Cricket Wireless and Pure Talk use AT&T's network for its 4G coverage. So, customers of these two leading MVNOs can expect comprehensive 4G coverage and fast speeds across the country. Indeed, both offer 4G LTE data speeds for the user's convenience.
5G Coverage
Cricket Wireless and PureTalk operate on the AT&T network for their 5G support. They offer 5G coverage in select cities across the United States, including major cities like New York, Los Angeles, and Chicago. However, Pure Talk's 5G coverage is more limited than Cricket Wireless. Both offer 5G roaming in select international destinations, such as Canada and Mexico.
Plans and Pricing
Pure Talk
Pure Talk is popular for arranging very affordable pricing plans for customers. It offers plans for individuals and families. As you buy double or triple-line plans, the prices will be reduced. Pure Talk also provides specific plans for table users too. The table below will expose the plans for single-line users.
| Data Allowance | Facilities | Price |
| --- | --- | --- |
| 2 GB Data | Unlimited Talk & Text | $20 per month |
| 4 GB Data | UnlimitedTalk & Text | $25 per month |
| 6 GB Data | UnlimitedTalk & Text | $30 per month |
| 10 GB Data | UnlimitedTalk & Text | $35 per month |
| 20 GB Data | UnlimitedTalk & Text | $45 per month |
| Unlimited Data + 15GB Hotspot | UnlimitedTalk, Text &Data | $55 per month |
| Unlimited Data + 25 GB Hotspot | UnlimitedTalk, Text &Data | $65 per month |
Cricket Wireless
Unlike Pure Talk, Cricket Wireless has fewer options for cellphone users. But it provides more facilities than most other MVNOs. However, among all the data plans, the most expensive one is relatively more convenient as it provides extra facilities that are truly worth paying for.
| Data Allowance | Facilities | Price |
| --- | --- | --- |
| 5 GB | Text and Talk (Domestic ) | $30 Per month |
| 10 GB | Text and Talk (Domestic ) | $40 Per month |
| Unlimited | Unlimited texts from the U.S. to 37 countries | $55 Per month |
| Unlimited + 15 GB Mobile Hotspot | Cloud Storage, HBO Max, Unlimited texts from the U.S. to 37 countries | $60 Per month |
Speed and Perks
Pure Talk
About Speed, Pure Talk authority is always concerned. But they cannot beat the service of Cricket Wireless. Generally, Pure talk offers 4G LTE speeds alongside 5G data browsing support. But it doesn't have any extra perks.
Cricket Wireless
For Speed, Cricket Wireless is one step ahead in the battle of Pure Talk Vs Cricket Wireless. Like Pure Talk, it also offers 5G and 4G LTE speeds side by side. But it offers lots of extra perks, including 150GB of cloud storage, Free HBO Max streaming, and international destinations.
BYOP or BYOD Support
Pure Talk
Pure Talk is comparatively more modern than many other MVNOs in the US, occupying almost all the modern technologies. BYOP and BYOD support is one of them. Technically, both have the same function, which means you can use the service on your device or phone.
Cricket Wireless
Similarly, Cricket wireless users are also allowed to use their own devices or phones. That means the essential BYOP or the BYOD service is available here. But Cricket wireless doesn't support 5G in for BYOP or BYOD users.
Mobile Hotspot Data Throttling
Regarding the Mobile Hotspot service, we would like to hand over the cup to Pure Talk. Unfortunately, most plans provided by Cricket wireless don't contain hotspot service. But Cricket Wireless prioritizes data Throttling more than Pure Talk does. When the network is busier, Pure Talk gets deprioritized occasionally.  The speed can drop to 256 kbps when you reach the maximum cap. On the other hand, Cricket Wireless doesn't have a record of decreasing the speed, especially for unlimited data plan users.
Phone Compatibility
Pure Talk and Cricket Wireless are offering a range of devices compatible with their service plans. Usually, Pure Talk offers varieties of smartphones, including Apple, Samsung, and Google. On the other hand, Cricket Wireless also offers services such as Apple, Samsung, LG, and Google. To check if a device is compatible with these two MVNOs, you can visit the company's website and use the device compatibility tool. This tool allows you to enter the make and model of your device, and it will tell you if the device is compatible with Cricket or Pure Talk Wireless' service.
How to Choose a Cell Phone Plan?
You must consider a few key things to choose the right cell phone plan. They are as follows.
Choose a plan according to how much data you use in a month.
For families, consider a plan that allows for various lines so everyone can use it.
Choose a place based on how much you are willing to pay monthly for your cell phone plan.
Consider which carrier has the best coverage in your area and look at any additional features they offer.
You should also check the contract length while choosing the plan.
Considering these factors, you can choose the right cell phone plan that best fits your needs and budget. Pure Talk and Cricket Wire's plans are good in terms of these factors.
Which is Better, Pure Talk or Cricket?
It ultimately depends on anyone's needs and preferences. One should consider exactly what is most important to the individual. If price and customer service are the top priorities, Pure Talk may be the better choice. Cricket may be better if coverage and data options are more critical.
Final Verdict
Hopefully, the conflict between Pure Talk Vs Cricket wireless won't bother you anymore. Once again, we would suggest that one should consider their requirements, budget, and availability in their place to choose the right MVNO. Still, if you have any queries, contact the respective MVNO service directly.