EBT means Electronic Benefits Transfer. Generally, those who are eligible for EBT benefits, also get a physical card named "ebtedge". All balance stores in this card. Users can transfer, receive and check their current balance anytime. But, how to check EBT balance without card number when you're out of reach of the card, or it's lost or stolen? In this article, I will describe step-by-step checking EBT card balance. So, without further ado, let's get into this.
What is an EBT Card?
An EBT card is a government benefit transfer card. It contains various benefit balances depending on what the card is intended to cover. Usually, there will be at least SNAP (Supplemental Nutrition Assistance Program) benefits. This can only be used to purchase food for home consumption. From Govt. organization EBT Card reloaded every month. Also, if you are getting cash benefits, this will be a separate balance, which you can use like a debit card or at an ATM specified by the contractor to get cash.
You may have WIC food benefits attached to the card. This is a program that provides free nutritious foods to women, infants, and children. Think of them as a Kroger Free Friday Download coupon (or coupons) that are downloaded by prescription of the agency doing the WIC program.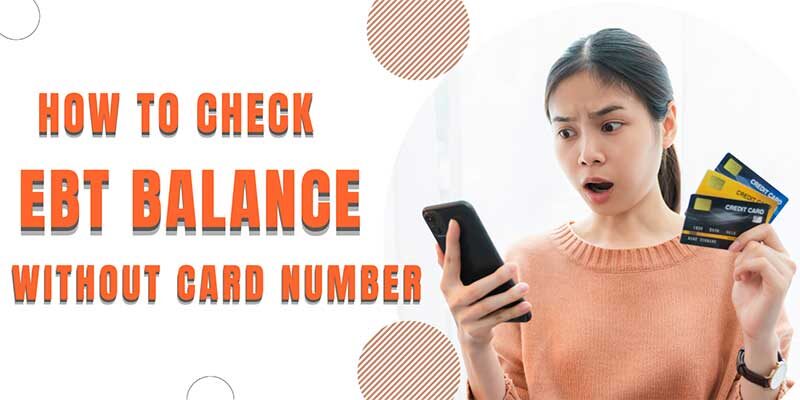 How to Check EBT Balance Without Card Number?
Do you want to check the balance on your EBT card? If you are out of reach of the EBT Card. What to do in this situation? I am going to explore hidden techniques to check EBT balance without a card. Let's dive into this.
3 Ways to Check EBT Card Balance Without Card Number
1. From Transaction Receipt
Since you have an EBT Card, you should use it for transactions or for receiving money. EBT-accepted Bank or ATM will give you every transaction report if you request. It is easy to know your last EBT Card balance from the last transaction receipt. You will receive a receipt when you transfer or withdraw money from your card. The card balance is printed at the bottom of the transaction receipt.
Note: This report won't show you the exact card balance if you have any pending transactions. To know the exact balance, you can follow the below method also.
2. From Customer Care
Customer care executives are always ready to help users. If you are having a problem checking your EBT Card balance, follow the instructions below.
You will get a customer service phone number for EBT Card
This number seems to be (877) 328-9677
Dial the number, follow instructions
Select Customer Care Executive to talk
Tell the Customer Care Executive about the balance checking, once your call is connected.
Give him your Social Security Number to start checking your EBT Card balance
Customer Care Executive may ask additional questions to identify you as a real account holder. Make sure you have all the answers
After question process, he will check the balance and let you know instantly
Related Article: Top 5 Credit Cards That Only Ask for Last 4 Digits of Social Security Numbers (SSN)
3. From Online Account
With this method, you check ebt balance without card number online. You must need a stable internet connection and a smartphone or laptop. Let's see.
Login to Cardholder Portal with login credentials like Email, Password, Social Security Number
Since you have missed the card number. You need to retrieve old login information. You can also change or reset password if want
Scroll down and find your state. Now get the link and check EBT Card balance online
These options are easy to get details about EBT Card balance. All you have to do is follow these steps step by step attentively.
What to Do If I Lost or Stolen EBT Card?
Physical EBT Cards can be lost or stolen anytime. It's a common issue most cardholders face. When you lose or someone steals the card, first and foremost, you need to disable this card. Otherwise, fraudsters may take advantage of it. To do this, Call customer service right away at (877) 328-9677.
Wait and go through with prompts. Once you hear a prompt about a report card as lost or stolen. Enter the EBT Card number to mark it as a report. The Customer Executive will disable this card within a few minutes. However, if you need a new EBT card, tell them how to get a new card. They will instruct you step by step. You can also go to an EBT agent location, then request a replacement EBT card as soon as possible.
You May Also Like to Read!