You are a savvy guy, right? Maybe looking for a decent carrier that can reduce monthly cellular bills. I think your budget fits with straight talk. Considering the customers, it has kept its plan price low. Straight talk is an MVNO provider, using a no-contract policy, offering prepaid phone plans at a cheap price. It has no own network, it runs At&t, T-Mobile, and Verizon networks. Straight talk is a best choice if you want to switch from total wireless. Straight talk is a better choice. So, can a total wireless phone be switched to straight talk? In this guide, I will give you a proper explanation. Let's dig it.
Why Use My Total Wireless Phone on Straight Talk?
There are several reasons you may stick your mind to getting service from Straight Talk. Surprisingly, you will get previous privileges when switching Total Wireless Phone to Straight Talk including unlimited cell phone plans, Total wireless offer. Additionally, Straight Talk is one of the top-rated US carriers.
They continuously expand their network. When you look over the straight talk coverage map including modern 5G technology, you will see the significant change. No compromise in coverage, they put a solid punch on it, plus they maintain unlimited talk, text, data plans smoothly.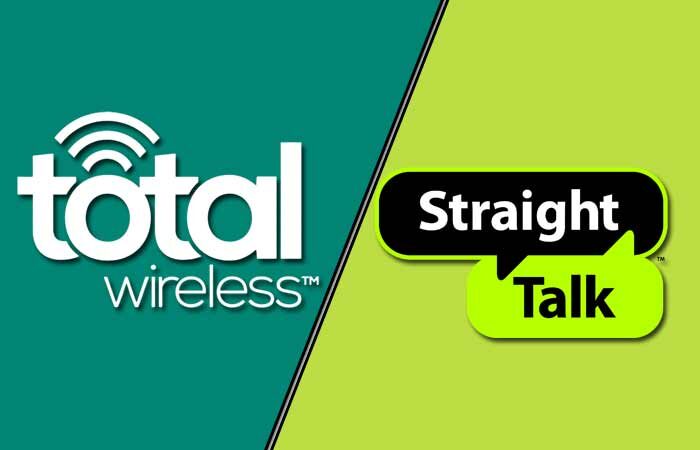 What to Consider Before Buying a Total Wireless Phone to be Used on Straight Talk?
If you think about purchasing a total wireless phone and using it with Straight Talk, you have to follow the unlocking policy. See the few factors about Total wireless unlocking.
Request for a phone unlocking
Make sure your previous phone is active on Total wireless network.
Achieve ownership of a Total Wireless phone that is working on Straight Talk. You may also check out straight talk compatible phones.
Your phone must be no bad history report such as lost, stolen, fraudulent activity and harassment complaint
In order to use a total wireless phone on Straight talk, you have to follow the above-mentioned unlocking policy. Though a lengthy process, it is possible. Try to get help from a Total Wireless customer representative. Or try our unlocking instructions.
Read More: Get 15 Free Obama Phone from 20 Providers
How to Unlock Total Wireless Phone?
It is possible to unlock any device with Total Wireless if it meets unlock conditions. Before moving onto the unlocking process, 3 things you have to know.
You can't unlock the Total Wireless phone which is blacklisted
You need a pin code to unlock your phone. To get it, Call Total Wireless at 1-866-663-3633 and send an unlock request to Total Wireless.
Total wireless will never unlock your device, you have to do it manually. Just need a pin code from them
Process of Unlocking Total Wireless
This is an effective way to successfully unlock total wireless-
Using Third-Party Service
In this process, I will use IMEIDoctor to unlock your device. It can unlock a few phone brands such as Samsung, iPhone, LG, HTC, Huawei, Sony, and other 7 brands.
Go to IMEIDoctor's official website then select your country and the locked network name
Find your phone's IMEI number. Dial *#06# or get it from Settings > About menu
Confirm the mobile model
Enter email address
Then Unlock for Any SIM Card
Agree their terms and conditions
Use a credit card to complete payment
Normally, it takes 6 hours to 24 hours to successfully unlock. IMEIDoctor offers a 30-day money-back guarantee. You will get your funds back if the phone isn't unlocked.
Read More: How to Get Free Cell Phones With No Credit Check No Deposit No Credit Card?
Straight Talk Bring Your Own Device Program
As an existing total wireless user, if you are planning to switch total wireless to straight talk without leaving your favourite smartphone, the BYOP program got you covered. With the process, you can save up to $45 per month. To keep your number on Straight talk, the following process will reach you at your destination.
Step 1: Check Phones Compatibility
All carriers have separate compatibility checkers. Straight talk also has a mobile compatibility checker, where you can check compatibility. You just need to input an IMEI, MEID, or ESM number.
Step 2: Get a SIM, Access Code, Pick a Plan
Without a previous plan or new plan, you can't get over the activation process. Straight talk offers a $45 unlimited plan which has a great gigabit speed.
Step 3: Activate Device
Go to the Activation page
Tap on Straight Talk Phone Activate
Select "I want a new number" or "I want to keep my number"
Enter your number
Then follow screen instructions
The above process is helpful in Bring Your Own Phone (BYOP). I hope you can do it. Because you are brave and fortune favors the brave.
How To Check If You Can Use Your Total Wireless Phone On Straight Talk?
How to understand if your current phone can work with Straight Talk. In this matter, you have to check compatibility manually.
From the check compatibility option, Tap on "Check Phone"
From "Devices Compatible Carrier"
Two options named "Identify the carrier from my current Service provider" and "I have a GSM Unlocked device"
Choose any option you preferred
Follow the screen instructions
Your provided information is sufficient to recognize your phone. Additional information such as IMEI, MEID, or ESM number may be required. Be ready with this information.
Which Total Wireless Phones Can You Use On Straight Talk?
Are you feeling a dilemma with this question? You should use an unlocked or compatible phone with straight talk. Though some Total Wireless Phones are already unlocked, you have to check compatibility for sure. However, shading more light on the frequent question. In my research, listed phones are highly compatible with Straight Talk.
Bottom Line
Straight Talk Wireless is a type of prepaid cell phone carrier, which led the internet era for a long time. Unlike Total Wireless, it has enough credibility and loyalty to users. More than 25 million users are connected with Straight Talk. They also provide several types of cell phones that you can get from their shops with lease payment or cash. So, can a total wireless phone be switched to straight talk? The interesting fact is you can bring a previous phone such as a total wireless phone to straight talk with minimal effort.