Life goes smoothly when you get your expected internet opportunity. But, that's a dream for rural residents. Though internet providers try their best to cover all the corners, it's not always possible. However, pick some reliable, smoothie and speedy rural internet connection in your areas, that might bring mini happiness to your heart. Here is a list of rural internet service providers for 2022.
List of Best Rural Internet Providers
Rise Broadband
Mediacom
T-Mobile
Kinetic by Windstream
Viasat
Hughes Net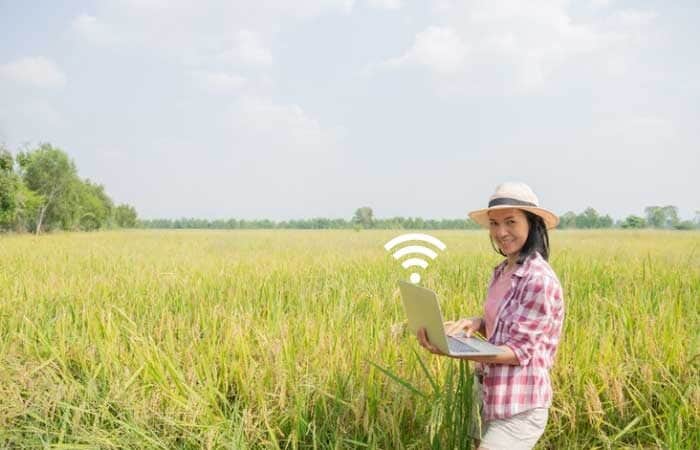 1) Rise Broadband
Rise broadband is a leading wireless internet provider. Around 5% of US households are using this line. From 5% users most of which are in rural areas. Its coverage map clearly shows 16 states with Idaho, Texas, Iowa, Illinois, Colorado, Nebraska, and Utah having the highest signal ability. Unlike satellite internet, Rise Broadband doesn't need a direct line to the home. It can be easily accessible in rural areas where fiber optic, cable, and even telephone lines do not reach.
This broadband line provides truly unlimited data options that speed up to 50 Mbps and minimal support for online gaming. Premium Wi-Fi, Premium Mesh Wi-Fi service all add-ons are available in Rise Broadband. Simply, it's amazing.
Price Range: $35-$70 per month
Speed Range: 5-50Mbps
Connection Type: Fixed Wireless
Data Caps: 250GB plus Unlimited data options
2) Mediacom
Mediacom is another rural internet service that runs its connection through cable. It can deliver decent speeds better than satellite and DSL services. As a cable line, it's limited in most cases. Mediacom is only for 2% of U.S residents across the South, Middle East, and some parts of Delaware and California. No doubt, Mediacom is one of the cheapest internet providers. Its internet plan starts from $20 per month. Other plans come with 200GB of data and data limit up to $50. Up to 6000GB higher-tiered plans are available in Mediacom.
Price Range: $20-$80/month
Speed Range: 60-1,000Mbps
Connection Type: Cable
Data Caps: 200-6,000GB
3) T-Mobile
The new arrival of the 5G experience is exciting news for T-Mobile users. But, sorry to say we see minor improvement in rural areas. T-Mobile promises to improvise home internet connectivity in rural areas. Currently, T-Mobile covers its 5G connectivity with 30 million homes in 40 states. According to a T-Mobile report, a third of 30 million homes in rural areas are under 5G connectivity.
For T-mobile 5G eligible users have the fastest internet plan cost at $50. Major drawbacks are in-home internet service T-Mobile has fallen network report. Occasionally, it forces the network to 4G LTE, which is unacceptable for anyone. It experiences slow, sluggish internet speeds. But, as a user, you should expect a speed range from 25 to 100Mbps. This plan has no data caps or contract and necessary equipment is included without extra cost.
Related Articles: Best 6 Ways to Bypass T-Mobile Throttling Issue
Price Range: $50/month
Speed Range: 25-110Mbps
Connection Type: Wireless
Data Caps: Unlimited
4) Kinetic by Windstream
Kinetic is another home internet service that provides high-speed internet connection in 18 states across Eastern, Southern, Midwest US. Although initially found in rural and suburban areas, about 1/5th of Windstream's network uses fiber connection. In fiber available areas, Kinetic users can get promising download and upload speeds ranging from 25Mbps to 1000Mbps.
This speed lies in most rural internet providers. For streaming TV Online over a wireless connection, online activities, online gaming Kinetic provides your ideal speed. Because download rates of 100 Mbps or higher are accessible throughout more than half of the provider's DSL network, even locations not eligible for fiber service are likely to have access to broadband-level speeds. Overall, Kinetic is a good choice for unlimited rural internet service. One reason is for no data caps or contracts.
Price Range: $37-$67/month
Speed Range: 25-110Mbps
Connection Type: DSL, fiber optic
Data Caps: None
Learn More:
5) Viasat
Viasat is a kind of satellite internet provider that is available in 50 states in the US. Amazon's Project Kuiper and Elon Musk's Starlink are well-known satellite internet providers. Where satellite connection is a primary broadband option, consumers will most likely have an option between Viasat and HughesNet.
There is no huge difference in plan pricing between the two providers but Viasat is merciful, comes with more data, more speed, in some locations aside speed available up to 100Mbps in selected areas. Viasat also offers DSL hybrid service, New satellite, Viasat Flex purpose of improving signal reliability and minimum latency. Now, this service is available in AT&T's DSL network in rural areas at no extra cost.
Price Range: $50-$150/month
Speed Range: 12-100Mbps
Connection Type: Satellite
Data Caps: 40-150GB
6) Hughes Net
Hughesnet is a decent alternative to Viasat. Viasat speeds always depend on the location but Hughesnet is again in this phase. It serves a max download speed of 25Mbps in all service areas. According to FCC's Measuring Broadband in America, Eighth Report, HughesNet customers get actual speeds when they use a wired connection.
Speed issues may deprive you when you exceed monthly data caps. Hughesnet never charges extra fees that means it is truly "Unlimited" but for customers who cross monthly data allowance, they must purchase more data or it will endure a massive reduction in remaining speed.
Related Article: How to Bypass HughesNet Throttle Speed?
Price Range: $60-$150/month
Speed Range: 25Mbps
Connection Type: Satellite
Data Caps: 10-50GB
People Also Ask
How bad is the rural Internet?
Some annoying problems we may experience in rural areas. Examples are lack of reliability, pricing, throttling, etc. These are bad sides for rural internet.
Why do rural areas need broadband?
Because broadband brings new opportunities for the education and health sector for every household member. Previously, they needed to travel long distances only for education and medical treatment.
Does 5G internet accept rural areas?
Yes, of course. But reliability matters here. T-Mobile is the first provider that hands up for 5G coverage in rural areas. I hope soon they can cover every corner.
Final Thoughts
Though some rural internet service provider has limited options you should give thanks to those options. You might try a local electric co-op to get internet access. Other options you may go for, mobile hotspots, portable satellite internet by RV, or dial-up internet.