Cox Communications is a leading internet provider providing telecommunication services since 1962. Their services are internet service and cable TV service. To avail of any of the services, users just need to request a suitable device and select a preferable package for themselves, and the rest will handle by the company. Different types of data packages, cable TV packages they provide up to your range like high speed or low speed, maximum bandwidth, and minimum bandwidth.
Cox also displays different types of packages on their official website, you can check it out there. Cox all service running good but though some downside experienced by some users. Cox Internet Slow at Night is one of them. You are not alone with this shitty problem, many Cox customers have complained about the slowdown of cox internet speed at night. They faced this issue when browsing certain websites or downloading huge large files, they need.
Most of the users don't know what's going on on their internet and Why Does Cox Internet Slow at Night? This is a piece of article that describes why Cox internet becomes rude at night and how does it can be fixed.
Why Does Cox Internet Slow at Night?
After analysing the matter we have found 8 reasons from 100 related Cox internet forums. Let's reveal it.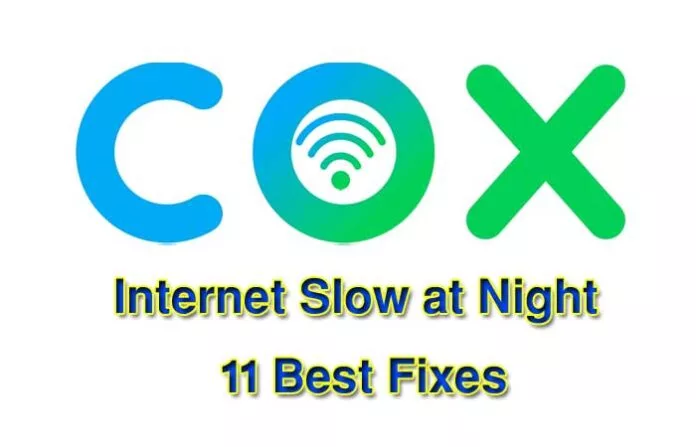 Cox is throttling your connection by own.

You are using an outdated modem that needs to be updated or replaced.

Multiple devices are connected at a time that results in slow speeds.

Using the same bandwidth by too many people in your area.

Neighbour's are active online at once which slows your connection

Weather affects the internet connectivity and data travel fallen from point A to point B.

Cox has limited coverage in your area.

Occurred technical difficulties due to high traffic during peak hours.
11 Ways to Fix Cox Internet Slow at Night
1. Restart Router
If you are using a relentless router, you should definitely know about its memory clogging. It can get clogged up anytime. This may one reason for slowing down the internet speed. To get rid of this unpleasant issue, give a reboot to your device. Flip the device, then press on power button. Remember, just unplugging the power cable won't fix the slow issue at all. A proper restart may take few minutes as it cleaned up previous junky files stored on its memory. Now try to switch the device back on. After seeing the lights up, you can start it without any hassle.
Related Article
2. Bandwidth Overflowed
If restarting doesn't work for you, then it seems the bandwidth of your current connection may be overflowed. Lots of people work on the internet at night, which makes the connection slow down. This is a common and regular issue. The only thing you can do is, wait few minutes until it back. Additionally, ISP might be changing or updating their servers to speedy service, just inform them about your connection. They will answer you.
3. Upgrading Internet
Upgrading to a new internet plan might work on internet speed. It is better to move to a new package, just contact Cox provider and specify the new internet plan you want to use. Then they will change your previous plan to a new one as well as the bandwidth will increase. ISP also provides the dual type of IP for specific areas. You can choose any best IP for internet use. Before moving to new plans, make sure you know broad information about the new plan. Because a new plan means new opportunities and high speed.
4. Unplug the router and modem for 30 seconds from the power resource. Now plug the modem first, then the router. Unplug them again and instantly restart both devices. Wait for 10 seconds, then plug them back in.
5. Re-check the internet connection with another device.
6. Contact Cox Customer Service Centre for a further suggestion or touch with an engineer who can solve this issue actually.
7. Update the router's firmware to see its better performance than before.
8. Change the Channel on your TV, if you are using Coaxial cable Set-top-box from Auto to 1 or 2, If it's not working at all try to change frequency setting from Auto to 6-8 (This is for fibre optic cable only in TV).
9. Re-check the cable lines in your home including pets, curtains, ceilings, furniture, etc. Because cable may be blocked or scratched by them. This issue can interfere with wireless signals that results slow down speeds eventually. Don't forget to check every joint of cable including power cords.
10. Reset the network settings by holding the "Reset" button for 30 sec which exists in the back part of the router/modem. It will reboot automatically, wait only 10 minutes to get it back with a fresh mode.
11. Still, facing low speed in Cox? Please call the Cox Technical Support team at 800-269-2355. Tell them about your problem, they will do the rest.
Final Words
Here are 11 ways of fixing "Cox Internet Slow at Night". I hope any of one will really work for you and your internet slowing issue will be fix up soon. Thank you!
Read More: