Instant bank transfer without debit card are a fast and convenient way to send money. There are multiple ways to do it, each with its requirements. In most instances, the process is fast and costs about one percent of the service fee. Instant bank transfers guarantee that money is made available immediately for use with the recipient. This can be an immediate bank transfer if the recipient has an account in the same bank as you. All you'll need is their account number, and the funds will be transferred immediately. You'll require their account and routing numbers if the recipient is from a different account. Let's delve into more details below.
How Does Instant Bank Transfer Work?
Instant bank transfers work when you have a bank account. Debit cards are linked to a payment account. This could be your checking account or savings account. It's better to have a checking account, as a savings account often restricts how much or how often you can withdraw. Alternatively, you can open your checking account with a credit union.
Instant bank transfers are similar to fast payment transfers between banks or making a payment using debit cards. You open your account with any online payment system, e.g., Paypal, Payoneer, wire transfer, Zelle, e.t.c. Once you set up an account, you can initiate a payment; the money service provider you choose will send a message to your bank requesting the funds. The bank usually debits the funds several days later (about 2 to 4 days).
When the funds leave your account, they move into an automated clearing system before being transferred to your online account. An instant bank transfer requires you to have a confirmed bank account before attempting it. You can only confirm a current account and not a savings account. Once you complete the confirmation process, funds can be transferred between your bank and your online provider, e.g., Paypal, without a debit card.
8 Ways to Instant Bank Transfer Without Debit Card
A debit card is an extension of your personal account. It allows you to pay for purchases and to make direct money transfers. An instant bank transfer with a debit card is not always convenient. There are cases where you may incur a higher cost in transfer and exchange fees than other alternatives. Money transfer providers are the most popular way to make an instant bank transfer with a debit card. The providers below are free to use, with convenient and user-friendly apps.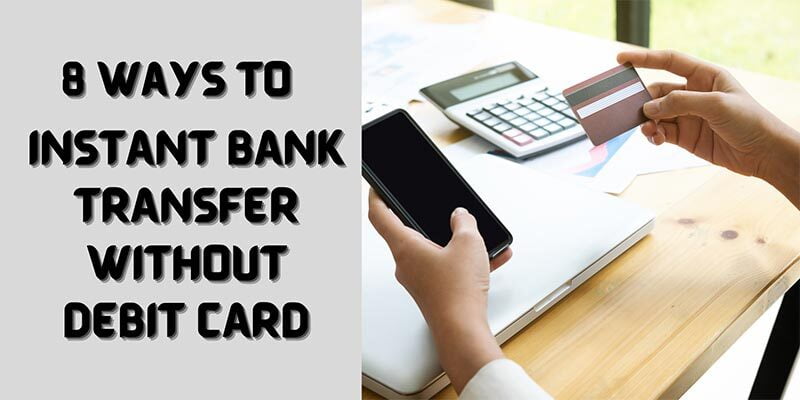 1. Using ACH Transfer
ACH (Automated Clearing House) transfers are a popular way to send and receive money electronically. This process occurs when you transfer funds from one bank to another in the U.S. The transaction will be processed via ACH. Currently, there isn't an instant bank transfer option via ACH transfer. But there are ways you can speed up the process. You can request the bank for a same-day bank transfer. This option will require you to pay a slightly higher fee. Alternatively, you can:-
Make the transfer via RTP network: The Clearing House RTP network was launched in 2017 with the aim of speeding up money transfers. This option is available for P2P real-time transactions, payroll, B2B, and Request for Pay options.
Use wire transfers: Western Union, MoneyGram, and other wire transfer companies offer bank transfer services between banks. However, this option is expensive and shouldn't be used often.
Instant ACH transfer apps: You can use ACH transfer apps like Zelle and Venmo. These peer-to-peer apps let you make instant bank transfers from your account to another within minutes. When you hear people talk about instant ACH transfers online, they mean this. To use these apps, you first have to register your account details.
The options mentioned in ACH transfers are only available for local transactions. You'll have to use other apps, like GoCardless Instant Bank Pay, for international transfers.
2. Cash App
You can use cash app for standard deposits to your bank account. You can also use it for instant deposits to your linked debit card. The former takes about 1 to 3 business days to arrive in your account, whereas instant deposits arrive instantly. Cash apps allow you to make instant bank transfers with a debit or credit card. Credit card transfers take longer to process. Debit transactions, on the other hand, are faster and incur a 0.5% to 1.75% fee.
Related Post: 11 Best Apps That Pay Instantly to Cash App
3. Google Pay
You can make instant bank transfers with a debit card using Google Pay. All you have to do is set up your debit card with Google Pay. Once you've done that, you can transfer funds within minutes at a small fee. Bank account transfers without a debit card usually take about 1 to 3 business days.
4. Apple Pay
Apple Pay lets you make payments online, in apps, and in stores from an Apple device. You can fund your Apple Pay account with funds from your debit card. You can transfer money within 30 minutes via Apple Pay if you have a debit card. However, without a debit card, the bank transaction will take 1 to 3 business days.
5. PayPal
One of the most popular sites in the world, Paypal lets you make instant bank transfers with or without a debit card.
Link your debit card to the app.
Enter the amount you want to transfer.
Review the details and the amount you want to transfer.
Tap' transfer.'
Paypal's instant transfer feature was introduced in 2019. The service comes at a 1.75% fee, which is relatively small compared to the fees incurred in wire transfers. What's more, standard transfers are free. Aside from the fees, there are limits to the amount you can transfer. The limits depend on whether you're transferring to a bank account or a debit card. When transferring funds to a bank account, the limit is $25,000. When transferring funds to a debit card, the limits are:
$5000 per day.
$5000 per week.
$15,000 per month.
$5000 per transaction.
The limits disadvantage business owners who may need to instantly transfer large amounts of money.
6. Wise
Wise does instant transfers and same-day transfers. The platform secures transfers to 144 countries worldwide at cheaper rates than banks. Wise is popular due to its prevalent exchange rates and fast transfers. Once you set up your account, you can make international transfers at a flat fee of ($0.5 – 2.0) depending on the amount and currency. Moreover, there's a 2% currency exchange fee plus a 24-hour guarantee on the exchange rate. Wise has a daily limit of $2000 for instant transfers using your debit card.
7. Wire Transfers
Banks have different policies regarding instant bank transfers via wire transfers. Still, wire transfers are fast, with varying fees depending on whether the transaction is local or international. When you wire transfers, you authorize the bank or non-bank provider to move funds from your account to someone else via an electronic payment network. Depending on the institution, the process can take several hours to several days.
Wire transfers are straightforward. Once you choose a wire transfer provider, you're required to provide the transfer details. Next, check the terms and conditions and pay the wire transfer fee; then, wait for the process to be completed. Wire transfers allow you to make direct bank transfers and transfers via debit card. This option is best for international money transfers. It's advisable to get a confirmation number from your provider in case of any issues with the transaction.
8. Zelle
Zelle is the best for fast bank transactions, including transactions without a debit card. The app is supported by nearly 10,000 financial institutions, which means that your bank may be a partner with Zelle. If that's the case, you can sign up for Zelle via your bank's app or website. Being a client of a bank partnered with Zelle means you incur zero fees to send or receive money. Zelle company claims that those who have enrolled can receive their funds in a matter of minutes. If your bank has not partnered with Zelle, you can still access their services by downloading their app. You can only send money directly from your bank account using this provider.
To Conclude
We live in an age where instant bank transfers are possible. You can undertake money transactions instantly without using a debit card by making a direct bank transfer. You can use your bank account to transfer money using ACH transmission and wire transfers. Instant bank transfer without debit card is possible without a debit card using various apps. You can make payments online using Google Pay or Apple Pay. Also, you can link up your debit card to your mobile wallets such as Paypal, Venmo, Cash app, and Wise. Once you link up your debit card, you can fund your wallet and use the funds to make transfers. Wire transfers are the best if you're looking to make international transfers. I hope you found this article helpful. If you feel there's any information we haven't shared, feel free to point it out in our comments section.