There are instances where you'd want to make an untraceable money transfer. You may want more privacy in what you do with your money. Maybe you don't want to fall victim to hackers or advertisers. You may want to hide your transaction from an abusive partner, or you don't want rival companies to be able to access your transaction history. Regardless of your reasons, there are untraceable money transfer app that you can use to maintain your anonymity. Today we'll cover 12 of the best untraceable money transfer apps and methods in 2022.
How Does Untraceable Transfer App Work?
An untraceable money transfer app works using powerful encryption technology. It protects your account and prevents fraudsters from accessing your information. What's more, they retain access to the sender's information. In most cases, it's only the recipient who'll know the name of the sender. Some apps let you use a username that is not connected to your real name, thus maintaining anonymity.
In other cases, you'll have to set up an email address that hides your identity. You can do this using anonymous email providers such as ProtonMail, Mailfence, or Guerilla Mail. Alternatively, you can open a new email account using yahoo or Gmail with random details and use it to make an untraceable money transfer.
What Is The Benefit of Using Untraceable Transfer App?
An untraceable transfer app gives you privacy which is highly recommended in certain cases. For instance, if you're donating to charity and don't want people to trace the funds to you. People with clandestine intentions may also want to use these apps too. An anonymous money transfer app ensures the sender's privacy and the security of the funds. Use of these apps is legal.
What Are The Best Untraceable Money Transfer App?
The best untraceable money transfer apps have robust features that keep the transaction and the sender's information private. Each of the apps in the market that maintain anonymity has varying features and benefits. Without further ado, the best apps are:-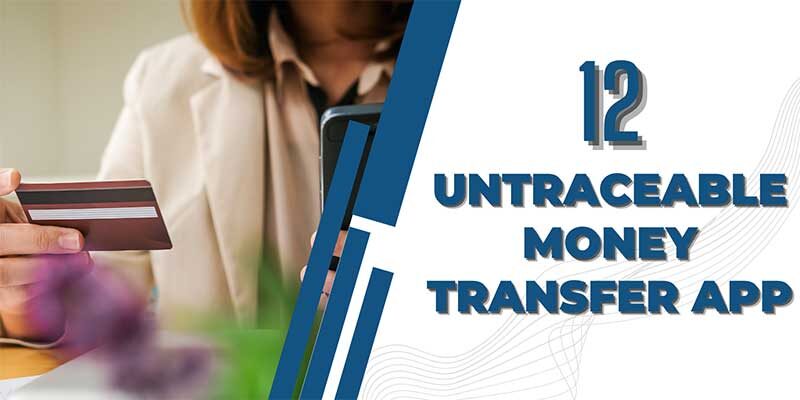 1. Cash App
Cash app is one of the most popular peer-to-peer money apps available in the U.S and U.K. The app lets you send money fast and anonymously by setting up a fictitious username or cashtag. Avoid putting your picture on your profile when setting up the account.
When you send money via the Cash app, the recipient will only see the amount, your cashtag, the date of receipt, and the 'received' notice. Your credit card details or real name are hidden. Conversely, you can have a fake name on your full name on a cash app. However, once you're setting up a cash app or ordering a cash app card, you'll be required to verify your personal information. You may have to send in a copy of your driver's license or allow them to verify your details following the federal guidelines. Therefore, if you want to hide something from the authorities or a Cash app, you will not be able to do that.
The cash app lets you send and receive money using just a username. You can use the app without linking it to a bank account, as you get a daily cap of $250 without verifying your identity. The only downside is that your funds are not FDIC-insured.
2. Venmo
Venmo is a product of PayPal. Similar to PayPal, Venmo is widely accepted and reliable as one of the best instant money transfer apps. You can send and receive money using your username without the other party knowing your true identity. Alternatively, you can use a registered email address that doesn't have your real name.
The money transaction process is pretty straightforward in Venmo. Just:-
Register on the app.
Click the 'pay or request' button
Enter the username, email, phone number, or email address of the recipient.
If the recipient is nearby, you can send money by scanning the QR code from their app.
Venmo does not offer true anonymity, a factor that's clearly stated on their site. You'll be required to state your funding source (i.e., your bank account) to make any transactions. You can set up an online bank account to walk around this hurdle. Online bank accounts are usually convenient as they don't require many details. If not, you can link your Venmo account to a virtual credit card.
3. PayPal
Paypal is one of the safest money transfer apps. This option is a "closed-loop gift card," Using this app; you can make anonymous transactions using a username or email that doesn't reveal your identity.
You can open an anonymous PayPal account with a good VPN. This step will make the account untraceable, primarily if you use a disposable email. In addition, you can add an anonymous debit account to Paypal or link to a virtual card.
Paypal lets you set up a personal or business account. The business account comes with a higher transaction limit. If you go for the business account, you can hide your name and other real information.
The disadvantage of using Paypal for anonymous transactions is that there's no legal recourse for any disputes. If someone steals from you or if there's any dispute, Paypal can't intervene.
4. Paysafe card
Paysafe is an excellent anonymous money transfer app that lets you use vouchers to make anonymous online payments. You buy the vouchers offline with cash from retailers who sell prepaid Paysafecard vouchers. After that, you use the Paysafecard 16-digit PIN to pay for online transactions anonymously.
Paysafe is a "closed-loop gift card." It doesn't require you to link to a credit or debit card. You'll have to engage in online and offline activities, such as looking for retailers on the Paysafe platform online. However, buying the voucher is an offline endeavor. The voucher goes for as little as $10 and as much as $100.
There are thousands of retailers who sell Paysafe vouchers across Europe. Those in the U.S may struggle a bit to find a retailer.
5. Google Pay
Google Pay is the least advisable anonymous money transfer app. Setting up your account involves a bank card, meaning that Google will access your personal information. The app can be used against you in certain transactions, e.g., when purchasing transit tickets.
Still, google pay is one of the safest money transfer apps. It hides your payment details and uses NFC (Near Field Communication) for in-person payments. You can opt out of data sharing, which means advertisers won't learn about your transaction history.
6. Apple Pay cash
Apple Pay is a fairly decent app for making anonymous transactions. Apple and the merchant don't have access to information such as your card number or email. An excellent instant money transfer app, Apple only retains the date and time of the transaction.
Still, the bank or credit card companies know what you've purchased and how much it costs. You can turn off the location of your phone or device to prevent Apple from logging the date and time of the transaction. But, the transaction is semi-anonymous as it is linked to your device.
Other Anonymous Methods to Make Untraceable Transferring
Other anonymous money transfer apps worth mentioning are:-
1. Hand Cash
Hand cash remains by far the best untraceable money transfer option. You make the transaction face-to-face, meaning there's no digital footprint. However, this option is limited to geographical location as it requires both sender and recipient to be close.
2. Blank Checks
Blank checks are another way to make anonymous money transfers. You request a blank check from your bank- this is a check without your name. The check will only have your account number.
3. Cryptocurrencies
Cryptocurrency and bitcoin have grown in popularity for making anonymous transactions. This option is preferred as it can't be touched as a digital currency. Still, cryptocurrency use is not without its risks. There's been an increasing government crack-down on crypto similar to banking institutions due to crypto's growing transparency and traceability. Crypto is bought through crypto exchanges, meaning you'll have to register private information to get cryptocurrency. The registration beats the purpose of anonymity. The best way to use this method is to use a VPN when making a transaction.
4. Prepaid Debit Cards
Prepaid debit cards are ideal for purchasing services like VPN subscriptions and cellphone use. If you want to buy products with this card, you'll have to give up some personal information.
5. Masked Credit Cards
Masked cards are suitable for making purchases on a sketchy website. You get a unique credit card number, security code, and expiration date when you apply for a masked card. You can easily enable and disable this card, or you can use them to make a one-time payment.
6. Prepaid Gift Cards
Prepaid gift cards are the most anonymous and efficient payment method. Scammers commonly use this option, so it's best only to undertake it with a trusted individual.
Is Complete Anonymity Possible?
100% or complete anonymity is not possible, especially regarding online transactions. You can take measures to minimize your digital footprint. Yet even with a hand cash transaction, money laundering services may track the money, especially if you're dealing with large sums. But with a bit of caution, there are ways to bypass the system and make a transaction that will be untraceable.
Final Word
Untraceable transactions are a great way to maintain privacy. Anonymous transactions have become popular in a world where cybercrimes have spiked and people demand privacy. The apps mentioned here are the best in the market for such transactions. You're likely to leave no trace behind when you make the transaction using one of these apps, a good gadget, and in personal wi-fi. Are there any more ideas you feel we've left out? Kindly share them in our comments section.