The American people have a strong desire to see the rest of the world, and they use many different ways to get there. You can use your phone's hotspot feature while driving or pay a lot of money for Wi-Fi on an airplane, but public transportation like buses and trains have a big advantage: they offer free Wi-Fi. Think about taking an Amtrak train when you need to get from one place to another quickly, cheaply, and without putting a lot of miles on your car.
Not having is not a must. Are you going on a trip by train and want to know more about how Amtrak's Wi-Fi works? If you need to stay connected while riding the train, check to see if it has Wi-Fi service. It's normal to have questions about the trip, like "Does Amtrak have WiFi?" and "What should I expect?"
How Does Amtrak Have WiFi Work?
Amtrak trains do, in fact, provide WiFi to passengers. Most Amtrak trains and terminals now provide free WiFi to passengers. Since 2010, Amtrak has provided Wi-Fi on select trains; by 2016, it was available on all long-distance routes. The Amtrak Wi-Fi will allow you to send that final email or post on social media, but it won't let you stream your favourite program in its entirety.
Remember, Amtrak trains and several stops have free but limited Wi-Fi service. As a courtesy to the passengers, this complimentary service is limited to standard web surfing only. Streaming unlimited media, huge file downloads, and other bandwidth-intensive operations are not supported on their Wi-Fi network.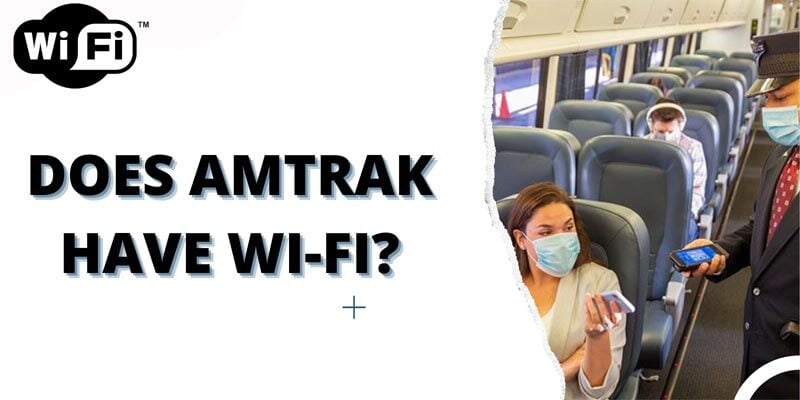 The following trains all include Amtrak Wi-Fi:
| Acela | Keystone |
| --- | --- |
| Adirondack (not available in Canada) | Lake Shore Limited |
| Amtrak Cascades (not available in Canada) | Lincoln Service |
| Amtrak Hartford Line | Maple Leaf (not available in Canada) |
| Auto Train | Missouri River Runner |
| Blue Water | Northeast Regional |
| Capitol Corridor | Pacific Surfliner |
| Cardinal | Palmetto |
| Carolinian | Pennsylvanian |
| Crescent | Pere Marquette |
| Downeaster | San Joaquins |
| Empire Service | Silver Meteor |
| Ethan Allen Express | Silver Star |
| Hiawatha Service | Valley Flyer |
| Illini/Saluki | Vermonter |
| Illinois Zephyr/Carl Sandburg | Wolverine Service |
Wi-Fi is available on some Amtrak trains, but not all. Because of this, the only trains with Wi-Fi are the ones that go east of the Mississippi River. The California route between San Luis Obispo and San Diego on the Pacific Surfliner is the first passenger rail line west of the Mississippi to offer Wi-Fi to its riders. Western railroad lines go through mostly remote and hilly parts of the United States, so you'll need cell service to stay in touch. Here is a list of Amtrak Wi-Fi stations that are easy to get to.
| Baltimore | MD | Penn Station |
| --- | --- | --- |
| Boston | MA | South Station (inside the lounge only) |
| Chicago | IL | Union Station |
| Lorton | VA | |
| New York | NY | Moynihan Station |
| New York | NY | Penn Station (in gate areas and inside the lounge) |
| Philadelphia | PA | William H Gray III 30th Street Station (in gate areas and inside the lounge) |
| Providence | RI | |
| Sanford | FL | |
| Washington | DC | Union Station (in gate areas and inside the lounge) |
| Westwood | MA | Route 128 |
| Wilmington | DE | Wilmington Station |
How Good is Amtrak Wi-Fi?
Amtrak is always trying to improve its Wi-Fi, especially on its Acela trains that run along the east coast. The rest of the country, on the other hand, might have trouble connecting or getting reliable service. Wi-Fi on a ship is similar in that its speed depends on how strong the signal is and how many people are using it at the same time. When they are available, Amtrak's Wi-Fi connections on the train are rock solid. However, it doesn't offer Wi-Fi on long-distance trips because it's not always possible to connect.
How Fast is Wi-Fi on Amtrak?
The speed of the internet changes a lot from point to point. The bandwidth for their mobile Wi-Fi network comes from phone companies with towers in the places we go. Due to the limited bandwidth available from these towers, our speeds may not be as fast as the ones you're used to on fixed Wi-Fi networks like the ones in your home or office. By doing online activities that use a lot of bandwidth, you might be affecting how other people use the Internet. So keep this in mind when you ride on our network and show respect for your fellow riders.
Limits to Wireless Internet Access
On Amtrak Connect, you can only download up to 10MB at a time, and you can't stream media. If you need to bring a large file on board your Amtrak trip, you could perhaps download it before you get on the train. With AmtrakConnect, you can control who can see websites that have offensive content. If you want to use Wi-Fi on an Amtrak train, that's all you have to do. It shouldn't surprise you that you can't get technical help on the road. No one is in your room or car to help you fix your gadget. Still, if you see the network is down, you should tell the conductor so that the problem can be reported.
How Safe is Wi-Fi on Amtrak?
Amtrak Wi-Fi is a public wireless network that you can connect to without a username or password. It's about as safe as the wireless connections at Starbucks or your local library, which means it's not very safe at all. But it is fine to use a Virtual Private Network (VPN) on Amtrak's Wi-Fi network. Like any other VPN, this will slow down your already slow connection.
How to Hook Up to Amtrak Wi-Fi?
Read on to find out more about Amtrak's Wi-Fi service.
Step 1: First, go to the device's settings and look for Wi-Fi. Connect your phone to Amtrak's free Wi-Fi named "Amtrak_WiFi". To get online, just turn on your Wi-Fi and choose the Amtrak network.
Step 2: Second, your browsers should load the agreement terms page after a short pause. If not, try again after opening a web browser. In a few seconds, you should see the page. If you agree with the terms, clicking the green button will turn on your internet connection.
Step 3: Now you need to wait a few seconds for this screen to load again. To finish, click "done." Make it to automatic login. If you decide you no longer want to use the Amtrak Wi-Fi, you can turn it off or forget about it.
The Amtrak Wi-fi Limitations
There are some limits to the Wi-Fi on Amtrak. As I have previously mentioned, the network cannot handle big file transfers, streaming videos, or games played all over the country. But if your phone has a data plan, you can watch videos online. You could use a dedicated Wi-Fi connection, or you could use your mobile phone as a hotspot and stream Netflix directly to your laptop, tablet, or other device.
Amtrak's Wi-Fi will limit access to streaming video and files larger than 100 MB. This is to make sure that all passengers have enough bandwidth. Amtrak also blocks sites that have "Objectionable Content." Amtrak Wi-Fi might be enough if all you need to do is send a plain-text email, check this site or your social network, or find out how the train is doing. Also, before you go to the train station, it's a good idea to download any shows or movies you want to watch.
Final Words
When you are finding answer for Does Amtrak Have WiFi? Wi-Fi on an Amtrak train isn't the best, but for now it's the best that passengers can hope for. Also, it's a good idea to have your entertainment ready before you leave the house. If you need Wi-Fi or faster speeds, you can also think about using a personal hotspot or tethering your phone to your device. I wrote this article in the hopes that it will tell you if Amtrak has Wi-Fi or not. I hope that's enough.
Frequently Asked Question
How does Amtrak Wi-Fi work?
Installing multiple Wireless Access Points (WAPs) along the train is how Wi-Fi has been used on trains in the past. This gives the whole train full coverage.
Can you watch Netflix on Amtrak?
Using a lot of bandwidth is required to watch a live video stream. Because Amtrak also has to run trains, its infrastructure is already full. Amtrak has a rule that says you can't use Netflix or other programs that use a lot of resources.