Do you want to transfer existing straight talk service to new phone? If yes, you are in the right place. It is easy to use a new straight talk phone like moving a SIM card to a new phone. So, move on to a detailed analysis about "How do I transfer my Straight Talk service from one phone to another". By the way, when transferring, your remaining balance will shift to a new phone. So, no worry about it.
Guideline to Switch Straight Talk Service to Another Phone
For service switching, Straight Talk announced some rules and regulations. If you meet the following requirements and rules, you will be able to transfer the straight talk service to another phone.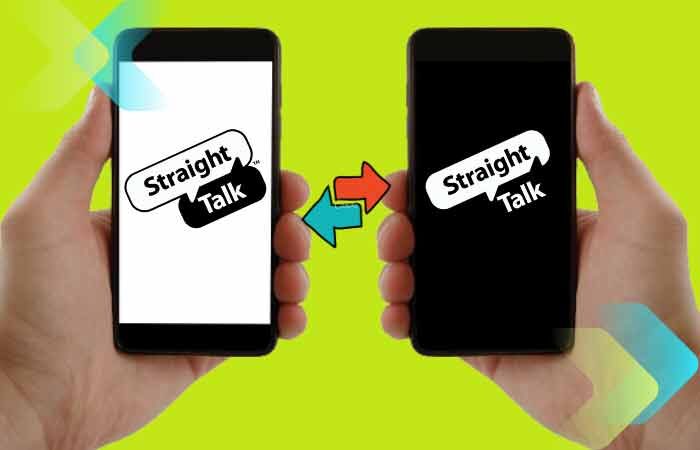 Make sure the old Straight Talk number is active..
No opportunity to deactivate Straight Talk customers. They can't transfer their number. To transfer, reactivation is a must.
Your Straight Talk profile information must be matched with transfer-out request information.
How to Transfer Active Straight Talk Phone to Another Phone
If you are a straight talk phone user and want to switch Straight Talk service from one phone to another. Call 611611 helpline. Then, straight-talk customer service representatives will help you out. The information you need to switch-
Phone serial number
Remote towers name in your area
New straight talk phones
IMEI number
Need a SIM card that supports GSM, CDMA, LTE service
Purchase a new sim card, if the old one can't be recognized by the phone
After service rep. get your information, she/he will transfer account information to a new straight talk phone. Previously, old phone minutes had to stay but now minutes will shift to the new phone, just inform them about your minutes.
Related Article:
Transfer From Current Straight Talk Sim Card
It is possible to move the current SIM card to a new phone, if:
Current phones use Straight Talk, T-Mobile, or At&t networks.
Use Straight Talk phones from At&t, or T-Mobile network.
Make sure you are using the same Size SIM card.
If you meet the requirements, just remove the old SIM card and put it on the new phone. Once you put it, check the phone status. Is your phone able to recognize the SIM? If yes, make phone calls, send text messages or MMS to your friend, use mobile data to access the web. If you failed to make phone calls or send-receive text messages, you have to activate your sim card as well. If calls and text messages work but mobile data and MMS don't work. Set the correct Straight Talk APN settings on your phone.
Suggested Straight Talk APN Settings
| | |
| --- | --- |
| APN Name | Straight Talk |
| APN | TFDATA |
| Proxy | proxy.mvno.tracfone.com |
| Port | 80 |
| Username | |
| Password | |
| Server | |
| MMSC | http://mms-tf.net |
| MMS Proxy | mms3.tracfone.com |
| MMS Port | 80 |
| MCC | 310 |
| MNC | 410 |
| Authentication Type | |
| APN Type | default,mms,supl |
| APN Protocol | IPv4 |
| APN Roaming Protocol | IPv4 |
| Bearer | Unspecified |
| MVNO Type | |
| MVNO Type | |
How to Activate Straight Talk SIM
To activate a straight talk sim card, a straight talk certified sim card is mandatory. You can purchase a new sim card online or use an old sim card for activation. Put your SIM card on the phone you want to activate.
Activating SIM Card
If the SIM card is placed on the phone, it's time to activate the phone. Follow two ways to do this.
Go to Straight Talk's official site for activation
Call 1-855-222-2355.
Be ready with all necessary elements such as a phone with a straight talk sim card, unlimited internet plan of straight talk. If you haven't any plans, use a debit or credit card to purchase. Because, without any internet package, the activation process won't start. Follow screen instructions when activating a sim card for a new straight talk phone.
When New Straight Talk SIM Card Need
Sometimes, old phone SIM cards don't work with new phones. Because the SIM card doesn't fit with the SIM port. Straight talk transfer service to new phone needs to be compatible with the Straight Talk network. In the marketplace, lots of Straight Talks, Verizon, Sprint, At&t supported mobile is available. If you want to use the Straight Talk service, the new phone must support the Straight Talk network.
Related Article:
Transfer Content from Old Phone to New Phone
Your old phone might be ugly or old model, so you move to a new phone. An old phone might be boring, but the old phone's content? It is crucial. To transfer old phone content to a new phone, use the Straight Talk Transfer Wizard app. It is convenient and effortless to transfer photos, contacts, music, videos, files from old Straight Talk devices to another. Content transferring process-
How to Use Straight Talk Transfer Wizard App
Start downloading Wizard App from Google Play Store and Apple App Store.
Connect both phones at a time with the same internet connection. Use the new phone to receive content, scan QR code from a screen with the old phone,
On the new phone, choose the content type you want to transfer from the old phone.
Start transferring and enjoy
Frequently Asked Questions
Parting Words
As straight talk offers, the best internet deals, best phones, best networks so no need to look up the other side. Their main purpose is to satisfy the customer. That's why they are working tirelessly, providing various facilities to the customers. So now it is easy to get new phone service from an old phone service. You can easily understand the complete information above, "How do I transfer my Straight Talk service from one phone to another"