Mobile Virtual Network Operators (MVNOs) like Page Plus are becoming more familiar to more and more people in the United States. They use the big companies' towers and facilities, but they set their own prices, provide their own customer support, and offer their own phones. In the same way, Page Plus is just a discount cell phone service that uses Verizon's best network.
Page Plus is a cell phone service that doesn't require a contract. It is still running on one of the world's biggest networks in the country. If you're interested in subscribing to Page Plus but already have a favorite mobile device, you've found the correct location. In this article, we'll talk about how to get your phone to work with Page Plus, which phones are Page Plus compatible phones, and more.
Why Choose Page Plus Compatible Phones?
The company Page Plus Cellular began in 1993. Page Plus Cellular became a cell phone service provider on Verizon's network in the 2000s. By 2013, the brand had gained 1.4 million subscribers. That same year, TracFone bought the brand. Page Plus aims to stand apart by providing members with a large selection of phones and a choice of mobile phone contracts, as well as by depending on one of the strongest networks in the United States. There are service plans for kids and teens that let them send a lot of text messages, and there are also long-term, low-cost plans for elderly who may only need service in an emergency.
Network
Page Plus is an MVNO (mobile virtual network operator) that operates only on the Verizon Wireless system. And the most impressive thing is Verizon's network is huge and has the fastest download speeds. For using Page Plus, you'll need an unlocked phone that runs on Verizon's CDMA network and just a Page Plus SIM card, which starts at $4.95 but sometimes goes on sale. GSM phones, like those from AT&T or T-Mobile, can't be used on a CDMA network. Page Plus has mostly used phones, but it has started to sell new ones.
Plans
The service provider only has one plan, but it has a lot of great benefits and methods to save money every month. Page Plus has five monthly plans with no contracts, with prices ranging from $12 to $69.95. Only the first 2 are worth thinking about, because you can get unlimited calls, texts, and data from Verizon straight for $40 or more.
The $12 program gets you started with a bunch of minutes and texts, which is a much better deal than paying as you go. Note that this plan is the cheapest, but it only gives you 10MB of 3G data.
Page Plus's pay-as-you-go plans aren't as good as those from many other carriers. If you put $10 on your phone, you can use it for 100 minutes. Domestic calls cost 10 cents per minute. Even the $12 plan you pay for ahead of time is a much better deal. If you're willing to pay $80 for 2,000 minutes, your per-minute cost decreases to a more manageable 4 cents.
Features
It has three-way calling, call forwarding, and caller ID, which are features that most other carriers also have. But Page Plus doesn't have any special features that other plans don't have. Even though Page Plus doesn't stop you from tethering or using a hotspot, both features are often turned off or limited on Verizon phones.
That being said, you could have trouble making use of such functions on a Verizon-branded phone when visiting Page Plus. Page Plus Cellular is distributed by independent dealers all over the country. The Page Plus service is offered for sale on the Page Plus website, besides other online retailers such as Walmart, Amazon, and eBay.
How Do I Check My Phone Compatibility With Page Plus?
When you sign up for Page Plus, you can either buy a phone from Page Plus available at https://www.pagepluscellular.com/phones/ or bring your own phone if you have one already that meets your requirements. Make sure that the Page Plus works with your mobile device. Page Plus can only be used with devices that work with it. Go to https://www.pagepluscellular.com/byop-eligibility/ and enter your phone's ESN, IMEI, or MEID to see if it works with Page Plus. If you don't know your phone's IMEI number, you can learn more about it by pressing What is an ESN/MEID/IMEI? just above the box.
What Phones Are Compatible With Page Plus?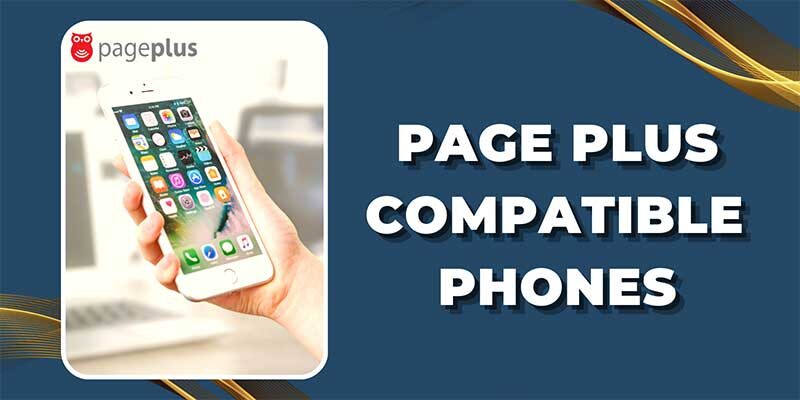 Page Plus services and networks could also work with a huge number of other mobile devices. Most of them are not smartphones, but simple phones that can make calls or send short messages. Users who want to access data pay more for this choice. As a virtual mobile network operator (MVNO), Page Plus relies on Verizon's infrastructure and, like Verizon, supports only CDMA devices and technologies.
Prepaid devices, on the other hand, will NOT work. Page Plus Cellular accepts Verizon Wireless compatible phones if they are LTE enabled, unlocked, and paid in full. Motorola and many Samsung phones that are unlocked to all networks will also work. Here are some of the best phones that work with Page Plus.
Apple iPhone
Apple iPhone SE
Apple iPhone 6
Apple iPhone 7
Apple iPhone 8
Apple iPhone X
Android Phones
Blackberry Storm
Blackberry Z30
Casio G'zOne Rock
Google Pixel XL
Huawei Ascend Y
Huawei Google Nexus 6P
HTC Droid DNA
HTC Droid Rhyme
HTC Imagio
HTC One M9
HTC One mini 2
HTC Ten
LG Cosmos Touch 2
LG Cosmos 3
LG enV Touch
Motorola Moto G4 Plus
Motorola Moto G5
Motorola Moto G5 Plus
Motorola Moto X
Nokia Lumia 928
Nokia Lumia Icon (929)
Nokia Mirage
Nokia Shade
Palm Pre Plus 2
Samsung Galaxy S7 edge
Samsung Galaxy S8
Samsung Galaxy S8 Plus
Sony Xperia Play
You will find more in https://www.pageplusdirect.com/compatible_phones.html.
Related Articles
Page Plus SIM Activation
For 4G LTE/5G service, Page Plus devices need certain SIM cards. SIM cards that work with Page Plus 4G LTE/5G are available in three distinct sizes. That's why, the PagePlus BYOP 3-in-1 SIM Activation Kit includes not one, but three different SIM card sizes: nano, micro, and standard. The SIM card will cost you $0.99. Here's what you need to do.
Step 1: Separate the SIM card components from the main plastic card. Then, if necessary, take the battery out of your suitable Page Plus 4G LTE/5G device to get to the SIM card slot. If you have a Page Plus SIM card, place it into your device's SIM card slot such that the gold contacts are contacting the device's metal contacts.
Step 2: Figure out which monthly Page Plus text, talk, and data plan fits your needs. Visit Page Plus Cellular's plans page to learn more about the options available to you.
Step 3: Start your new service and monthly plan by opening Page Plus Cellular Activate, calling 1-800-550-2436, or visiting an authorized Page Plus dealer.
If you turn on the Service, you can choose to sign up with the company and create an account by giving your name, address, email address, and a second phone number where you can be reached.
What Phones Can You Buy from Page Plus?
Page Plus has a wide range of cheap android and Apple phones for people who don't care as much about fancy features. You can get a lot of high-quality devices for less than $300. If you buy one of these phones outright, you might not have to pay sky-high monthly loan rates. If you are thinking about buying a phone from Page Plus, you won't be short on options.
A third-party company called Affirm will help you pay for a handset from Page Plus. With Affirm, you can buy a cell phone by paying for it in monthly installments instead of all at once. However, following a credit check and initial down payment, your payments will be stretched out over 6, 12, or 18 months.
Affirm may charge a fee of close to 30% interest, so it's important to know that after all your payments, you could end up paying more than the price shown for the phone. If you want to change your Page Plus phone number, all you have to do is call 1-800-550-2436 from a different phone and a professional will walk you through the procedure. Changing your phone number costs nothing.
Bottom Line
I hope this article has given you all the information you need about the Page Plus compatible phones. There is a broad selection of plans to choose from, including monthly and pay-as-you-go options, and moving between them is simple. As you can see, this carrier works with a lot of phones. There are so many more compatible phones that I couldn't list them all. Make sure you can get the Page Plus network by checking your phone's eligibility.