There are ways for people who have an Amazon Fire TV stick or are thinking about getting one but don't want to give up their cable or satellite service. Philo is also an excellent way to watch network shows without paying for cable or other expensive services. The Amazon Fire TV app store is your best option if you don't want to pay for cable anymore. And Philo might help you with that. But if you buy things from Amazon and download Philo, you might wonder is philo free with amazon prime? Maybe more importantly, how do I sign up for Philo and is philo free with amazon prime or Fire tv stick. I suggest we find out.
What is Philo?
Philo is a San Francisco-based company that launched a live TV platform in 2010. The streaming service has come a far way since its humble beginnings as an in-classroom experiment. Philo's channel lineup includes Comedy Central, Discovery, Food Network, Nickelodeon, and many more. Neither a subscription nor a set-top box are needed.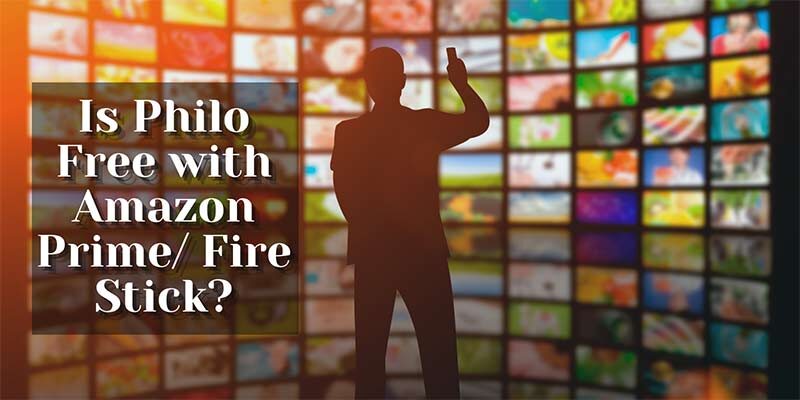 Plus, the site has more than 60,000 items that you can watch on-demand, so you can watch episodes and movies whenever you want. Philo is the place to go if you're thinking about going cordless but still want access to a large choice of live and on-demand television programs without breaking the bank. Several devices, including TVs, cellphones, tablets, and PCs, support live and on-demand streaming.
Related Article:
Features of Philo
We can say for sure that, despite its low price, Philo has a number of great benefits for its users.
Each subscription lets you watch content on up to 3 devices at once.
You can record any live show at any time with an unlimited DVR. There are no limits on how long you can keep recordings or how much space you need.
All live shows have a 72-hour rewind, so you can watch everything that aired during that time again.
The standard for live streaming is 720p, and the standard for on-demand video is 1080p. Both of these formats can be played on most modern TVs.
Package, Plan & Pricing of Philo
Let's get straight to the point and talk about the main thing that most cord-cutters think about when choosing between live TV services: cost. For $25 a month, you get over 60 channels and all of Philo's features, which we'll talk about in a moment. Your membership is month-to-month, and since there is no contract, you can cancel or reactivate it at any time. Philo has been in business for a while, but for a while, their channel lineup was all they had to offer. At the moment, the service offers a number of packages, which include:
The Movies & More channel bundle costs $3 a month and includes Cinémoi, HDNet Movies, MGM HD, Reelz, and Sony Movies. You can get EPIX, EPIX Hits, and EPIX 2 all in one convenient package for $6 per month. The STARZ package costs $9 per month and comes with STARZ, STARZ Encore, and STARZ Kids & Family. When you add everything up, it will cost you $43 a month, which is less than other live TV services.
How Do I Get Philo on Amazon Prime?
To put Philo on a Fire Stick, you just need to do a few simple steps. You only need the Fire Stick streaming media player, a TV, and Wi-Fi. Here are the instructions in full.
Before you plug in your Fire Stick, don't forget to turn on the TV. Go through the setup wizard if you haven't already to get your streaming stick online.
Press the Home button on the Fire Stick remote to get to the Search bar.
In the app store, search for "Philo" to find the app for the streaming service. You must press the "Get" button.
When you click "Install," the program will start to download as soon as you do that. When you're ready to go, click "Open."
You have to sign up for Philo before you can read anything. But you can try the service for an entire week by paying nothing. Philo works with all versions of the Amazon Fire Stick, even the ones that came out first. All Amazon Fire TV players from that stream can also use it. All you have to know is that the Fire tablet exists. If you have one of these, you need at least OS 5.0 to get Philo.
List of Philo Supported Device
Philo TV can be seen on most leading smart TVs, streaming boxes, and sticks, as well as web browsers.
Amazon Fire TV (all models)
Amazon Fire Tablet (OS 5.0 or higher)
Android phones and tablets (OS 5.0 or higher)
Android TV (5.0 or higher)
Apple TV (4th gen or later)
Web Browsers on PC and Mac
iOS mobile devices
Sony Smart TV
VIZIO Smart TV.
Roku
Chromecast
Right now, Philo doesn't work with smart TVs from Sony, Microsoft, Nintendo, LG, or Samsung. You will need a separate streaming device to watch Philo.
How Can I Get Philo for Free?
It costs money to use Philo. Still, you can try Philo for free for seven days. During your free week with Philo, you can watch anything on the service because you have access to all of its channels. After that, you will be asked if you want to continue or stop. Follow these steps to get your free trial going.
Check out www.philo.com.
Click "Start free trial."
Just type in your email address or phone number.
Enter your billing information and click "Subscribe."
The link is in the email or text message.
If you click the "Confirm sign-up" button, you can join the group.
You can sign up for a free seven-day trial for a limited time. In particular, this is how it goes: Philo needs your phone number to start the trial. After a few days, they will call you to get your billing information.
Some people like to sign up every week for a new free trial. If you had a friend or family member to help you, it might take half as long. If you're interested in Philo and thinking about moving to internet or mobile providers, look around to see if any are offering a free membership or longer trial term.
Final Word
With Amazon's Philo, you can cut the cord and still watch both paid and free TV without lowering the quality of the picture or sound. You could also use the 7-day free trial to find out what it is all about, since it's so easy to set up Philo TV on Amazon. Also remember that if you choose to sign up for the subscription plan, you can cancel at any time. So, just sign up for Philo and watch all the channels you love that cover entertainment, family, and your way of life. The information about is Philo free with amazon prime, has been served.