We've all heard of the different cable services that allow you to watch live TV on your Apple TV. But what about watching TV Channels without cable? Is it possible to watch Apple TV channels without having to have a cable TV subscription? You can still watch cable channels on your Apple TV after you decide to cut the cord. To get basic cable tv, you don't have to do anything. This post is for you if you're thinking about cutting the cord and don't know where to watch Apple TV channels without cable.
Apple TV Channels without Cable
There are a few ways to watch Apple TV channels without having a cable. Using an antenna, you can watch free local TV shows on Apple TV. If you get a little clever with it, you can do this. There are other ways that you could connect your antenna to your TV, such as by connecting it to an OTA DVR instead. It is possible to record live TV from your OTA antenna with the help of an OTA DVR
You don't need anything else to just get free local channels on your Apple TV. All you need is a TV antenna. Users have to hook up the antenna to an OTA DVR rather than the TV. Live TV can be recorded with OTA DVRs, which connect to your OTA antenna. You can then use your OTA DVR's app on your Apple TV to watch that recorded OTA content, as well as live OTA content, on that device.
HDHomeRun is a little box, roughly the same size as an Apple TV, that serves as a transmitter. It lets you watch live broadcast TV on your Apple TV, but you can also enjoy it on your iPhone or iPad. In addition, even if you don't have internet access, you can record live TV and watch it just like someone with cable and a DVR.
AirTV Anywhere, a Wi-Fi network hub with amazing functionality and built-in DVR capabilities, has been introduced by SLING TV as the newest member of the AirTV device family. And even the Apple TV set-top box is one of the devices that can be used to stream. As long as the antenna is mounted inside, AirTV lets you get the best reception possible. Then, you can send the broadcast over your network.
Another solution is to set up a Plex media server on a PC or other device. Using an antenna connected to your server, you can record over-the-air content using Plex's premium edition. Live and recorded content can then be streamed over the air (OTA) to compatible devices running the Plex app.
Get a Streaming Service or Channel App
There are a few things in common across the streaming services that let you watch Apple TV channels without cable. These services provide local channels on your Apple TV. Streaming services that let you watch live TV are the first things on our list.
If you're looking for a pay-TV service that works like cable or satellite, but at a lower price point, these options are for you. Keep in mind that most of them don't give you access to all of the premium channels.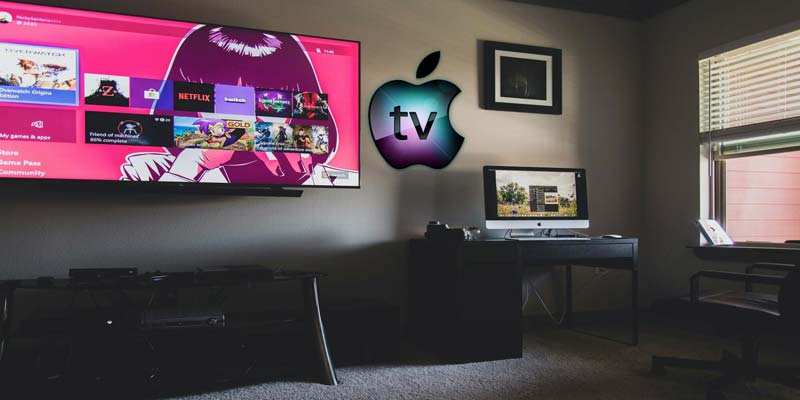 You can watch live TV on your Apple TV with the AT&T-owned DIRECTV Stream service. It's a good way to really get local channels on your Apple TV. DIRECTV Stream subscribers in qualified areas get access to major network live streams, as well as regional sports networks.
When people think of "local channels," Sling TV isn't the first streaming service that comes to mind. And while Sling is still encouraging people to use their antennas, it also has local channels of FOX and NBC in some places.
fuboTV is known for its sports programming, and you can expect to see a lot of RSNs on this service. Moreover, it offers certain local affiliates of major networks in qualified areas, giving it a fantastic option to watch both local and regional channels on Apple TV.
Paramount Plus, the renamed CBS All Access, works with Apple TV. While Paramount Plus does not provide access to many local channels, it does provide access to one essential one: CBS. Depending on where you live, you might well be able to watch a live stream of your local CBS station on Paramount Plus.
A skinny bundle from Google is another good way to watch live TV on Apple TV, which includes local channels without antenna and without having to pay for a lot of channels. The YouTube TV app works well with Apple TV. You'll be able to watch live local feeds of some of the big channels and some RSNs in some places. You can also sign up for the service's free trial.
Fox Now, The CW, ABC, and PBS Video are all available in the app store. If you have a smartphone, these apps are easy to watch while you're on the go. You could also watch them on your Apple TV.
What Cable Channels Are on Apple TV?
Apple TV has a lot of channels that are free, have limited access, or are paid apps that would let you cut the cord without having to worry about missing out on content.
Free Apple TV Channels
| | | | | | |
| --- | --- | --- | --- | --- | --- |
| ABC News | CBS Sports | iCloud Photos | PBS | Sky News | Vevo |
| ACC Sports | Crackle | iMovie Theater | PBS Kids | Tastemade | Vimeo |
| AOL On | Computers | iTunes Festival | Podcasts | TED | Weather Channel |
| Apple Events | Dailymotion | iTunes Radio | Radio | The Beatles | WSJ Live |
| Bloomberg | Flickr | M2M | Red Bull TV | The Scene | Yahoo Screen |
| CBS News | Fusion | Arte | Campus Insiders | Cricket Australia | Ten Play |
| YouTube | Young Hollywood | Trailers | Smithsonian Channel | 120 Sports | |
Limited Apple TV Free Channels (Requires Cable Subscription & Log-in)
| | | | | | |
| --- | --- | --- | --- | --- | --- |
| A&E | FOX NOW | Lifetime | USA NOW | NBA | ABC |
| CNBC | FX NOW | NatGeo TV | Tennis Channel Everywhere | NFL | Disney |
| CNNgo | FYI | NBC | CBS | NHL | Disney Junior |
| Crunchyroll | HBO GO | NBC Sports Live Extra | MLB.TV | TV Shows | Disney XD |
| ESPN | History | Showtime Anytime | MLS | Starz | Fox Sports |
Apple TV Subscription/Purchase Channels
| | | | | |
| --- | --- | --- | --- | --- |
| Movies | Feeln | Hulu | Netflix | Showtime |
| Music | HBO NOW | KORTV | Qello | Willow |
| WWE Network | UFC | Amazon Prime Video | CBS All Access | |
Frequently Asked Question (FAQ)
Can I use Apple TV without a cable provider?
The Apple TV doesn't need a cable or satellite provider to work. Some channels aren't yet available through Apple TV.
Can you watch Apple TV on regular TV?
While your TV might not have the app, the cheapest way to get Apple's content is going to be through Roku or Amazon's Fire TV Stick, which both have apps for Apple's content.
Bottom Line
It's very easy to cut the cable and watch Apple TV Channels without Cable on your Apple TV. The first thing to do is buy a digital antenna so you can get local channels. Most of the time, a digital antenna is indeed the best way to get free basic cable channels. There are a lot of different ways to get TV content without having to spend a lot of money. If those don't have enough shows, you can add them to them with a streaming service. I hope this article will show you how to watch Apple TV Channel without having a cable service at your home.