Probably, you want to cut cable and go for cable tv streaming services. Before planning to deal with cable tv, you should know which cable service has optimum support. Streaming races are still on, we can't find suitable ones without checking honest customer reviews. For your betterment, I have analyzed the whole topic and made a review on the worst cable tv alternatives, that you should always avoid more than 100 feet. Your money is your best asset. So, waste your money on worthy service, not on the worst service. Let's clarify the cable tv alternatives that you should not deal with.
1) YouTube TV
YouTube TV is a popular streaming platform that offers Live TV and demanded video services to users. It is owned by YouTube and a subsidiary platform of Google, only available for US citizens. As a streaming service, to keep pace with other streaming services, it is also constantly updating with fresh entertainment content on its server. Above all, the subscription rate should be determined by keeping in mind the customers. No one wants to take that service if it is unbearable.
You may hear a lot of praise for YouTube TV. Is it really enough for the user? No. I believe YouTube has many pros that make it one of the supreme alternatives to cable TV. But, the demerit is that It's not budget-friendly. It offers $64.99/mo for streaming whole content. Also, they lack new content that Netflix doesn't have. Another drawback is, though the DVR is cloud-based ever so YouTube TV doesn't offer an offline viewing service. It means that while traveling you have to purchase an affordable internet plan to run streaming on YouTube TV. These disadvantages make it the worst cable tv alternatives not BEST!
| Pros | Cons |
| --- | --- |
| Unlimited cloud DVR for 9 Months | Too much expensive compared to other streaming services |
| Sufficient TV networks | Viewing restrictions for sports in particular locations |
| Promising video experience with great quality | No full sports coverage |
| 6 accounts in 1 subscription | No offline viewing |
| | No 4K content |
2) HBO Max
HBO Max is a newbie in the streaming market but expands a great network to catch loyal customers. Now it's a competitor of Amazon Prime, Netflix, and Hulu. It already has 40 million subscribers in the United States, which took them more than a year to achieve. It looks like HBO Max has impressive growth but has yet to touch Netflix's (74.38 million). There are a few drawbacks of HBO Max that didn't solve yet.
First talk about Pricing. The ad-free tier plan is $14.99 which is eye-watering for users. Netflix sells an ad-included basic plan that is less than HBO Max. I don't know why they require a high price for this chilly plan. This higher price is enough to exit lots of new customers who can get the same streaming opportunity at low prices. Even HBO Max is not interested to offer a free trial anymore.
If I come to talk about Geographic availability, HBO Max is only available in Canada and United States. They can't expand their network so some potential subscribers are cutting relationships with HBO Max. Warner Brothers media is always aware of impressive live sports channels but HBO Max can't handle the translation job. I hear they are planning to add NHL and Baseball games but no response yet.
| Pros | Cons |
| --- | --- |
| HBO series and WarnerMedia movies | Not a standalone service |
| Lots of highly anticipated content | No free trial |
| Multiple stream opportunity | No full sports coverage |
| Offline viewing experience | High price tag |
| Compatible with Smart TV | Lack of sports content |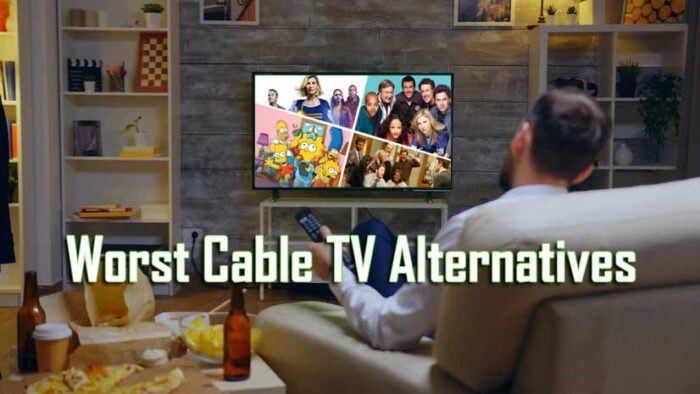 3) Comcast
Most of us have heard the name Comcast by Xfinity. It is a widely known and reliable streaming service provider. But nowadays, is really worth it for you? Let's think for a while. You are a serious streamer who wants to stream content regular basis. Watching Movies, TV shows, and TV series in your daily routine. No doubt Comcast's most promising streaming service, as they are popular they suck subscribers' money anyhow. If you are a savvy person, you should choose an alternative that meets your budget. Necessary equipment costs are also high. You can't even get an X1 TV box unless you purchase more than one for your home. Is it fair enough? I think not.
| Pros | Cons |
| --- | --- |
| Plan variety | Service can be pricey |
| No-contract options | No X1 TV Box |
| Flexible channel packs | |
Learn More
4) Spectrum (Time Warner) Cable
Online streaming services are constantly growing, there is no stop sign. People like to cut cable service and go for streaming tv. Among the streaming tv provider, Spectrum has started its journey with 60 live channels and on-demand content. You may think I am reviewing the worst cable tv alternatives, so I am an opponent of cable tv service. Sure shot, I am not. I just want to oppose nasty offers that act as barriers to streaming lovers. If I analyze the cons of Spectrum, a few things are really worse which is never acceptable.
First and foremost, lack of local channels. As a sensible person, you have to keep updated with local news. So, if you don't find local channels on Spectrum, you should not deal with them. Also, sports contents are not available here. Besides, a spectrum internet contract is required to sign up for tv service. Overall, Spectrum is nothing surprising. I won't deal with it.
| Pros | Cons |
| --- | --- |
| No contract | Low DVR storage space |
| Premium channels | Unclear second-year pricing |
| All channels are in HD | |
5) Sparklight TV (Formerly Cable One)
Sparklight, also known as Cable One, is a live tv service that made streaming simple, easy, and speedy. It has only two-channel lineups. One is basic cable channels on TV packages, another is a mix of famous channels. You don't need to sign a contract to use this service. The Economy Cable plan is $42/mo for 20 channels and the Standard plan is $99.75/mo for 100+ channels. But, the price is not negotiable. It is more pricey compared to competitors.
Availability really matters when you deal with a streaming service. Unfortunately, Sparklight is lazy, they don't increase the coverage. Now It is only available in 21 states. I would like to place it on the list of worst cable tv alternatives because it has a low number of channels with a high price tag and of course, limited availability is a great reason to be listed.
| Pros | Cons |
| --- | --- |
| Two great channel lineups | Low number of channels |
| No contract | Little bit pricey |
| 30-day money back guarantee | Limited availability |
6) Mediacom Cable TV
Mediacom provides both TV streaming and Internet service at home. It runs its networks in only 22 states. If you want to enjoy streaming at a decent price, go for Mediacom Cable TV. It is not like other worst cable TV. It ensures low pricing so customers agree to deal with it. Plans are starts from $30 to $140 for the first year.
The major drawback is that Mediacom stores have a low number of channels. Though the price is affordable If your objective is only for streaming, you won't get all channels here. Besides, availability is a big issue. Maybe they failed to earn customers' trust, so they are the leg behind the streaming race. So, it is listed as the worst cable tv.
| Pros | Cons |
| --- | --- |
| Fair-priced bundling | Increase monthly price after 12 months |
| Specific bundle options | TV bundle with internet or phone |
| | Limited availability |
Final Note
What makes cable tv bad? Reliability, customers' opinion, satisfaction, price tag, and finally availability. If you don't find those factors on any streaming service, you should not waste your valuable money on it. There are tons of streaming platforms online. Cox, Verizon, and Optimum are good in some cases. If budget, channel lineup, availability everything you found helpful from any tv service. You should definitely grab it. But, in my opinion, always avoid those worst cable tv alternatives.