Straight talk is a worldwide prepaid phone service. Also a great option for major network coverage. It is owned by TracFone Company. Straight talk phones and plans are sold by Walmart, now carriers operating by Verizon Wireless network, At&t, Sprint, and T-Mobile. The network you choose would be determined by what carrier you first selected from when you bring your own phone to Straight Talk. For example, whether you buy it from an MVNO running on the Sprint network, or if it is a Sprint phone (like Boost), this is the network that you are connecting to.
Straight Talk Coverage Map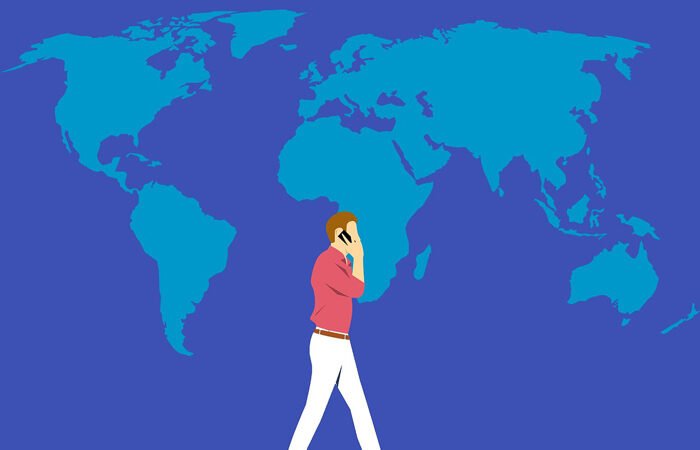 Another hand, when you are buying a Straight Talk device, your network will also be dictated by the specific device you choose. Other phones are simply tuned with Verizon, T-Mobile, Sprint, and At&t. Let's take a look, how a Straight talk coverage map looks like.
Straight Talk Plans Based on the Networks
With Straight Talk, you may use any of the four major U.S. wireless carriers, including Verizon, AT&T, Sprint, and T-Mobile. They also have different service plans and packages depending on the network they utilize.
Here are the plans for each network based on whatever network you're using.
All You Need Unlimited Plan

of 1,500 minutes, unlimited texting, and 100MB of 4G data for $30/month

Unlimited 30-Day Prepaid Plan

the first 5GB 10GB of data at high speed for $35/month

Unlimited Plan

with 25GB for $45/month

Unlimited Nationwide Extended (6 Months) Plans

with 25GB for $42/month

Unlimited Mobile Data

with 10GB hotspot for $55/month

Unlimited International Plan

with 25GB for $60/month

Platinum Unlimited Data Plan

for $65/month
Straight Talk's $45 25GB package is our top pick. It offers a lot of data at an affordable price and the most suitable option for the customers.
All data plans are 5G compatible with an exception of all you need unlimited plan. You can also choose from plans with 10GB or 25GB of data and unlimited call and text for a no-contract option. When your monthly data is gone, you'll get 2G speeds instead of 3G. Also, you won't be charged extra for going over your data limit, so don't worry.
What Network Towers Does Straight Talk Use?
Straight Talk uses a Mobile Virtual Network Operator (MVNO), which implies it doesn't operate or own a wireless network. They usually buy tower rights from carriers. I mentioned earlier, four major networks such as Verizon, At&t, Sprint, and T-Mobile run by Straight talk. Even, your phone will also be dictated by his network.
There's no doubt that Straight Talk's network is the finest. It makes use of the network towers of all the main carriers, ensuring that each client receives the greatest network possible for their device and geographic location.
You will eventually save up to $600 a year on your mobile phone bill by using an MVNO, while still getting all the great services you want. There is only one method to know for sure whether your Straight Talk phone is on the AT&T network or the Verizon network or the Sprint network. You can normally reach them via phone or visit https://support.straighttalk.com, but I think Live Chat is better option.
Here is an explanation about these four networks, how they differ from each other.
Verizon Network
Verizon placed its position on the basis of sufficient covered area. The below map clearly shows Verizon's coverage in cities. This major network connectivity provides over 70% of country coverage with 4G LTE service. The United States also didn't miss out. City-level or street-level coverage information says Verizon provides 90% of cellular coverage in 27 states. From those states, Georgia, Arkansas, Kansas are the major area which is covered by Verizon.
But other carriers faltering in rural areas, like Verizon and At&t. However, it is now working on providing gigabit-speed 5G services using millimeter wave (mmWave) spectral technology (1Gbps). In areas where Verizon's 5G network is accessible, it may be faster than your current home internet.
Related Articles: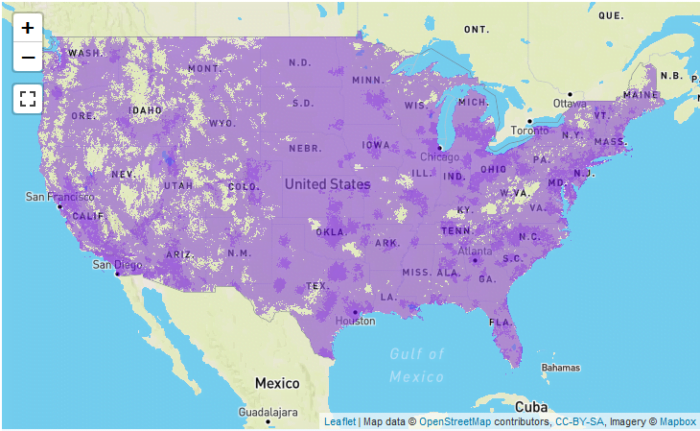 AT&T Network
At&t feels proud to supply the best coverage in the country. The map also shows At&t's reliable coverage breadth and neck. Even, Verizon and T-Mobile also leading the industry for money in certain areas. 68% of the United States is covered by AT&T's 4G LTE network, with just a few isolated service shortages. Those who are interested in 5G technology, above coverage map reflects At&t's 5G and 5G+ spectrum's. At&t also offers a 5G network to 6.15% country. I think it is better than Verizon's service.
Related Article: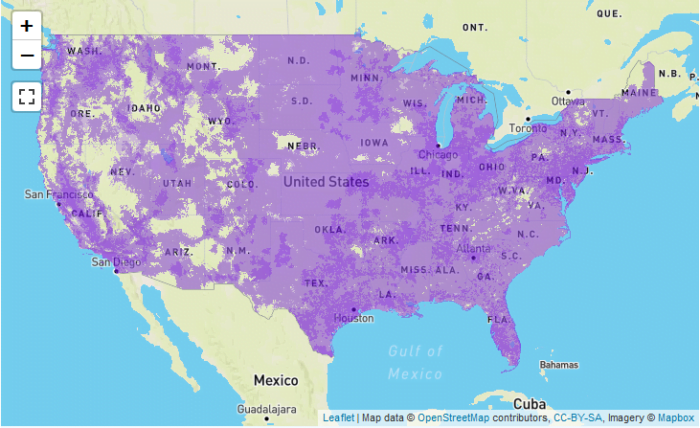 T-Mobile Network
T-Mobile 4G LTE network achieves 62% coverage in the United States. Its competitor At&t just ahead of 6% only in the nationwide carrier coverage. Especially it focuses on urban cities and areas with a large and medium population. With rival carrier Sprint, T-Mobile now serves 99 percent of the U.S. population with its new 4G LTE network, as well as 80 percent of the population with its 5G LTE network.
It also admitted that they cover 99% of American places with its 3G and 4G networks. There is no doubt about service, they are doing their best to serve excellent service in a crowded place. The carrier has started to rapidly expand its network and add the 600 MHz range. T-Mobile offers some good service in cities and suburbs despite its poor coverage in rural regions.
T-Mobile, surprisingly, has the biggest 5G network, though one that operates mostly at a slower low-band frequency of 600 MHz T-Mobile's 5G isn't sluggish, but it falls short compared to others.
Related Article: Best 6 Ways to Bypass T-Mobile Throttling Issue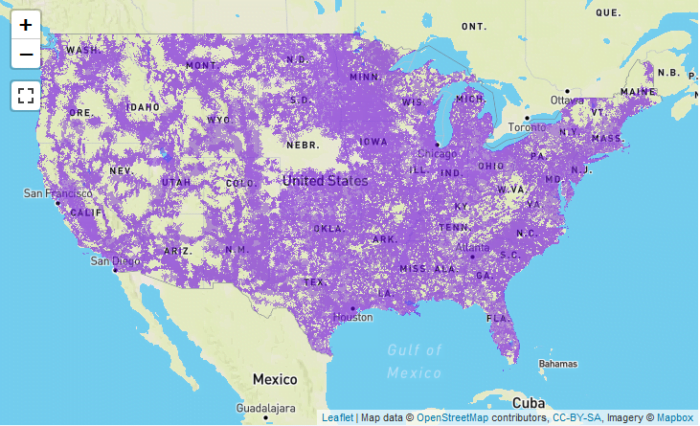 Sprint Network
Sprint's 3G and 4G LTE covers a small amount of area in the United States of other 4 big providers. It has highly strong coverage in populated areas. Its wireless plans are relatively low in cost compared to other carriers. Sprint has more than 95% coverage in the following states such as Connecticut, Delaware, Mississippi, New Jersey, etc.
Aside, there are more states that have less than 50% coverage. If I compare it to Verizon, Verizon will pass, because it reaches 70% but Sprint reaches only 30% to 50% in whole states. However, in some regions of the world, their network offers extremely reliable service, specifically across the eastern seaboard.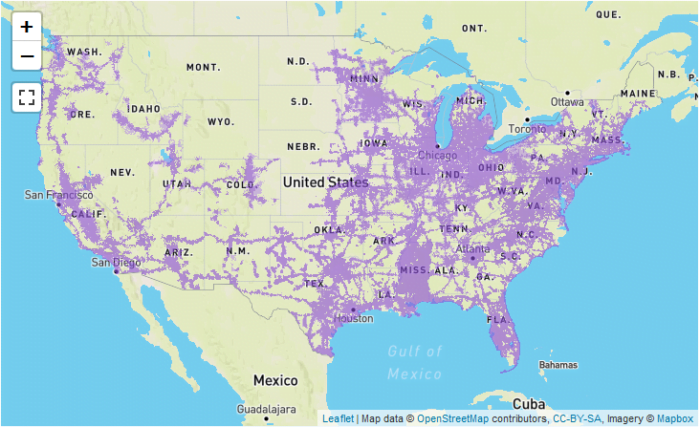 Learn More:
Straight Talk Network Coverage Ratings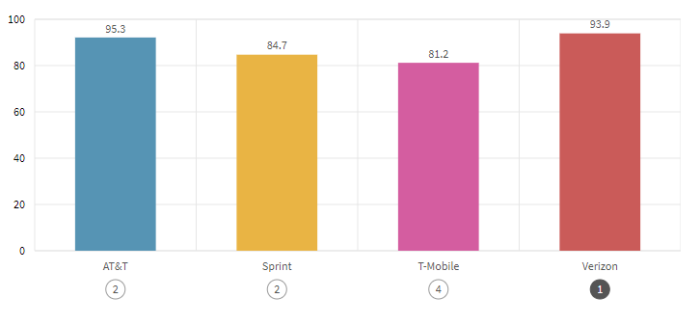 Straight Talk Provider Specification
As an MVNO, Straight Talk can offer many specs according to its technology and services.
4G LTE Data
The Third Generation Partnership Project (3GPP) established LTE (Long Term Evolution) as the 4G standard, replacing 2.5G GPRS/EDGE and 3G HSPA. Major networks' 4G LTE internet speeds imply you'll be able to use their 4G LTE coverage as well as the 5G network when it becomes available.
Unlimited Talk and Text
Generally, texting and talking are unlimited, but there may be data limits and other restrictions depending on the plan you choose. Unlimited texting and 100MB of high-speed 4G data are included in the $30/month All You Need Unlimited Plan for users with limited or no data usage. For those who only need the ability to make and receive phone calls and send text messages, this could be an excellent choice. Stay as much as possible connected to Wi-Fi to save high-speed data for later use.
Related Article: Unlimited Talk and Text for $10 a Month from 15 Providers
International Calls and Plans
Some plans provide free international calling, while others charge a fee to include it. Straight Talk has a number of international-friendly plans for those who have loved ones all over the world. The Unlimited International Plans involve unlimited talk, text, and data, plus international calling to over 1,000 countries.
Again, The Platinum Unlimited Data Plan also adds unlimited high-speed internet (with a 60GB data limitation) with the services of The Unlimited International Plans. Free calls to Canada and Mexico are also included in all of these unlimited plans.
Multi-line Discounts
With already low cost rates, acquiring several lines with a family plan may help you save significant dollars, sometimes with a further reduction on each extra line bought. This plan is based around Straight Talk Wireless's single line unlimited LTE data plan which is usually priced at $55/month or $54 with auto-refill activated. The new multi-line option will offer customers the opportunity to take up two lines for only $90/month.
Related Article: 10 Cheapest Unlimited Data Plan for 5 lines
CDMA and GSM
When 4G isn't accessible, you actually have to rely on CDMA and GSM to stay connected as a mobile phone user. Most recent smartphones are backwards compatible with both LTE and HSPA+, making it simple to transfer providers.
The GSM and CDMA networks used by T-Mobile, AT&T, and Verizon are all compatible with Straight Talk's service. Remember, that you can save money even if your phone doesn't use the same technologies. You may use our IMEI checker to see whether your phone is compatible.
Reliability of Straight Talks Network
Reliability consists of four extraordinary networks. Here is structured numerical data that show how the 4G coverage exists in these carriers.
Verizon: 70% 4G coverage
T-Mobile: 59% 4G coverage
AT&T: 58% 4G coverage
Sprint: 30% 4G coverage
Verizon passes the threshold, now it is the most reliable 4G connection in the United States.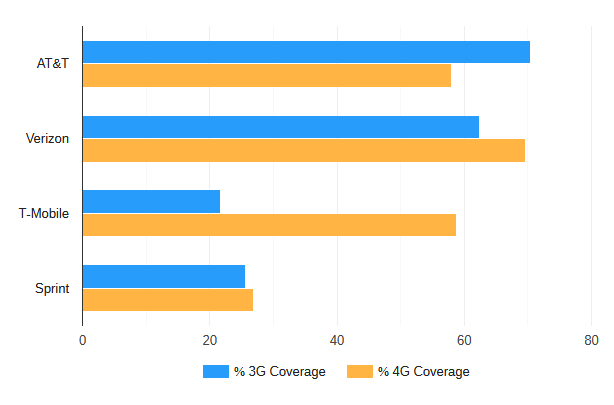 Coverage Availability from Straight Talk
You can check availability from the official straight talk website. They already acknowledged about straight talk coverage map. Customers just need to enter Zip code, where they will use their favourite devices to see localized versions available in the specific areas they live.
Note: Always remember, a coverage map is a kind of road map that is used for informational purposes. It is designed by a carrier to help you to find where the service available, but no guarantee that this service really exists or not.
What States Does Straight Talk Cover?
I found a list of 52 states that successfully covered by Straight Talk. States are as follows.
| | | | |
| --- | --- | --- | --- |
| Alabama | Alaska | Arizona | Arkansas |
| California | Colorado | Connecticut | District of Columbia |
| Delaware | Florida | Georgia | Hawaii |
| Idaho | Illinois | Illinois | Iowa |
| Kansas | Kentucky | Louisiana | Maine |
| Maryland | Massachusetts | Michigan | Minnesota |
| Mississippi | Missouri | Montana | Nebraska |
| Nevada | New Hampshire | New Jersey | New Mexico |
| New York | North Carolina | North Dakota | Ohio |
| Oklahoma | Oregon | Pennsylvania | Rhode Island |
| South Carolina | South Dakota | Tennessee | Texas |
| Utah | Vermont | Virginia | Washington |
| West Virginia | Wisconsin | Wyoming | |
City Coverage Report of Straight Talk
Limitations
If you choose straight talk, there may be a risk of poor coverage. It all comes down to what network they're on and what device you're using to make it work. Another thing to keep in mind is that you may not be able to utilize specific phone models if you work for one of these businesses. A lesser-known phone brand is more likely to experience this. If you're unsure whether or not a device you currently own will function on their network, get in touch with them. If you're cross-shopping across MVNOs, you may discover some offer better prices than others.
Way to Improve Cell Phone Reception
There is a hidden way to improve cell phone coverage without moving to another place. Technically, it is far better to upgrade to a newer device. A newer phone gives you better performance and coverage than an old one. Because radio technology is upgrading continuously. That's why it's not really a perfect suit for the old model phone. For example, T- Mobile announced spectrum as band which works four times faster in inside buildings.
Maybe you don't know, iPhone 5S haven't any radio to works on Band 12, whereas iPhone 7, 6S, 8 all work perfectly. Same though for other phones and carriers, the newest models will be more adjustable because it has built-in latest radio technology which will be best to operate the latest spectrum without any hassle. So, select devices which are really come for work in coverage.
Frequently Asked Questions (FAQ's)
#Q: Does Straight Talk have the same coverage as Verizon?
Straight Talk customers could have the same coverage as Verizon customers, but at a cheaper cost, depending on the phone they choose.
#Q: Does Straight Talk have good coverage?
Because you can pick between Verizon, AT&T, Sprint, or T-Mobile as your network provider, Straight Talk offers the greatest total coverage.
#Q: Is Straight Talk faster than Verizon?
The Verizon network offers faster speeds than Straight Talk. Straight Talk's download speeds average 31.1 Mbps, while upload speeds average 15.6 Mbps. Verizon has a download speed of 53.3 Mbps and an upload speed of 17.5 Mbps, respectively. Having said that, both provide respectable download and upload speeds.
#Q: Does Straight Talk have 4G LTE coverage?
You'll get access to the same national 4G LTE coverage as it is available with Straight Talk since it uses the Verizon, AT&T, Sprint, or T-Mobile networks.
#Q: Is Straight Talk going to 5G?
All of Straight Talk's current plans include 5G support. There are no new plans or add-ons required for 5G.
#Q: What carrier is better than Straight Talk?
Metro by T-Mobile outperforms Straight Talk as an MVNO carrier in almost every way. In addition, Mint Mobile tries to keep things easy by offering plans that are suitable for the majority of customers. Google Fi is a fantastic alternative, since it is a cutting-edge and simple-to-use MVNO.
Final Words
Straight Talk Wireless checks a lot of the right boxes for most people and businesses. Non-contract, reasonable price, and service from all four major carriers are just a few of the benefits of this plan. You'll automatically have 5G connectivity, and there are several excellent options for making international calls.
Straight Talk Wireless' service is dependable and offers a variety of networks and reasonably cost options for both flip phone users and data users. This Straight Talk Wireless Coverage Map can assist you in making an informed decision and receiving better service from the providers.
Weekly Hot Posts 🔥🔥🔥