Unreliable internet connections aren't just a normal problem for business owners. They can make the difference between working efficiently and having a lot of distractions, or even missing out on sales. Especially if you run a small business out of your home, situations can get a lot worse.
People who work from home for their businesses might wonder if it's worth getting business internet for them. And if you are a Spectrum customer, you definitely have to consider some other things.
To help you decide, it's important to know the main differences between business and home internet. Let's play a game Spectrum Business vs Residential.
What Are Your Internet Options?
There are two types of internet that you can choose from, if you run a small business from your home. You can choose between residential and business internet.
What is Spectrum Business Internet?
The term "Business Internet" refers to an internet connection that is only used for business. It usually comes with faster download and upload speeds, more features, a strong customer service department, and a promise that the service will work. Even though all of these extra features cost more money, they're worth it in the long run. People can start getting high-speed business internet service from Spectrum for as little as $49.99 a month.
What is Spectrum Residential Internet?
Residential internet is exactly what it sounds like: internet that you access from your own home. As a rule, residential internet comes with slower speeds and asymmetrical download and upload speeds. This means that your download speed is much faster than your upload speed. However, Residential internet is cheaper than business-level internet, and now it's almost as good.
Best Unlimited Talk and Text for $10 a Month from 15 Providers

Editor's Choice!
Differences Between Spectrum Business and Residential Internet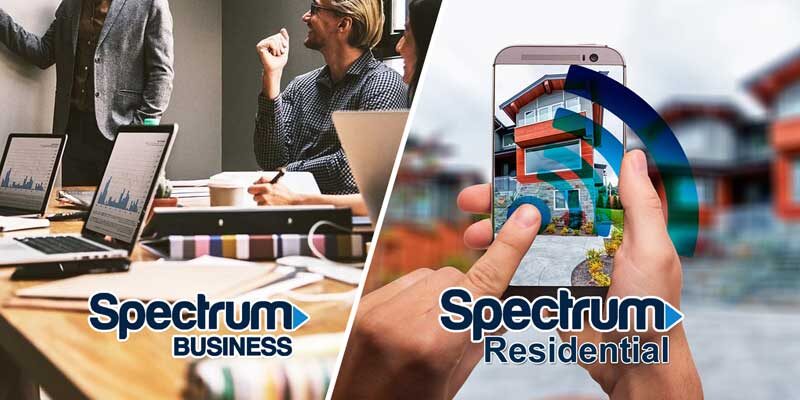 Speed
When talking about Spectrum Business vs Residential. As a general rule, residential internet plans have lower internet speeds than business plans, however this is dependent on the internet service provider. A lot of the time, business-grade service is a little more powerful all over the country. Remember that most of your remote workers may have home internet plans with substantially slower speeds than your office.
But as they work from home, their home internet may not be enough, which could slow them down and reduce their efficiency. Moreover, other people in their home could be using the same slower internet connection for other things, like watching movies, taking online classes, or working on their own jobs. And here Spectrum Business Internet comes with faster upload speeds to help you perform operations smoothly.
When you use Spectrum Business Internet Pro, you can now get speeds up to 100Mbps. Running a capped network doesn't make a lot of sense because businesses use more or less data monthly. Spectrum doesn't have any limits on how much data you use, and doesn't enforce any data caps. Besides, Spectrum Business understands how important high-capacity, reliable networking is for businesses that are growing.
So, the plans start at 200 Mbps and can go up to Spectrum Business Internet Gig.
Features
Residential internet plans almost always come with "extras" that are meant for personal use. On the other hand, people who own businesses and work from home can choose from a number of different plans that are tailored to their needs.
When you sign up with Spectrum Business Internet, for example, you get up to 25 email addresses with your own customer domain name, as well as domain name registration, Spectrum Out-of-Home WiFi, and a free award-winning desktop security suite for up to 25 of your business devices.
SLA
As you use the Internet, you and your internet company make a deal called a SLA (Service Level Agreement). It says what else you can expect from the service and how much money you might get if the provider doesn't live up to its promises. There are several benefits to having a SLA in place, including clear expectations and guaranteed responsibility. With Spectrum's best-in-class SLAs, you can be sure that your network will be running at its best.
Reliability
The network reliability of business internet may be better than that of residential internet, but this isn't always the case. However with a business internet plan, there might be more ways to improve business continuity planning.
Spectrum Business Internet, for example, has more than 99.9% network reliability. Customers could add Wireless Internet Backup to keep their operations and productivity running smoothly if a power outage occurs.
However, we didn't find any information about Spectrum's average latency, and they don't make any promises about how long it will take to connect to their service.
Dynamic vs Static IP
Many residential internet plans use a dynamic internet protocol (IP). That means that the IP address that the plans use to connect with the internet could also change at any time. When your internet provider gives you a static IP address, your system's "street address" on the internet stays the same. This can be important for a lot of things, like remote-access tools that let employees connect from home or on the road, because they can rely on a sustained IP address.
Security
Spectrum Business internet is more secure for businesses than Spectrum residential internet. For businesses that gather client information, such as phone numbers and credit card information, this advantage is important. You will need a secure internet service to keep ha*kers from getting this data.
You can protect your personal desktop computers from viruses, harmful email attachments, and illegal surveillance with the Spectrum Business Personal Security Suite.
Customer Service
When it comes to customer service, business owners need more sophisticated services than the homeowners. Spectrum business service gives you more priority when things go wrong and better and much more available technical assistance from Spectrum when things go wrong. You can always rely on U.S.-based experts and get help for your business when you need it the most.
Furthermore, the company has a collection of Spectrum Business Support articles as well as answers to common technical questions that you can read.
Can I Install Spectrum Internet Myself?
If you want to save money up front, you might want to think about self-installation. Spectrum wants you to follow these steps to set up your own business internet:
To find out if your plan allows you to set up your own WiFi, call Spectrum and ask them about it. Ask if there are extra costs for you to set up your own connection.
The self-installation kit comes with a welcome letter and an installation guide. It also comes with a modem, power cord, coax cable,

ethernet cable

, and a splitter. You can also go to a Spectrum store to get your kit, if you want.
When your service is up and running, follow the instructions in your welcome kit.
Parting Words
If you do most of your business from home, you might want to think about getting a business internet service. When it comes to Spectrum Business vs Residential internet, price should not be the only thing that matters. It's important to think about how much your business can lose if the internet starts to slow down or doesn't work at all.
Thanks to Spectrum, it's easy to get business internet service into a house with Spectrum internet.
Frequently Asked Question (FAQs)
Is spectrum business better than residential?
Spectrum If you want to do a lot of things with your internet, you should get business internet instead of residential internet. Often, residential internet has limited upload speeds as well as comes with only "best-effort" service agreements, but business internet needs faster upload speeds to do its job.
Can I use residential internet for business?
Yes. Using a residential internet connection to run your business might save you money on your internet bill, but you'll likely pay for it with downtime and a bad reputation.
You May Also Like to Read!