Are you ready to look into your Internet service provider options? The industry is very competitive, so even if some big carriers have raised their pricing this year, customers switching to another carrier will find attractive deals. And the market has recently seen great success for T-Mobile Home Internet and Spectrum.
People may have heard of T-Mobile and Spectrum when looking for reliable internet service. Both internet service providers are doing their utmost within their capabilities to satisfy the customers demand. So, which one has better plans and services for the internet? It all boils down to personal preference. In this article, we'll compare T-Mobile Home Internet vs Spectrum.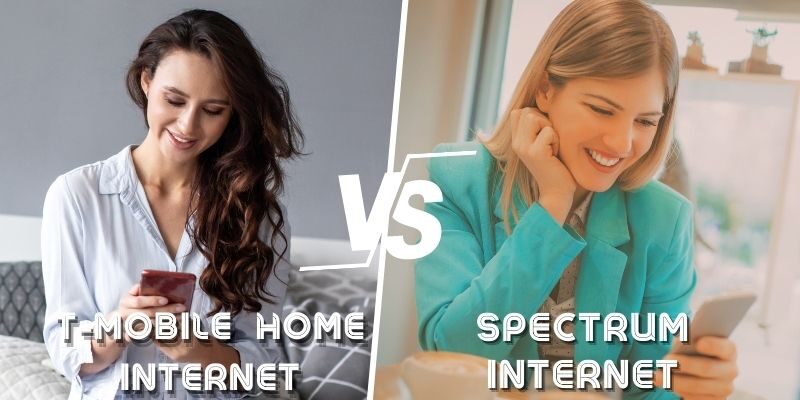 T-Mobile Home Internet vs Spectrum Overview
| | T-Mobile | Spectrum |
| --- | --- | --- |
| Speed range | 33-182 Mbps | 100-940 Mbps |
| Internet type | Fiber | Cable |
| Data Cap | No data cap | No data cap |
| Price range | $50 | $50 – $115 |
| Equipment fee | No Equipment fee | $5 for router |
| Contract length | 1 year | 1 year |
Function
T-Mobile's Home Internet takes advantage of the extra space on its 5G networks. There is a risk of interference since 5G is a wireless technology that travels through the air alongside existing radio frequencies. Even though the FCC does a good job of giving licenses for frequency bands and keeping radio frequency conflicts to a minimum, interference can still happen.
Having a busy mobile network surrounding you will cause your home network to slow down, as well. To sum up: T-Mobile home internet service is likely to work well if the performance of your phone does as well. Fiber-coaxial cable connections are the primary mode of service for Spectrum Internet. If you're looking for the fastest download speeds, you'll want to stick with cable, as shown by Charter's three fast packages.
Cable Internet, like DSL and fiber to the homes, delivers network edge connection from the Internet service provider to an end consumer. It is integrated into the cable TV infrastructure in the same way that DSL uses the existing telephone network.
Internet Speed
T-Mobile home internet might be a wonderful alternative for you if your internet requirements are moderate. Normally, their download speeds are enough for most internet activity, including streaming. Your speeds could be lower than you estimate them to be during busy hours. This varies greatly depending on the location of the nearest mobile phone tower, as well as a number of other variables.
With average download rates ranging from 33-182 Mbps, T-Mobile 5G Home Internet users can enjoy internet service for streaming video, browsing the web, and working remotely. Spectrum's high-quality internet service guarantees fast download and upload speeds. If your internet connection is important to your work, this is a perfect option for you. Working from home, starting a small company, or adopting VoIP services are all examples of this. Spectrum's latency is typically between 20 and 30 milliseconds, while jitter is often less than 5 milliseconds.
Zoom, Skype and Microsoft Teams will be able to run at their peak performance. VPN connections for business use will be rock-solid and error-free. Based on where you live, Spectrum Internet's basic package can deliver speeds of up to 100 or 200 Mbps (wireless speed could vary). The Internet Ultra plan goes up to 400 Mbps, and the Internet Gig plan goes up to 1,000 Mbps.
Read Also: 10 Ways to Fix Router Not Getting Full Internet Speed
Coverage
Because Spectrum Internet is available in 41 states, it's simpler to mention the ones where Charter Communications does not provide service, such as Alaska, Arkansas, Delaware, Iowa, Oklahoma, North Dakota, Rhode Island, South Dakota, and Utah (as well as Washington, DC). Otherwise, your chances of being inside Spectrum's service area are better than usual.
Nevertheless, most cable internet providers, including Spectrum, struggle to deliver service in remote regions with low population density. 62 percent of the United States is covered by T-Mobile's 4G LTE network. It appears most brightly in metropolitan areas with a population of at least a few thousand people. Since T-Mobile has concentrated on offering top-notch service in areas with high populations, the company says that its 4G and 3G networks reach 99 percent of the country's population.
Rural regions are where the network is most affected. When you get to the center of the nation, you begin to see huge coverage gaps that continue all the way up the West Coast. T-Mobile comes in second place, with rural users using 4G for 77.3% to 92.3% of their time.
Read Also: Straight Talk Wireless Coverage Map | Guide | Comparison
For Gamers
T-Mobile's home internet does not have a good track record when it comes to gaming. Gamer's concerns include jitter, packet loss and latency. Most 5G internet providers have issues with this, including T-Mobile's home internet. When the tower has too many users, the issue is more severe. From 40ms to 400+ms can be pings within the span of a single minute. This means that it is entirely inappropriate for most online games.
Performance is often better during the off-peak midnight hours. In contrast, a normal cable internet connection, like Spectrum, would often have latencies of less than 20 ms. T-Mobile 5G Home Internet's adoption of CGNAT could also be a drawback for gamers. To issue IP addresses to customers, T-Mobile uses CGNAT, which is used by most mobile phone providers. This is fine for surfing the internet and watching Netflix. CGNAT should not be used for gaming.
Spectrum internet is an excellent choice for gamers. Because of the low latency and absence of CGNAT, it's an excellent option for gamers. Spectrum is a good alternative if you want to play games with an open NAT type. When setting up port forwarding, you will get a public IP address. You'll never miss a shot while gaming with Spectrum Internet's lightning-fast downloads, consistent service, and minimal latency times.
Installation Fees
Spectrum briefly halted all in-home expert installations throughout the pandemic, however professional, in-home setup is again an option for Spectrum customers. The normal in-home installation price is $50, or $200 if you choose the Internet Gig service. Even so, the most Spectrum Internet installations can be completed by the customer themselves.
If this is the case, you'll need a self-installation kit, which you can either have mailed to your home or picked up from a Spectrum shop. However, you'll still have to pay a $20 self-installation activation cost and a $10 price again for the Wi-Fi activation fee. T-Mobile doesn't mess around when it comes to installing and billing.
In order to set up the modem, which comes pre-installed with its SIM card, you just download an app on your phone, switch on your phone, and use the display on top of your modem to locate an area with strong Wi-Fi signals. T-Mobile signal strength is required for the modem. After that, you're all set. T-Mobile 5G Mobile's Home Internet service does not charge an installation cost or monthly equipment rental price. You will not be charged a shipping fee by T-Mobile either.
Data Prices and Plans
To me, simplicity was the most appealing aspect of T-Mobile Home Internet. Because there is just one plan, there are no levels or alternatives to pick from. With Spectrum, there are three different plans available at three different costs. There are no data limits, and no contracts are needed. You'll, however, see a $25 increase in your monthly payment after the first year. Is T-Mobile home internet better than Spectrum in terms of Data Prices and Plans? Let's have a look at them side by side.
T-Mobile Home Internet vs Spectrum Internet: Data Plans
| Plan | Max Speeds | First-year promo rate | Regular Rate | Equipment fee | Data cap | Contract |
| --- | --- | --- | --- | --- | --- | --- |
| T-Mobile Home Internet | 33-182Mbps download, 6-23Mbps upload | $50 ($30 for eligible Magenta MAX mobile customers) | $50 ($30 for eligible Magenta MAX mobile customers) | None | None | None |
| Spectrum Internet | 200Mbps download, 10Mbps upload | $50 | $75 | Modem free; $5 for router | None | None |
| Spectrum Internet Ultra | 400Mbps download, 20Mbps upload | $70 | $95 | Modem free; $5 for router | None | None |
| Spectrum Internet Gig | 940Mbps download, 35Mbps upload | $90 | $115 | Modem free; $5 for router | None | None |
Customer Service
Honestly, the internet service sector has a reputation for poor customer service. Internet service providers can be a headache to deal with when anything goes wrong, whether it's a billing error or a bad connection. Your only choice is to make a phone call if your internet connection fails. In terms of customer care, Spectrum comes out on top when compared to T-Mobile Home Internet, although the two are very closely matched. T-Mobile does have one of the lowest scores for internet service, suggesting that the majority of consumers are disappointed with their services.
T-Mobile customers routinely complain about customer service, new phones, and sim card issues. Spectrum's American Customer Satisfaction Index (ACSI) results for 2021 were unchanged from the previous year. Despite this, Charter Spectrum remained rated lower than the average internet service provider (ISP) and was ranked behind the best of the internet services.
Related Article: Spectrum Business Internet vs Residential Internet
Pros and Cons By Provider
Spectrum Pros
Every plan has fast speeds
Comprehensive possibilities for bundling are available.
Spectrum's prices are good for most speeds.
There are many places in the U.S.
There are no contracts and no data caps.
Spectrum Cons
Ratings for customer service are below average
The cost to start gigabit service is high.
T-Mobile Home Internet Pros
Rural areas have access
Easy to set up on your own
No contracts or data caps
Pricing that is easy to understand
T-Mobile Home Internet Cons
Some servers have very long ping times.
The modem doesn't have many common router features.
When there is a lot of traffic, download speeds will be slower.
Parting Words
New Internet service providers are attracting many customers who have become tired of their present provider. T-Mobile is a fresh player in the market for home internet. This IPS could be a good choice for many people who don't need to spend money on the Internet. Those who require consistent, dependable service will find that Spectrum internet is definitely worth the extra cost. While dwelling on T-Mobile 5g home internet vs Spectrum, we found that both offer some value to their customers.
The home broadband market needs more competition so that prices go down and new technology can be made. Both T-Mobile Home Internet vs Spectrum are great contenders who can help make this happen.
You May Also Like!
Frequently Asked Question
Is T-Mobile 5G faster than the spectrum?
Spectrum's cable services provide download rates of up to 1 Gbps, which is faster than the current maximum download speed of 182 Mbps offered by T-Mobile's 5G Home Internet service. So, the answer is no. Spectrum's internet is faster. 
Does T-Mobile home internet slow down?
T-Mobile internet speeds can be impacted by any difficulty with the network or a nearby cell tower, as well as by exceeding the daily or monthly data limit.
Does spectrum internet include WiFi?
Customers of Spectrum Internet can use their devices to be connected to Spectrum out-of-home Wi-Fi.
Do I need a modem and a router for Spectrum?
Customers with Spectrum Internet must use a modem that is approved by Spectrum in order to connect with the Spectrum network. If you sign up for Spectrum's monthly service, you'll have access to a pre-configured Wi-Fi router. Customers have the option of using or purchasing a router of their own.