According to a survey report, Cell Phone use is 85% among 50 to 59 year old's and 80% among 60 to 69 year old's. Moreover, 62% of those over 70 own cell phones. It's quite clear, cell phone manufacturers would target the senior citizen market by developing phones and plans for them. Many consumers choose Verizon cellular plans because they are very economical as well as affordable.
If you need unlimited data and don't want to worry about it being throttled like T-Mobile, the unlimited plans are the way to go. And for the seniors, Verizon has special unlimited plans as well as other ones. Comparing the leading unlimited phone plans reveals that this Verizon Go Unlimited Plan for Seniors has an edge in many areas.
We're not claiming this is the most affordable plan available, but given the things it offers, it's a close contender. Find out more about the plan, as well as a few extras, in this article on a special senior-friendly plan for Verizon.
Verizon Go Unlimited 55+ Loyalty Plans
There aren't many options for elderly citizens when it comes to mobile phone plans. In spite of this, Verizon is offering a discount to elderly citizens. Verizon Go Unlimited Loyalty Programs with 55+ Days of Free Service. Verizon loyalty plan is exclusively open to Verizon customers who already have an account.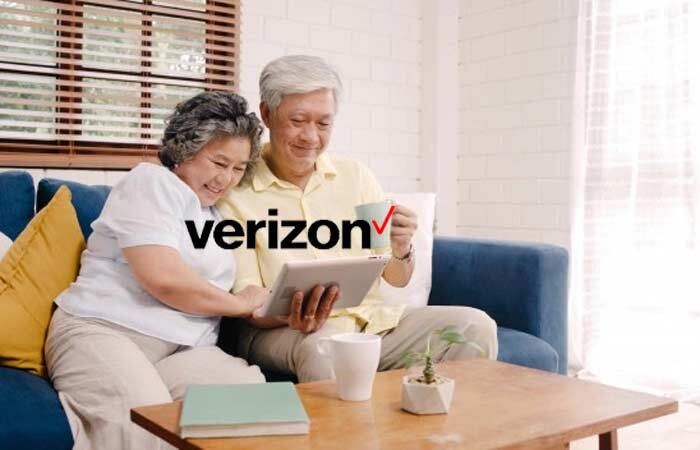 For seniors, Verizon provides a fantastic unlimited package with 4G LTE internet, national talking, texting, and messaging. When compared to Verizon's normal rates, this package saves elderly people $15 per month on a single line and $50 per month on two lines. However, there are certain limitations to this offer, which we will go over in more detail later.
Verizon's Senior Plan provides the same benefits as its standard Go Unlimited Plan, but at a lower cost, making it more accessible to seniors. The Verizon 55 Plus Plan, or Verizon Go Unlimited 55+ Plan is another name for this package.
Related Articles:
What Are You Getting?
Verizon 55 plus plan for senior offers:
You'll get the Unlimited Talk & Text.
You will definitely get Verizon Up Rewards.
In addition, you'll get access to limitless 4G LTE data.
The cost of calling Mexico and Canada is included in your monthly plan.
You can watch DVD-quality video online.
It's also possible to stream standard definition (SD) movies (480p).
Using Unlimited Hotspot, you can share your data at up to 600 kbps.
For the first six months, Apple Music is completely free to use.
It'll let you add various plans for different devices to the same account, but not this one on many.
Up to 30 devices may be linked to a single account, with 10 being phones and the remaining 20 being accessories or wearables.
For an additional $10, you may take advantage of the 5G network's increased speed and functionality, which is being rolled out throughout the country on a daily basis.
Requirements and Restrictions
To get your hands on this plan, you'll have to meet a number of restrictions and requirements.
You must be 55 or older to use this service.
Verizon account holders must have at least one active line.
You'll have to have a Florida billing address.
Previously, clients with billing addresses in Detroit, Florida, Illinois, or Texas could get this package. Although this is no longer the case, as this plan is only available to residents of Florida who have Florida billing addresses.
More: Can I Use TracFone in Europe? Answer Reveals
How the Pricing Works?
The Verizon plans for seniors have special pricing. Take a look here.
With auto-pay, you can get one line for $60 per month, saving you $15 off Verizon's standard GO Unlimited plan.
Autopay saves you $50 off the standard Verizon GO Unlimited plan for two lines for only $80 monthly.
The rates shown here are for those who sign up for auto-pay; those who do not will have to pay a little extra. You may save $5 a month by using auto-pay.
Compared to AT&T, T-Mobile, and Sprint, Verizon's monthly prices are a little more. Verizon Cellular is the most dependable wireless service provider in the United States and has the biggest 4G LTE network. Thus, the price difference can be justified.
Note: Taxes and fees are not included here.
Learn More:
How to Apply?
Those who are already Verizon customers can simply make the switch by contacting Verizon at (800) 922-0204 or going to a Verizon shop in their area. Following verification of eligibility online, consumers can sign up for the Verizon 55 plus plan by calling customer care or visiting a local Verizon store. This strategy necessitates the use of a contract. To enroll in this plan, visit verizon.com
Phone Options
No specific phone model is required in order to take advantage of these plans; any phone will do. However, if you really want a new phone, you can always go out and get one. You can also use a phone that isn't a Verizon phone, if you like. However, if you're interested in joining up for this plan, you'll need a smartphone to use all of the plan's benefits.
Why We Love Verizon 55 Plus plan?
You'll feel better knowing you can call your family as frequently as you want for as long as you want. Furthermore, 4G LTE data is unlimited. Some plans only provide 2-10 GB of data, which isn't enough to watch a whole season of your favourite series. Seniors are increasingly using cell phones to access the internet, with half using social media to connect with friends, family, and colleagues. For only $80 a month for two lines on auto-pay, you can receive a feature-rich unlimited plan from the finest wireless service provider. That works out to $40 per line.
Existing Verizon customers who satisfy the 55+ plan's criteria would save money with this plan. Since most seniors are mild to moderate internet users, paying as you go may not be the ideal option for them. Taken individually, the features and many service options that are part of the bundle may cost much more.
Moreover, you can simply manage your plans and devices while saving money each month by downloading the Verizon app and signing in to your account. Roaming is another important feature included in the design. Traveling more is a good idea even if you have a prepaid plan that covers your roaming.
The ability to use your phone for navigation or address lookup when away from home is quite important. Having unlimited data plans is often all you need to connect your entire house to the web. Using your phone's data as a mobile hotspot to link a tablet or laptop computer to the internet saves even more money.
Obvious Drawbacks
Unfortunately, there are some restrictions. You must keep these things in mind before making a purchase. Problem with this plan is that it only covers people who are living in Florida. We can only hope that this plan spreads across the country soon. Other discounts, such as military, teacher, first responder, etc., are incompatible with this one.
If you just want one line, the plan is obviously more expensive than comparable senior mobile phone rates. Also, a two-line design like this is insufficient. With just one senior phone plan accessible to Floridians, Verizon does offer a few additional options for seniors that we'd suggest. See what's included in other Verizon plans for seniors.
Verizon Nationwide 65 plus Plan
The Verizon nationwide 65+ plan is quite cheaper with the Verizon senior discount plan. The plan's name suggests that it is only available to seniors over the age of 65. For $29.99 each month, you get 200 minutes during the week and 500 minutes on weekends and holidays. During certain hours, each text message is $0.20 and each multimedia message is $0.25.
Verizon senior phone packages allow for two lines. Verizon flip phone plan for elders. Verizon's nationwide 65 Plus plan offers data choices ranging from 75 MB for $10 per month to 12 GB for $100 per month. Bundles of messages for single and dual lines are the same. The Verizon nationwide 65+ plan is perfect for seniors who spend most of their time on the phone.
Read More
Verizon Beyond Unlimited Plans
In some ways, Verizon Beyond Unlimited is better than Verizon Go Unlimited, but it's still cheap at $50 per line and up to four lines, so you can keep one and share the others with your family. Additionally, the streaming quality and mobile hotspot data speed will also increase as a result of this.
For elderly people, this is the greatest option since they will be able to view new movies in higher quality and play games, which will allow them to spend their spare time more happily. Because it includes limitless talk and text, they can also reach out to you or their contacts. The Verizon 65+ package offers unlimited nationwide mobile-to-mobile calling for Verizon Mobility subscribers.
Verizon Start Unlimited
Start Unlimited, which begins at $70 a month for a single line and includes a free six-month Apple Music subscription and a free year of Disney+, offers similar perks to the Senior plan for about $10 more. This package is just $30 per line if you sign up for five or more lines.
A great option for seniors who desire a smartphone and can also read and watch movies. With a Disney+ subscription, you can effortlessly amuse guests with an unlimited supply of Disney movies and shows. In comparison, several media companies charge between $10 and $15 each month.
For seniors who want to share a phone plan with family members, we recommend signing up for several lines. Unlimited talk and text keep you connected to your loved ones.
Verizon Prepaid Unlimited
Prepaid Unlimited from Verizon is another option for seniors who want unlimited data. The $65 monthly fee for a single line includes unlimited talk, text, and data usage. Like Verizon's Start Unlimited package, the more lines you add, the lower the rate per line. The longer you stick to this plan, the more money you save. After three months, you save $5; after nine months, you save $10.
The 480p streaming quality on this plan is a disadvantage. Look elsewhere for crystal-clear video streaming. A good option for those who don't watch much TV or movies but want to stay in touch with loved ones.
Bring Your Own Phone
If you have a second phone and don't want to mix and match plans, this is the ideal plan for you. It's a great way to save money if you're adding 2-10 lines, and you won't have to pay the network's upfront costs, so you won't have to pay anything for the phone except the plan price for your previous phone or device apart from that. You can get 8GB of high-speed data for $35 per month or $65.95 for an unlimited prepaid plan. People over the age of 65 will like this plan since they may keep using their current phone and not lose any of their previous data.
Comparing the Best Phone Plans for Seniors
| | | |
| --- | --- | --- |
| Senior Phone Plan | Unlimited Talk, Text, and Data | Monthly Price |
| Verizon 55+ Senior Phone Plan | Yes | $60 per line$80 for two lines |
| T-Mobile Essentials Unlimited 55 | Yes | $40 per line$55 for two lines |
| Sprint 55 Unlimited | Yes | $70 for 2 lines |
| AT&T Senior Nation | No | $29.99 per line |
| Lively | No | $39.99 per line |
Comparison of Best Phone Plans for Seniors
Verizon's offer, as you can see, is very competitive. Although it's the costliest plan, the benefits make up for it. If you share your data away from home or business, T-Essentials Mobile's Unlimited 55+ plans may save you 20-30 percent, but you receive restricted hotspot access and have less national internet coverage.
Only a few of AT&T's senior plans, as well as Lively's phone plans, provide unlimited data. When 67% of people over 65 say they browse online frequently2, it may be preferable to get a plan like Verizon's 55+ that offers unlimited data. As long as you keep in mind that this plan is only available in Florida, we suggest that you look into Verizon's other senior-friendly options, which we discussed above.
Frequently Asked Question's (FAQ's)
#Q: Why is Verizon's senior plan only in Florida?
Now, Verizon expands their plan availability. Now Verizon senior plans are available not only in Florida but also Illinois, Missouri, Texas, Michigan and Detroit.
#Q: What is the Verizon 65 plus plan?
Verizon 65 plus plan is a cheap plan that has senior discounts. It is especially available to 65+ age seniors. 65+ plan starts for $29.99/month.
#Q: How much is the Verizon 55+ unlimited plan?
Verizon's 55+ senior unlimited plan starts from $60 per line. You can expand this deal by $80 for two lines. It has unlimited Talk, Text, and Data opportunities for all kinds of customers.
#Q: Does Verizon have an unlimited plan for seniors?
Yes! Verizon has a decent unlimited plan for seniors.
#Q: Is the Verizon unlimited plans really unlimited?
No, there is no really unlimited plan in Verizon. Not only Verizon, no
internet service provider
has a really unlimited plan. This so-called unlimited plan is a marketing policy. We can call it a soft data cap on unlimited plans. Your internet speed will be throttled when using a specific amount of data every month.
Verizon has several plans named Do More Unlimited, Play More Unlimited, Get more Unlimited plans. But, no unlimited data you will get. They come with 50GB of premium network access. So, as long as users cross 50GB their 4G/5G speeds will slow gradually. Besides, you can get a message from Verizon like
"In times of congestion, your data may be temporarily slower than other traffic after exceeding 50GB/month/line."
#Q: Do you get unlimited hotspot with unlimited data Verizon?
No Unlimited hotspot in Verizon's unlimited data. But, you can run up to 15GB of hotspot data.
#Q: Does Verizon offer military discount on unlimited plan?
Yes! Verizon offers a military discount on unlimited plans. Military customers can get up to $40 off on unlimited data plans. It is available with 4 lines or 15% off of other acceptable plans.
#Q: Is Verizon throttling my unlimited data?
It's saying 4G LTE data is unlimited but when you cross 22GB of data, your speed could be throttled for sure. Video quality will reduce to 720p on phones, 1080p on tablets. For mobile hotspot connection, after 15GB of using, speeds will throttle.
Related:
Best 6 Ways to Bypass T-Mobile Throttling Issue
#Q: What is the best Verizon plan for seniors?
Phone Plan
Price
Features
55+ Unlimited Plan(Florida residents only)
$40 per line with 2 lines
Unlimited Talk, Text and Data
Unlimited Mobile Hotspot
DVD-Quality Streaming
Includes Mexico and Canada
Up Rewards
Start Unlimited
$30 per line with five lines
Includes Mexico and Canada
Unlimited Talk, Text and Data
Up Rewards
Prepaid Plan – 6GB
$35 per month
Mobile Hotspot
6GB High Speed Data
Prepaid Plan – 16 GB
$45 per month
16GB High Speed Data
Unlimited Calling to Canada and Mexico
Mobile Hotspot
Prepaid Plan – Unlimited
$65 per month
Unlimited Calling to Canada and Mexico
Unlimited High Speed Data
Verizon Plan for Seniors
#Q: How much is the Verizon Go unlimited plan?
Go unlimited plan pricing depends on how many devices are included in your account. It also depends on if you sign up for auto-pay and paper-free billing. It will give a $5 discount per phone. What does Verizon's Go unlimited plan include, what's the Verizon go unlimited plan cost?
| Phones | Plan Cost Per Month | Cost including Auto Pay and Paper-Free Billing |
| --- | --- | --- |
| 1 | $80 | $75 |
| 2 | $140 ($70 each) | $130 |
| 3 | $165 ($55 each) | $150 |
| 4 or more | $45 each | $5 off each |
Verizon Go Unlimited Plan Cost
#Q: Does Verizon have a military plan?
Yes! Military and veteran families can avail exciting plans from Verizon. Check the pricing below.
| Plan | Price | Features |
| --- | --- | --- |
| Start Unlimited | $35/mo | Unlimited Talk, Text, Data |
| Play More Unlimited | $45/mo | Best for music, video streaming with songs, HD and premium data |
| Do More Unlimited | $45/mo | Premium data with discount |
| Get More Unlimited | $55/mo | Unlimited plans with ultimate performance with extra features |
Verizon Military Plans
Bottom Line
The Verizon 55 unlimited plan is an excellent choice for smartphone senior users who require an unlimited plan or don't care how many minutes or data they have left. In terms of price per month, there are cheaper unlimited plans, however Verizon Go Unlimited Plan for Seniors is the most dependable because of its national coverage. There is a good chance you will have to look at the normal Verizon mobile phone plans. Even though you'll pay more since it's a higher-quality service, the peace of mind that comes with knowing you'll always be able to communicate with family and friends, no matter where they are, is well worth the price.