The biggest benefit of Instant Transfer is that money is instantly available on the receiver's account. This makes it easier to support family and friends at odd times. Instant Money transfer is a simple method of sending payment compared to the so-called traditional method. Typically, it is easy to instant transfer with routing and account number without verification. You just need to sign up and then input the necessary information to send money to recipients. Let's explore the topic in detail.
What is the Routing Number?
Any financial institution in the United States can be identified by its 9-digit routing number. To make transactions quicker the banking industry adopted the Routing number in 1910. Because each bank has a unique routing number, there is no possibility of misunderstanding. No matter, if two banks have the same name, they differ from each other with unique routing numbers.
The routing number is also called ABA routing number. Nowadays, this number is used in bank transactions, instant transfers, direct deposits, wire transfers, payment apps like PayPal, Venmo, Cash app, and many more. The routing number can be found in the bottom left corner of the paper check. Its 9-digit number starts with 0, 1, 2, and 3.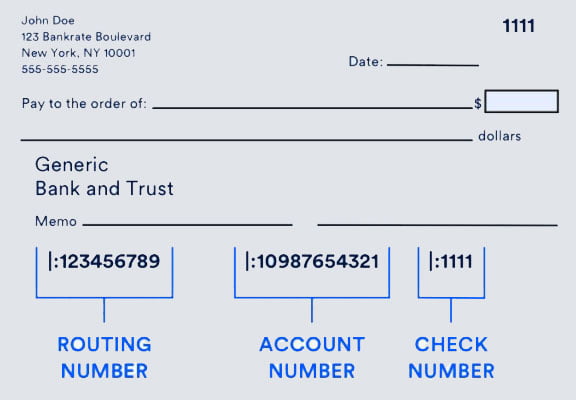 What is the Account Number?
While Routing Numbers is to identify a bank, an Account number is used to separate a bank account that the bank holder's money is coming from. It's a unique number listed on a check and never matched with others. In the past, Social Security Number was the primary choice to identify users. Today, the bank account number is the most important part because, with the help of this number, account holders can send or receive or deposit money to the bank. Usually, it is visible in the paper check. The paper check has a series of numbers at the bottom. This is your account number.
What is Instant Transfer?
An instant transfer is a fancy way of telling you to transfer money in real-time online or cash in hand. If you split the launch bill with friends or send money to your parents in an emergency, it's like you have already made an instant transfer. Clearly, Instant transfer allows you to send money or receive it in real-time. It's like sending a message or email that is delivered shortly. It is used to send small amounts of money to friends and family members.
How Does Instant Transfer Work?
Looking at bank transfer delays is the best way to understand how instant transfers work. Bank transfers take a long time to send or receive money, usually 1-5 working days, especially for foreign transactions. That time takes due to many bank payments processed in groupings throughout the day. Also, it depends on the country, currency, bank schedule, etc. On the other hand, Instant transfers are processed on time when the user sends the payment request.
Why Is Bank Transfer Usually Delayed? – 7 Possible Reasons
Delaying bank money transfers is extremely painful, inconvenient and a waste of time. In this situation, you should know why bank transfers are delayed continuously. Some good banks transfer money immediately but some take two hours, overnight or a business day. The duration of bank transfer depends on several factors, that's why your transaction can be delayed. Here are some possible reasons for delaying transactions, be smart and try to avoid those situations if you can.
1. Global Events and Natural Disasters
Global events and natural disasters like the Pandemic-19 situation, earthquakes, and floods are barriers to bank transfer. Changing work arrangements, limited staff, and unforeseen situations prevent the on-time transfer process. The best thing you can ask for is regular bank updates about transactions.
2. Bank Holidays
Most account holders are aware that banks are closed on public holidays and re-open on business days. So, keep in mind, that bank transfers only happen on business days and hold on public holidays. Check public holidays, before starting transferring.
3. Time Difference
Time Zones play a crucial role in money transfers. If you send money to a country that has a significant difference in time from your country, it's obvious this transfer will take longer to complete. For local bank transfers, time is very important to consider. If you make a transfer request on the last day of work, it will be sent on the next business day.
4. Weekend Delays
Both international and local bank transfers can be delayed if the payment request is sent on the weekend. Most bank transfer requests are processed on the weekend, usually sent on the next business day.
5. Missing Paperwork
Paperworks are important to submit on time to process your transfer. Each country has separate paperwork requirements, you should accept and complete those steps. If you fail to submit paperwork, transfers can be delayed.
6. Different Currencies
For international transfer, converting currencies can consume lots of valuable time. Depending on the country's currency, bank transfers can take longer than usual.
7. Wrong Payment Details
For local or international transfers, incorrect payment details may take a longer time to transfer. In most cases, this type of payment is sent back automatically. To avoid the situation, input correct payment details attentively. If needed, double-check the information always.
How to Transfer Funds From a Bank Account Without Verification?
After opening a bank account, the bank authority requires you to verify your account. You must present proof of identity documents such as a Passport, National ID, Social Security Number, etc. Once you submit that information and you are sealed as the account owner, most banks will start the verification process. Suppose, you have opened a bank account but are not verified because you didn't submit the necessary documents.
Maybe bank authority will limit the money you can transfer with others. In some cases, they can hold the account until you submit information for verification. You can still transfer funds with routing and account numbers instantly without verification. Somehow, if you send money to the wrong recipients, it could be impossible to retrieve without verification. Why are you not taking into account verification facilities? It helps to reduce unintentional mistakes and fraud activity.
Every bank will notify you to start the verification process because it is essential in every way. They recheck every piece of information to ensure things are real and proper. If you want to transfer funds using instant transfer with routing and account number without verification, you need to disable two-factor verification. In that case, you will need to enter your PIN, Password, and Touch ID. The level of unverified accounts is decreasing day by day.
Also, some countries don't allow international transfers from unverified accounts. Other countries allow receiving funds but don't allow sending funds. In some cases, sending or receiving money from unverified accounts takes more days to complete.
Instant Transfer With Routing and Account Number Without Verification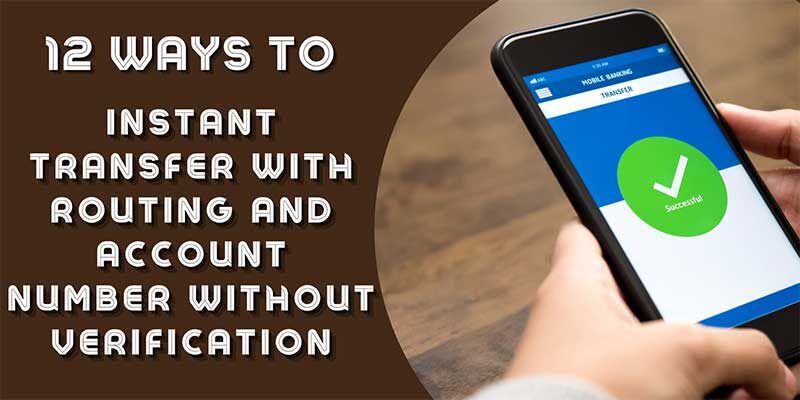 1. Automatic Transfers (ACH Transfer)
The ACH transfer system works electronically. All bank-to-bank transfers are processed through the Automated Clearing House (ACH) network. With ACH, direct deposits such as payroll, benefits, and tax refund deposits are transferred to an account quickly. Usually, sending and receiving funds through ACH is quicker, free, and user-friendly than using a debit/credit card or writing a check. Generally, transferring funds from one bank to another with ACH is initiated on the next day of a transfer request.
ACH Transfer Fees
| Type of fee | Typical cost |
| --- | --- |
| Flat fee (per transaction) | $0.20 – $1.50 |
| Percentage fee (per transaction) | 0.5% – 1.5% |
| Monthly fee | $5 – $30 |
| Batch fee (per batch) | << $1 |
| ACH return fee (per return) | $2 – $5 |
| ACH reversal / chargeback fee (per instance) | $5 – $25 |
Source: MerchantMaverick
2. Wire Transfer
A wire transfer is the best way to transfer money electronically from one bank to another. When you need to send or receive money instantly, a Wire transfer might be a great option. Instant wire transfer with routing and account number is fast, accurate, safe, and reliable. For large amounts, wire transfer is the only option because funds are available to the recipient more or less right away. For domestic wire transfer, the sending amount will leave your account and deliver on the same day.
Wire Transfer Fees
| | |
| --- | --- |
| Domestic Incoming | $15 |
| Domestic Outgoing | $25 |
| International Incoming | $15 |
| International Outgoing | $49 |
3. PayPal
Since 1998, PayPal has run its business with honesty. PayPal has an instant transfer that helps users to get paid faster than before. It offers instant payment to a bank account from Paypal. It needs only 30 minutes to access money sent from PayPal through Instant Transfer Service. There is a little steep fee for convenience. Apart from other fees, Instant Transfer using card PayPal fees just 1% of the movable funds (for up to $10000).
Instant transfer on a debit card has a limit of $5000 per transaction, $5000 per day, $5000 per week, and $5000 per month. To a bank account, the limit is $25000 per transaction. Remember, PayPal's Instant Transfer feature is only available at certain banks in the USA. Only US citizens with Social Security Numbers can expect it. The international transfer might be missing using this method.
Learn More
4. Cash App
Cash app is a peer-to-peer money transfer service. It offers safe money transfers. PayPal, WorldRemit, and Cash App can transfer money quickly. By using Cash App, users can pay home rent, buy things online with cash app, send money to friends and family, donate money, etc. It's a well-known electronic wallet with great features we can enjoy.
It is entirely free to set up a Cash app account, connect to a credit or debit card and bank account then transfer money to another Cash app account. But, instant transfer with routing and account number Cash App may charge a few bucks from your bank account. It will charge 1.5% of the total amount or $0.25 per transaction. If you use a Credit card for transferring money, it will charge 3% of the entire amount.
5. WorldRemit
WorldRemit specializes in transferring foreign remittances. It's an excellent way to move money anywhere in the world to your friends, family, or your bank accounts. WorldRemit will never guarantee how long it will take to transfer money but mostly seen, payments arrive within 1 business day to the receiver's account. The inside report says, 50% of bank transfers are completed in 10 minutes.
However, it might take up to 3 working days for some overseas transactions to reach the EU or other nations with similarly strong anti-money laundering regulations. WorldRemit allows Personal, C2C, SMB, Sole Proprietorships, and Small-Big businesses to send money anywhere in the world. Additionally, you can get payments from Payroll, Invoices, and other recurring payments. Finally, it can take up to 3 days to successfully send money to a bank account.
6. Zelle
Nowadays it is more common to hear about Zelle and you might already install it on your phone. It's a unique payment service that makes it separate from others. Zelle has linked with 100 mobile banking apps, which means you have full access to it through a bank or credit union. If the recipient already set up a Zelle account, you can send and receive money easily in minutes only across the United States.
Surprisingly, Zelle doesn't charge fees for the service but your bank might cut some additional fees to send or receive money online. Get to know about fees from bank institutions before sending money. Only domestic transfer is available on Zelle, which means the sender and receiver must have a Social Security Number (SSN) and a valid US bank account. Zelle only supports USD currency, so no option for international money transfer. Additionally, you can't cross the transfer limit in Zelle.
It accepts a total sending amount of $5000 per week unless the bank specified the limit. You can check the bank and credit union-specific threshold, which you can send every week. Apart from limitations, Zelle Instant Transfer is easy, quick, and convenient when it comes to sending or receiving money across the USA.
Learn More: Popmoney vs Zelle – Who Won This Battle?
7. Wise
Wise or Transferwise is a cheap, reliable, and instant way to send money from the US to other countries. They will give you the market's best currency rate. You can add funds to Wise in various ways like from a credit card or bank account. Wise is the best choice if you are looking for a low-cost platform with great web experience when sending money to 70+ countries.
Generally, Wise payment arrives within 20 seconds and sometimes even quicker. Right now, 45% of transfers, Wise successfully can make instantly. Unfortunately, the maximum instant transfer happens internally, I mean only in the United States. They are expanding the network to establish Instant Transfer systems globally. Don't forget to check the transfer speed when sending money through Wise.
8. Venmo
Venmo is a Consumer to Consumer (C2C) payment service. It is the right option for paying lunch bills, splitting room bills, treating your mom to coffee, etc. Venmo offers an "Instant Transfer" facility, which helps users to deposit the money within 30 minutes. You can't use Venmo's Instant Transfer feature totally free. Its service costs 1% of the total transfer and the minimum fee is 0.25 USD and the maximum fee is $10. Currently, Venmo is available for USA holders, so each payment must be in USD currency to use the Instant Transfer feature. Since Venmo accepts only USD currency, users must have a verified US bank account with a valid SSN.
9. Veem
Veem is an underrated payment network specialized in business payments. This helps every business together with its best payment experience. When it comes to talking about transfer speed, Veem uses multi-rail technology that is great for moving funds within a snap. This technology easily can find the best route, price, and delivery time for each payment. Just like other institutions, Veem also offers Instant Transfer or Deposit.
You just need a bank card to deposit funds instantly from the Veem account to your Debit card. With Instant deposit, Veem users can deposit funds directly to linked bank accounts. A payee can receive funds directly to debit cards within minutes. Instant money transfer requires 1.5% of the total transfer amount and a $1.50 fee per transaction. All US-based account holders can receive payments in USD currency.
10. Popmoney
Popmoney is a reliable payment service that allows users to instant transfer with routing and account number without verification. It uses ACH or an Automated Clearing House network to get an easy route to complete the transfer process. With Popmoney, you can send money at any time to your recipient. Instant Payments are only available for US residents. PNC integrates with Popmoney to offer this service. Currently, Popmoney uses 1800+ banks and credit unions to send and receive money from friends, family, and relatives.
11. Apple Pay
Apple Pay is another reliable payment options users mostly like. It unveils the Instant Transfer feature with iOS 12.2. By using Instant Transfer, you can send and receive money from Apple Pay Cash to a debit card. All transfers are generally processed within 1 minute to 30 minutes of payment request. It deducts a 1% fee on the total sending amount, a minimum of $0.25 and a maximum of $10 per transaction. You can additionally use Apple Pay using ACH bank transfer to receive payments. For bank transfers, there are no extra fees needed.
12. Apple Cash
Don't confuse Apple Cash and Apple Pay. They are separate from each other. Fortunately, Apple Cash unveils an Instant Transfer facility with Mastercard and Visa debit card which was previously used with the latter card. It makes all transactions quicker than before. Now users can use instant transfer with routing and account number without verification to send money Apple Cash to a Bank account without having to wait for a day.
The cost of Instant Transfer moved to 1.5 % from 1% and a minimum of $0.25 and a maximum transfer is $15. To use Instant Transfer on Apple Cash, open the Wallet app then select Apple Cash card then Transfer to Bank. Enter the amount then select Instant Transfer.
Frequently Asked Question (FAQ)
Can transactions be made only by knowing the bank account number?
Yes, obviously you can transfer money with only an account number but to ensure the current account holder, you have to provide other details such as routing number, social security number, and ID.
Is it possible to send funds with a routing number only?
Clearly No, you can't. It is not possible to send funds with only routing numbers. Equally, it is important to know about bank account numbers. Bank accounts and the routing number indicates a real owner of the account. So, both are necessary.
Can you transfer money with routing and account number?
Yes, you can transfer when you have routing and account number at a time.
Can instant transfers be sent anywhere in the world?
Currently, most Instant Transfer apps allow sending money between the United States. We hope they will expand the possibility of transferring money globally soon.
Are instant money transfers reversible?
In a nutshell, you can't reverse your instant transfer once the funds have been sent to recipients. Typically, ACH or Wire transfers and banks address all transfers to senders liability for wrong account information. Bank, Credit Union, or Payment apps have no liability for your wrongful transfer.
Can I send large amounts of money instantly?
Each money transfer has a limit. Normally, you can't send large amounts of money instantly. For example, PayPal's instant transfer limit is only $5000 per transaction, per month $15000 and on card $25000. 
Are instant money transfers really instant?
It depends. Most payment methods use the Instant Transfer feature but it is not possible to send or receive money instantly. Because there are several factors such as Transfer route, Country, Currency exchange, and National barriers that may prevent the process. So, sometimes it consumes more time to be successful. So, you can say instant money transfer is not always instant.
What to consider when making an instant money transfer?
Some notable things you have to consider when transferring money. These are the Country you choose to transfer to, your chosen payment method, your Transfer route, the Transfer company you choose, and your existing account with a payment provider.