Payment can be a hefty task to complete. Hence ACH is now available in all major money transferring companies. Requiring verification takes up much time during a money transfer; fortunately, ACH doesn't need those. Keep in mind that ACH transfers are allowed without any verification only if you are a citizen of the United States. ACH transfer without confirmation is not possible for international users. This article will guide you through the various details of ACH transfer, how long it takes, platforms that allow instant ACH Transfer no verification, and many more.
What is Instant ACH Transfer?
ACH Transfer is an electronic transfer of money between banks using the Automated Clearing House network. ACH transfers can include the transfer of funds from outside, person-to-person payments, bill payments, direct deposits from employers, as well as benefits programs of the government. The payments are processed through the ACH network, not card networks such as Mastercard and Visa.
ACH transfers can be used for various reasons and are often cheaper and more convenient than cashing checks or making payments via a debit or credit card. It is important to remember that ACH payments are only available within the US; thus, when you want to make an overseas bank transfer, you'll have to choose another method.
How Long Do ACH Transfers Take?
The processing of ACH transfers may take several working days. The days when banks are open are usually not on weekends or holidays. ACH transfer transactions are handled by an operator of networks in batches, not every day, compared to wire transfers.
ACH Credit transfer speeds: Banks may select to receive ACH credit processed and transferred on the same day or in a matter of one to two days.
ACH transaction speed of debit: On the other hand, ACH debit transactions must be processed within the next business day.
The timelines are based on guidelines from the National Automated Clearing House Association or NACHA, which is the trade association that oversees the entire network. When the money has been received, an institution like a bank or credit union may keep the funds for a certain amount, meaning the delivery time may vary. NACHA rules guarantee that banks can process transactions on the same day as they're made; it's up to the bank to decide if it will charge the user for expediting a transaction.
Why Does Instant ACH Transfer Need a Verification?
There is less money to be used for traditional check processing. A company accepting ACH transfers will see fewer paper checks that are processed. Compared with ACH transactions, the old-fashioned payment method requires more work, time, and money to process.
Reduces the bounce rate of checks. This ACH verification process will identify if a company's payer's checkbook is awash with fraudulent checks.
A lower return rate. Errors in data entry are the most frequent reason for declined payments. Since the most frequently used ACH verification procedures are carried out online, there's less chance of making a mistake.
It can be utilized to pay for various transactions. It's possible to verify the ownership of a bank account for Telephone/Mail Order Orders purchases and e-commerce transactions when no credit card or check is available.
Can You Use Instant ACH Transfer With No Verification?
Yes, you can use instant transfer with routing and account number without verification via ACH. Making money transfers from your bank account without the hassle of verification is feasible. But, verifying your account is designed for your safety and security. There are instances when you need or want to transfer money without first verifying your account. A bank account might permit you to transfer funds without verification. There will be restrictions on the amount you can transfer and the number of transactions you can make within a 30-day time frame.
What Banks Allow Instant ACH Transfer No Verification?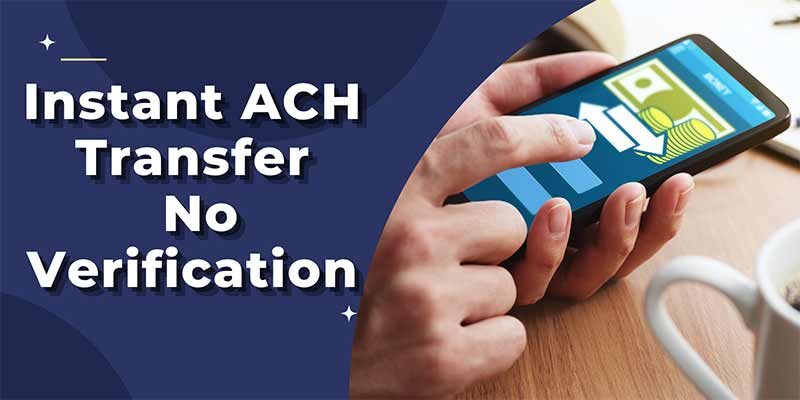 A big plus point of ACH transfers is their flexibility. That is what sets the prime difference between ACH and wire transfer; having the ability to do transactions without significant fees. We picked the most relevant ones that allow ACH transfers without any verification. All of it is described below:
1. PayPal
Paypal allows customers to do ACH transfers without any verification. Customers must follow a few terms and conditions before using Paypal's ACH system. Although verification is not mandatory, the company recommends using it to prevent fraud. Paypal does, but does a network check in the customer's network. ACH is a grouped system.
So, no customer care helper will be there while you make the transactions, which means that money sent can be returned to the customer's account for valid reasons. PayPal also does a security settlement check where they wait for three days to see if the money sent is returned to the customer or not. If it is returned, then the ACH transfer is not valid and will be declined by the company.
ACH Payment limit unverified: $10,000
ACH Payment limit verified: $60,000
Charge: 1.5% fee, each transfer.
Learn More
2. Cash App
Cash app allows direct deposits, but you need their Cash Card to claim it. Since ACH or direct transfers are done using checking bank accounts. Besides, it is Cash App's policy for the merchant to have their card. After you get the card, you are entitled to $25,000 of freedom for depositing directly. As ACH are electrical transfers, Cash App will not do any notable verification test if you set the system that way. But the company will verify the customer's identity verification before the transaction.
ACH payment limit unverified: $250 in 7 days
ACH payment limit verified: $1000
Charges: 0.5% – 1.75%
3. Venmo
The company allows ACH transfers. After depositing money to your debit, you will need to wait a few days until Venmo confirms your account and its legibility. You might be offered early access if you are lucky. Venmo has good flexibility for its merchants and won't do fancy verification. Like all the companies, Venmo will also do a merchant identity check before sending money to recipients. You can check the fees page of Venmo for this.
ACH payment limit unverified: $299
ACH payment limit verified: $2,999.99 weekly.
Charges: Venmo to Venmo and debit card, free. Additional 3% with a credit card.
4. Zelle
You can make ACH payments using Zelle, but you can't do ACH transfers without verification. For starters, you have to have a U.S verified number to verify your account first. Afterward, you can initiate your payment through the app. A plus point of Zelle is that while most companies can take up to days to send or receive your money, Zelle takes minutes.
You can send money to an unverified account in Zelle, but the unregistered user will not receive the cash immediately, unlike verified Zelle customers. The recipient user will receive a notification of registering to Zelle. After registration, the money will be sent to the person's account instantly.
ACH payment unverified: unavailable
ACH payment verified: $2000 per day, maximum.
Charges: No charges for transactions.
Related Article: Popmoney vs Zelle – Who Won This Battle?
5. Apple Pay
You can do ACH transactions without verification, but you can't use Apple Pay without identity confirmation. There is no alternative. Before using Apple Pay, you have to inform the bank you are associating your Apple Pay account with. You are asked to verify before using Apple Pay not to get caught up in fraud because FDIC law requires user verification before using the account. Apple also encourages you to close your Apple Pay account if you don't see any verification option in the app. That's how much the company values its customer's security.
ACH payment limit unverified: not available.
ACH payment limit verified: $20,000
Charges: 1%
6. Veem
Veem does not allow ACH payments without verification. Along with account verification, Veem will need a merchant confirmation. It doesn't matter if you have done it before. Veem also might take longer than three business days to process your money. International transfers with Veem are easier than popular apps like Venmo and Paypal. Global payments take less complexity and can be done within a few days.
ACH payment unverified: unavailable
ACH payment verified: $50,000
Charges: 2.9%
Unfortunately, Veem charges a whopping 2.9% charge for ACH payments. Compared to 1.5% and only 1% from Apple and Paypal. Veem is double their charge fees.
7. WorldRemit
In short, WorldRemit does not allow merchants to do ACH transfers without verification. The company's policy is to identify the customer before sending any money; it doesn't matter if it's a wire transfer or ACH. As ACH is not available anywhere outside the U.S., you can only transfer money in the states. The money will be verified by the company first, taking up to four business days to reach the receiver. WorldRemit does an identity verification when a user is registered and another if you are doing an ACH transaction.
ACH payment unverified: unavailable
ACH payment verified: $5,000
Charges: 0.85%
Is It Safe To Use Instant ACH Transfer Without Verification?
Using instant ACH without verification is not entirely safe because account verification shields you from losing money due to scams, fraud, and other unlawful activities. First, you should be aware that checking your account is vital in transferring funds. It can help reduce the possibility of costly errors and fraud. Each financial institution will attempt to convince you that it is important to check your account to ensure everything is running as it should.
Recap
ACH is becoming popular these days for its flexibility and straightforwardness. Charges are minimal to no fee. Most companies don't allow ACH without verification, as it's not safe for either the sender or the receiver. Instant ACH verification is needed as it will decrease checks' bounce rate and can lower the risk of money return. Only Paypal, Venmo, and Cash App allow sending money using instant ACH Transfer no verification. The payment process may take three to five business days or less.