You've decided to get rid of your cable and use an on-demand service instead. For big families who want to get rid of cable, streaming in more than one room is a must. When choosing a streaming service, it's important to think about how many devices you can stream to at once. There are many other great options besides Hulu. Since Hulu works well on many devices on the same network, many people who cut the cord have switched to it. With this one-of-a-kind feature, you can save money on subscriptions. So, Can you watch Hulu at two different houses? Let's find out.
Can You Watch Hulu at Two Different Houses?
A single Hulu Live subscription can be used on any North American network on two devices at the same time. So, No. Hulu only lets each customer have one "Designated Home Network." Hulu Live can still be watched on many devices and in many places. Members of Hulu + Live TV who want to use Hulu on an unlimited number of devices at once can get the Unlimited Screens upgrade for an extra $9.99 per month.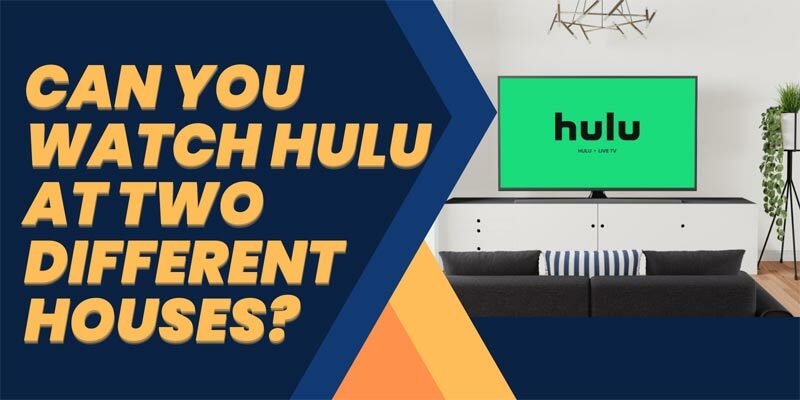 On your home network, you can stream from any number of devices at the same time. There will be a limit of five screens at once for premium channels like HBO, Cinemax, Showtime, and Starz. With this add-on, you and up to two other people can watch Hulu on the go from up to three different mobile devices.
Read More:
How Do You Share a Hulu Account?
You won't have to do anything special to let other people use your account. Just give them your credentials to get them going. Anyone with a general profile can see the settings for an account, but the last four digits of any payment information are hidden. The settings for an account can't be changed from a child's profile. Hulu Live can be streamed to many places and homes using any of the following:
All Apple products other than Apple TV
PCs and laptops
Android smartphones and tablets
You could say that each of these three things is a mobile device. You can only watch your favorite channel online for a month at a time, even with these devices. One Hulu account can have up to six different profiles. You can sign up for Hulu and get access to all of their services with one profile. Profiles of children can only be seen in the Kids area. Ask the user to make a new profile if you want to keep their choices of content secret. After you log in, you can choose your profile to see information based on what you like.
Compatible Devices for Unlimited Screens on Hulu
Unlike "On-Demand," Hulu Live is made for just one household. So, you have to be at home to stream. Home" in this case means the network that all of your devices are connected to. But this definition doesn't limit how many devices you can connect to a single network. Remember that you can't use any of these devices to watch Hulu Live if you're not connected to your home Wi-Fi. These are the mobile devices that can run the latest app:
Mac and PC browsers
Apple TV (4th generation or later)
Windows 10
Echo Show
Xbox 360
Playstation 4 (Live TV not supported)
Chromecast
Android phones and tablets
LG TV
Nintendo Switch
Fire Tablets
Fire TV and Fire TV Stick
Samsung TV
VIZIO SmartCast TVs
Xbox Series X/S
Xbox One
iPhones and iPads
PlayStation 3 (Live TV not supported)
PlayStation 4 (Live TV not supported)
Roku and Roku Stick
Here are the devices that support the Classic app:
TiVo
VIZIO TVs
Samsung TVs and Blu-ray players
Apple TV (2nd & 3rd generation)
Sony TVs and Blu-ray players
LG TVs and Blu-ray players
Android TV
Roku and Roku Stick
There is no limit to how many devices you can use at the same time with Hulu. But you should be careful because the number of devices that can access your account could quickly grow to dozens.
Can You Use a VPN to Watch Hulu Live on 2 TVs?
No. Unfortunately, you can't use a Virtual Private Network (VPN) connection to get to Hulu Live in places where it's not available. Any device that can't connect to VPN will show an error message. The goal of this policy is to get rid of the lag time that can happen when many devices are signed into the same Hulu account. But if your phone has a VPN, you shouldn't turn it off just to watch Hulu.
The VPN ban only affects devices used in the "Living Room" So, even if you have a VPN, you still can't use Hulu Live on two "Living Room" devices when you're not at home. Each household that uses Hulu Live must have its own subscription. The best way to watch TV networks is on a big Smart TV or game console, but any mobile device will do in a pinch.
Unlimited Screens
You can watch all of its channels at the same time on as many screens as you want. See the following for more information about Hulu's unlimited streaming:
Each month, it costs $69.99 to subscribe to Hulu Live.
The $9.99/month Unlimited Screens Upgrade is a must.
All of the devices in your home theater can stream at the same time.
You can connect up to three mobile devices to stream at the same time while you're on the go.
If you add premium channels like HBO Max, Cinemax, SHOWTIME, or STARZ to your subscription, you can only stream on up to five devices at once. You can choose to have three of the five displays outside of your private network. Before you buy the premium upgrade, you should try out the service first. If you can get by with two streams of income at once, you can save $10 per month.
Bottom Line
Unless you upgrade to the Unlimited Screens plan, you can only watch Hulu Live on two screens at once. While Hulu Live is referred to as a "Single-Home Service," it really allows users to watch their favorite channel from many places. While you may watch Hulu on as many screens as you want, this feature will cost you an additional $9.99 per month on top of your Hulu Live membership. If you have a big family and want to be sure everyone can watch at the same time, you can get Hulu Live and also can activate the Unlimited Screens feature. Here I tried to give the information about can you watch Hulu at two different houses. We hope you enjoy this.