Having an internet connection is a life savior for everyone. If you are always busy with social media and storing data on the cloud, you should definitely need a wifi connection. When you stay at a hotel, for the time being, you may face wifi throttling issues. Because maximum hotel members use the same wifi or the hotel community intentionally reduce the bandwidth size. So, your goal is to bypass hotel wifi throttling anyhow. Our solution may help you all the way. Let's get started.
What is Wifi Throttling?
Wifi throttling is when you are throttled by an internet service provider (ISP). They intentionally restrict wifi speed or limit the bandwidth with informing. Wifi throttling results in a slower speed than actual ISP speed. Every ISP uses a bandwidth throttling technique to control internet traffic and enforce data limits and bandwidth congestion.
Why Hotel Wifi Throttling Happens?
When you travel a long journey, after a while you choose a hotel to stay in. For the betterment of technology, wifi connection is available at hotels. But the most common issue every traveler may face at a hotel is a sluggish wifi network. When you try to use public wifi or hotel wifi, you will be throttled.
You will face slow speed when using the internet on any device, it starts buffering. Because hotel ISP limits the bandwidth and prevents users from using wifi fully. Hotel companies monitor the usage of users and then intentionally limit the speed or bandwidth. Though, there are some effective ways to bypass hotel wifi throttling.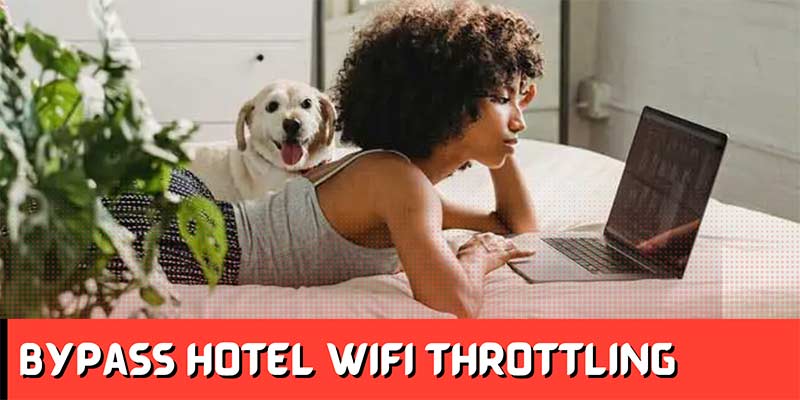 7 Powerful Ways to Bypass Hotel Wifi throttling
Wifi throttling is really an annoying matter. Especially, when you are on an important task, suddenly you face slow speed, your temper will break the glass. So, a wifi throttling solution can prevent you from breaking the glass.
How to Bypass Hotel Wifi Throttling?
It is necessary to bypass wifi throttling at hotels. This will allow users to regain real internet speed. Follow each way attentively.
Learn More: Can You Watch ESPN on Amazon Prime? 3 Best Ways
1) Using a VPN
A VPN is an effective solution to bypass throttling. It uses an anonymity feature so the ISP never catches you. ISP can't detect where the traffic originates. We are recommending the 3 best VPNs to stop hotel wifi throttling and get your internet speed back.
ExpressVPN: #1 trusted VPN. It is secure, worthy, and popular. Express VPN can connect you from anywhere. They have high-speed servers across 94 countries worldwide. 
NordVPN: It ensures top-level security and access to reliable internet. This is a good VPN service that provides secure browsing and encrypts online traffic flow. You can also use NordVPN's Threat Protection to make your cybersecurity safe.
CyberGhost: They lead the anonymous era by 15 years. By using CyberGhost VPN, you can throttle any network, especially wifi. Aside, you will be untraceable and anonymous online. 
2) Using a Proxy Server
A proxy server is an old method of bypassing internet throttling. But, still, it works in each way. It acts as a medium between server queries. Generally, proxy servers hide IP addresses, and traffic locations, protect identity, and unblock regionally restricted content. Free or paid proxy servers are available online.
Free proxy servers are not reliable all time but you can believe paid proxy servers. The real benefit of using a proxy server is that it protects anonymity, can bypass geo-restrictions, and can cross the bandwidth capacity. My best proxy server recommendations-
Learn More: 7 Fastest Wi-Fi Router for Gigabit Internet
3) Using Google DNS (For Windows Users)
Except for VPN, Proxy, you can help from Google DNS to bypass hotel wifi throttling. First, make sure you enabled all firewall and antivirus settings. Then set up Google DNS:
Open Windows "RUN" app from your computer
After it appears, type "GPEDIT.MSC"
A new window will appear in front of your name "Local Group Policy Editor". Go to Computer Configuration option>Administrative Templates>Network>QoS Packet Scheduler and finally "Limit Re-servable Bandwidth"
In the Last window, Type "0" in the box that may ask for "Bandwidth Limit %", followed by "OK"
Now go to "Control Panel" from Start Menu, then select "Network and Internet"
Go to "Network and Sharing", then select "Change Adapter Settings"
From "Local Area Connection", go to the "Properties" section.
Tap on the tick box beside "Internet Protocol V4 (TCP/IPv4)" to enable it.
Enter "8.8.8.8" in the DNS server box to switch Google DNS server
Disconnect the Network after 30 seconds, re-connect it. Now see the changes.
4) USB Tethering
USB tethering is another solution to stop hotel wifi throttling. In this step, you need to hide data usage. It may take a few minutes to do. You can take help from the FoxFi app. It has hidden tethering of hotspot data usage options. Use the feature, hide your data usage, and unlimited internet without throttling.
Another way of hiding data usage
Method 1 – Dun = 0 (Android Only)
Download ADB and Fastboot installer from XDA
Enable USB Debugging from Developer Options
Connect the Phone to the Computer via USB Cable
Open CMD or Command Prompt
Type "ADB shell", now enter
Type "settings put global tether_dun_required 0", then enter
5) Tunneling
Tunnel protocols also help to stop wifi throttling. It can make your connection mask, read, activity, and footstep. VPN tunnel has a private path. It follows the path to transfer data from one device to another anonymously. VPN tunnel encrypted user data. Finally, it makes an unreadable format that no ISP can read. So, no chance to get caught. With this, you can bypass hotel wifi throttling easily.
Learn More: How to Use Miracast without Wi-Fi?
6) Speedify
Speedify is a top-notch app for speeding up hotel wifi. This app works like a VPN service and never compromises speed. It combines internet connection and improves performance as it uses the latest encryption to deliver double performance on desktops and mobile phones.
Speedify is really important when you are traveling and staying at a hotel with a low wifi signal. They have few plans, you can simply enroll in Speedify's free plan which will get you 1GB of optimized data every month. Sufficient in all ways!
7) Psiphon
Psiphon is a free and open-source tool that helps to secure internet connection just like VPN, SSH, and Web proxy. It manages thousands of proxy services using a performance-oriented, single- and multi-hop routing architecture. However, it also helps to bypass data throttling in hotel wifi. To do this, follow this-
Download, Install Pshipon from Google Play
Now, launch and tap on Connect
Now it will retrieve a different IP address available in the Psiphon's server pool
You just have to click on Connect each time you have reached your limit
How to Bypass or Disable Wifi Throttling on Android 10?
In Android 9, bandwidth throttling limits all the apps which can measure wifi signals. It used to scan 4 times every 2 minutes. But, Android 10 has an option to disable throttling foreground apps. To not allow Android to throttle, you need some configuration from the developer's option.
Active Developer options
Go to Settings > About phone > Software information > Build number (or just Settings > About phone > Build number for some phones).
After activating developer settings. Toggle off the throttling.
Go to Settings > Developer options > find "Wi-Fi scan throttling" > disable it (or Settings > System > Advanced > Developer options).
Learn More: How to Get Better Signal With Straight Talk – Easy Methods
Bottom Line
Wifi throttling causes incredible frustration to users. ISP may throttle wifi connection for plenty of reasons, downloading torrents, excessive streaming videos are a few of the reasons. If you are sure, the ISP intentionally throttled the wifi connection. You can follow Proxy server, VPN, Tunneling, USB Tethering to bypass hotel wifi throttling easily. The above throttling bypass technique can help you all the way, I'm sure.
Frequently Asked Questions
Does Vpn bypass throttling?
Yes, VPN helps bypass throttling! It prevents ISPs from detecting traffic sources. It also hides content that you are viewing from ISP.
How to bypass at&T hotspot throttling?
To bypass at&t hotspot throttling, I recommend installing PdaNet+ on phones and pc. Remember, this method only works on Android and iOS devices. (iOS device must be jailbroken to use PdaNet+)
How to boost wifi at a hotel?
There are several ways to boost the wifi signal at the hotel. But, using VPN is the most lucrative way to prevent restriction and boost the wifi signal. I recommend using NordVPN, ExpressVPN, HotspotSheild, and CyberGhost because these are proven VPN service that works for boosting internet signal.