Did something happen to your Straight Talk SIM card? Or maybe you can't connect to the Straight Talk and would like to know how to get a Straight Talk SIM replacement. Straight Talk is one of the most popular mobile virtual network operators. It is also one of the most popular cell phone companies that collaborates with some other networks to offer coverage. They stand out because they work with the four largest networks in the country.
Straight Talk is a pay-as-you-go cell phone service that uses SIM cards. You can take your personal unlocked GSM or CDMA phone on compatible networks, or you can buy one of the phones that Straight Talk sells to use the sim card. If you want to know about Straight Talk Sim Card Replacement and get your SIM card replaced so your cell phone can work again, keep reading!
What to Do If I Lost or Stolen My Straight Talk SIM Card?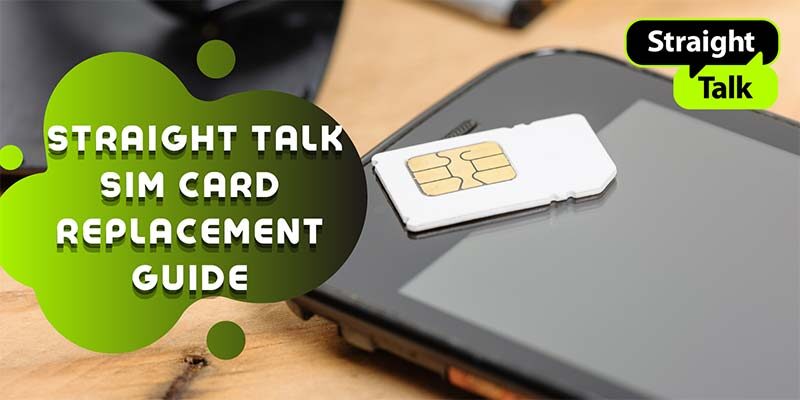 If you have a new, high-end phone, losing or getting it stolen is a very difficult and expensive experience. You must do what is necessary to limit the bad repercussions. And that starts with getting a new SIM Card. If you lose or have your Straight Talk stolen, please call our Customer Care Center at 1-877-430-CELL (2355) to talk to someone who can help you. If you want to keep your account free of additional fees, this is important. Tell them what's going on so they can deactivate your account, which will protect it.
If you aren't sure if your phone has been lost or stolen, try using "Find My Phone" or another phone-finding service to see if you can find it. As a last resort, if you are quite certain that your phone has been stolen, you may submit a complaint with your local police. When you call Straight speak, they will tell you how to get a new SIM card for your Straight talk phone. Additionally, you can claim insurance, if you previously settled with mobile phone insurance.
What Should You Do If Your Straight Talk SIM Card Is Broken, Damaged or Not Working?
SIM cards are usually well protected by phones, but sometimes mistakes or damage can happen that makes SIM cards stop working. If so, check to see that the SIM card you want to use is properly put into your phone. Make sure your phone isn't on. Then, please take out the SIM card and turn the phone back on. Put the SIM card back in again. Then, of course, you should be sure to contact Straight Talk support. You can either call them or go online to ask for a new SIM card.
Learn More: How to Get Free Cell Phones With No Credit Check No Deposit No Credit Card?
How Do I Replace a Straight Talk SIM Card?
You might want to change your SIM card because you want better service. Or maybe your sim card is totally damaged. So, if you want to replace your SIM card as well as change your service plan, you must call or just go to one of the Straight Talk centers. You'll also get advice on which plan is best for your budget.
Where Can I Buy a Replacement SIM Card for Straight Talk?
Now, the only question left is where to get your free new SIM card as a Straight Talk client. There are many things to choose from. Most likely, the most realistic way to do it now is online. There are also ways to meet in person, of course.
Local Replacement
If you want to make Straight Talk Sim Card Replacement, you can do so at any Straight Talk store. This can help you have a better understanding of the range of additional items that are provided by the organization. Also, you'll be working with an agent who can answer all of your questions about the data plans and bundles. Since the company works in more than one state, many people find its services as well as locations to be convenient.
There are several authorized retailers, like Walmart, Best Buy, Target, and many others. They sell Straight Talk compatible phones but can also help you change your SIM card. When going for a replacement in person, don't forget to bring all the information you need. It could be based on your past subscriptions and the plan you like best.
Online
Go to https://www.straighttalk.com/devices/phone-sim-cards and fill out the form. You'll need to log in first. Straight talk lets you purchase a SIM card online and pick one up at even a Straight talk Retail Location or an Authorized Retailer store, or have it sent to you.
Calling
To get a new SIM card, you can also call the Straight Talk office. Here, you'll be put in touch with an agent who might take care of every aspect and tell you what to expect from a new plan you might like to switch to.
How to Order for New or Replacement Straight Talk SIM Card?
First, find out if your SIM card has been lost, stolen, or cracked. If you lose or have your SIM card stolen along with your phone, you should call Straight Talk at 1-877-430-2355. They will stop your current account from working and help you avoid any extra costs. Then you can use any of the ways discussed in the past sections to order a new or substitute Straight Talk SIM card.
If you have a certain plan in mind, an agent can also give you advice on how to get it. It's crucial to know that calling or going in person will get you the same interest. Also, think about whether you will be getting the new phone as well. This is because you can do both things at the same time.
How to Activate Straight Talk SIM Card
If you bought a Straight Talk phone, the SIM card you need is already in it. Even if you choose to maintain your existing phone, you will need to buy and install a new SIM card before you can use your new phone to make calls. SIM Card Activation can be done in two ways.
Visit the StraightTalk.com website.
Call 1-855-222-2355.
Make a checklist of everything you'll need and keep it handy. This includes your phone, the packaging for your SIM card, and Straight Talk Unlimited 30-Day service plan card. Have your debit or credit card willing to make a transaction if you don't have a subscription plan card handy. It doesn't matter whether you do it online or by phone; the directions will make it easy for you to get started. Once you've received your replacement SIM card, you'll need to register it online. Hopefully, this won't take more than a few minutes of your time.
Will Straight Talk 4G LTE or 5G SIM Cards Be Compatible with Other Providers Device?
Straight Talk says in its ads that it is a "Bring Your Own Phone" provider, which makes it sound like you can switch your phone from a major carrier to a Straight Talk plan which can save money. Most handsets are locked, which means they only collaborate with one carrier. Using them with another carrier isn't impossible, particularly if you're on Straight Talk, which only uses the networks of major carriers. But if you want to unlock your device, you'll probably need to talk to your existing carrier.
This means that a Straight Talk 4G LTE or 5G SIM card would not work in any other device. Straight Talk also lets you buy some new phones immediately or will say to wait to get free obama phone., but not all. It will also work with most new GSM or CDMA phones that you bring to the service. When it comes to Straight Talk, you ought to be able to use any phone that is compatible with one of the carriers they offer, including the most recent iPhone and Android devices.
How to Protect My Straight Talk SIM Card?
SIM cards are available with PIN codes that keep people who shouldn't be able to get into your phone from doing so. By default, the SIM PIN is not turned on. Still, you can turn it on. On the main screen, tap the "Apps" icon. Look for "Lock screen and security" and then tap it. Tap "Other security settings" after that. Tap "Set up SIM card lock." Then, choose either "Lock SIM card" or "CHANGE SIM PIN" and complete the onscreen instructions. You'll have to input your PIN number every time you switch your device on or off.
How to Transfer Straight Talk SIM Card to Another Phone?
If you buy the phone from Straight Talk but don't activate this with the SIM card they give you in the box, they might not be able to unlock a phone for you later. Go to www.straighttalk.com/Activate to find out how to upgrade. After selecting "Activate or reactivate my phone with a number transferred from another Straight Talk phone" and afterwards selecting "Continue," your phone will be activated. Sign into your account when you're finished to finish the process. Your transfer could take 24 hours.
Straight Talk customers who purchase a brand new Android and even iPhone through the company get a locked device that can only be activated via Straight Talk's service. After a year of service with Straight Talk, your phone will be unlocked. But if you didn't register it or turn it on with the SIM, they might not know that you used the mobile on their network later.
Learn More: How Do I Transfer My Straight Talk Service From One Phone to Another?
To activate a new phone with Straight Talk service, go to straighttalk.com and follow the on-screen instructions. For existing customers, Straight Talk will automatically transfer their number and remaining balance from their current phone to their new phone when they reach the section asking whether they want to maintain their old telephone number and fill in the information for that purpose.
There are two things you should do first, in my opinion. Check to see whether you have a straighttalk.com account set up for your current phone. Visit straighttalk.com to purchase a new SIM card. It costs $1 for a new SIM card. You'll need to order new sim card for Straight Talk Sim Card Replacement that works with AT&T, Verizon, or T-Mobile. Select a SIM card that really is suitable for both your smartphone and the network you want to use.
Apple's iPhone SE, if purchased directly from the company, is unlocked and may be used with any of the available SIM cards. When buying the iPhone SE from Straight Talk, you will be required to use the provided SIM card to activate the device. Please activate your Straight Talk-purchased iPhone using its supplied SIM card to qualify for Straight Talk's unlocking policy, which expires after one year of service. All things considered, there will always be a risk that Straight Talk will make a mistake when you switch providers.
If You Forgot Straight Talk SIM Card PIN, What to Do?
Many people find themselves in this situation, especially if they haven't turned their phone off in a while. If you utilize the phone's innate security mechanisms to mistakenly lock yourself out, you may use a Personal Unlocking Key (PUK) to unlock your SIM card. PUK codes are different from PINs and passwords for phones. Call customer service to know how you'll get your PUK code back. Your SIM card will be permanently disabled if you input the wrong code so many times, so you'll need a replacement.
Final Words
Straight Talk is a wireless brand that doesn't mess around. That's why Straight Talk Sim Cards are so simple to replace. But it's a good idea to keep your SIM card in a safe place. While most people leave their SIM cards in their phones, it's best practice to store them in a secure location. Also, you should always get the SIM card from a Straight Talk store. I really hope that you've figured out how to continue with the replacement Straight Talk Sim Card Replacement at this point.