Have you ever heard about a system that sends silent SMS to a person that can track his or her location? If you still need to, you should learn about it. Silent SMS is a technicality-critical system that sends a Type 0 SMS to a person, and the sender can track the recipient's location. The silent SMS tracking system is not available to anyone; most often, government guards, Law enforcement, and intelligence institutions only have access to this system. However, there are some ways you can use this system to track someone else's location. To learn about silent SMS location tracking system., let's check this article till the end.
What is Silent SMS Location Tracking System?
SMS is an extensive system in the telecommunications and user tracking field. In the first phase of the SMS and silent SMS boom, it was hugely used by shady people and criminals. Law enforcement, intelligence institutions, the government, and many other survey-based institutions now use the silent SMS location tracking system.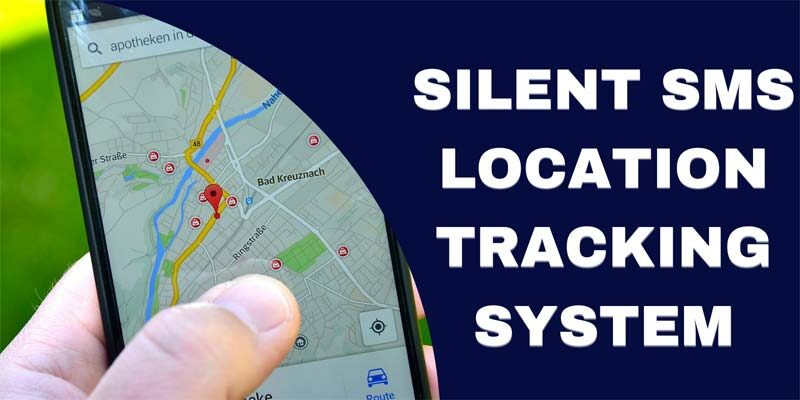 Initially, silent SMS refers to the Type 0 SMS; this kind of message doesn't contain any text or other content. But the recipient got this SMS for sure. Still, this style of message doesn't notify the recipient. They never even expose anything. However, this kind of SMS system is used to track the location of the recipient's device. The system uses E-OTD to locate the area.
Read More
How Does Silent SMS Location Tracking System Work?
A Silent SMS location tracking system works using fundamental telecommunication principles. It is as it is; every time a phone uses a little activity, it reveals the current location with the nearest signal tower. So, even without permission or action from the user's network company can send silent SMS and gather the location information of the device using radio signals.
Many law enforcement institutions use this technology to gather information on desired individuals. To do this, whenever a silent SMS is delivered, the target mobile device recognizes that without notifying the user. This activity can be traced by a location measurement unit from a base transceiver station or BTS using various radiolocation technologies.
Another common way of silent SMS location tracking is through the GSM network, known as E-OTD. This way, the signal arrival from the device location is precisely measured. A-GPS-based systems work best with a combination of silent SMS procedures for the best tracking results. This kind of SMS is not readable and doesn't even show any notifications on mobile devices.
An inherited system allows the message to be received whether the users want it. Silent SMS can be of 7-bit and 8-bit based characters, whereas the earlier one can not exceed 160 characters and the later mark up at 140 characters.
Learn More: 6 (Free) Apps to View Text Messages Using IMEI Free
How to Track Location via SMS Without Installing Anything on Phone?
The best way to track someone's location without installing anything on his phone is to send him a silent message. But the entire process is tricky, and everybody may be unable to do so. Some apps work pretty well for them.
1. ClevGuard
Among all the different spying apps, ClevGuard is a very renowned one, and it helps users locate one's devices. It can work like a spy to allow the users to access the targeted person quickly. Using this app is very easy, and if you face any problem, you can contact the administration 24/7. Also, it is affordable, and it works relatively faster.
Features
One can get access to the Live GPS of another person's device.
This app initially supports multiple languages and devices.
ClevGuard has many smooth monitoring features to be an intruder for someone else's device.
This app can access devices with 3G and 4G network systems.
If the recipient uses a Wifi network, this app also works with that as well.
2. Flexispy
If you want to spy on someone else's device using your PC, I suggest Flexispy. This app is also suitable for iPad and MacBook. It works really fast and efficiently. Using this software is easy and creates almost no hassle to spy on a device remotely. Besides, it works great to track location using SMS.
Features
You can start and stop spying on someone else's device with a single tap.
It comes with a very straightforward remote installation system.
This app can also track the recipient's log-on/off activity.
You will enjoy strict parental control support with this application.
Sometimes, it requires rooting and jailbreaking.
3. mSpy
If you want to locate someone else's area and check that person's browsing history, you can use mSpy. It is one of the best spying apps and works well to track locations. It uses a Geo-fencing system and GPS to find the location of the targeted person. This application is also effortless and works in real time.
Features
This app comes with a live and hassle-free location tracking system.
You can hack the social media of the targeted person easily using mSpy.
It offers 14 days of return policy.
The integrated SMS Location tracking system will tell you the real-time location of the targeted person.
This software uses an advanced algorithm to track location and hack devices.
4. XNSPY
The next one is XNSPY, and you will love to use it if you want to enjoy a turn-by-turn location tracking system. This app is straightforward, and beginners feel better with it. XNSPY has a good name as the most affordable SMS location tracking tool. Besides, its premium plans give you more than you expect.
Features
You can get the complete text message history of the recipient's device using XNSPY.
This app lets you intrude on the targeted person's browsing history.
You can send an SMS to track the location of someone else.
It also lets you capture live data of the device too.
You can track a lot of social media of the targeted person.
5. uMobix
Among all the apps that track location using SMS, uMobix is a significant one. It works on Android and iOS devices and can track devices using 3G, 4G, and WiFi networks. This software uses GPS and Geo-fencing to track devices remotely. Also, the authority comes with 24/7 support and 14 days money-back guarantee.
Features
You can record calls and messages from the targeted person.
This application lets you track another person's location remotely using silent SMS.
uMobix can track the social media history of the most popular media, including Facebook, Instagram, Twitter, Hangout, etc.
You can check his/her mailbox scanner, browsing history, browser bookmarks, and all.
Though it is affordable, you can't use it on one account on different devices.
Final Call
So, silent SMS location tracking system remotely is a relatively easy task. You can install any of the following apps and track your location remotely. Still, one thing is essential to remember that these apps are not legal to use in all countries. So, be careful before you use them—best of luck.