Unlocking a phone allows it to work with any mobile carrier rather than being limited to a specific carrier. People might want to unlock their phones, such as switching to a different carrier, traveling internationally, or simply enjoying the freedom to choose their carrier. For that, they will need software that will unlock your phone. Luckily, several software options are available for unlocking phones, each with unique features and limitations. And if you need to use one to unlock your phone, check this article first. It's because this article will discuss the best software to unlock phones to any network.
Best Software to Unlock Phones to Any Network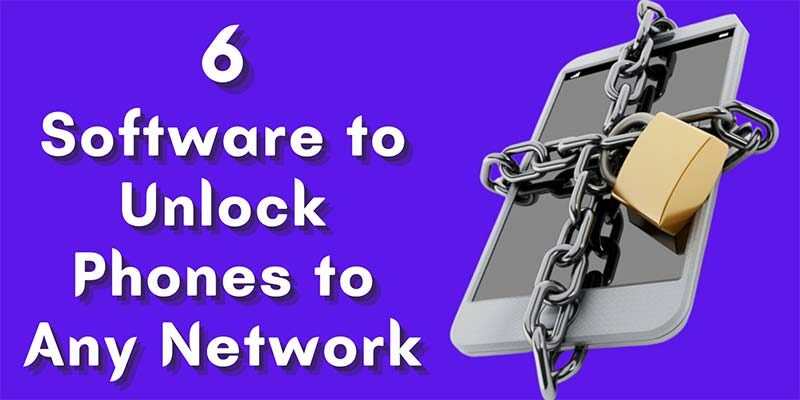 1. DoctorSIM
If you've ever tried to unlock a mobile device or sim card, you'll know how frustrating it can be. DoctorSIM was created to make the process easy and hassle-free. This software provides a range of services for unlocking mobile phones, sim cards, and other devices. Its user-friendly interface and competitive list of features have become popular worldwide.
Important Features
DoctorSIM can unlock devices from all major manufacturers, including Apple, Samsung, LG, and Huawei.
It can also unlock sim cards from different carriers, allowing you to use your device with any sim card you choose.
This software usually promises to unlock your device within a few hours, with a success rate of over 90%.
It initially uses encrypted servers to ensure the safety and privacy of your personal information.
Our Verdict
DoctorSIM is a valuable resource for anyone looking to unlock their mobile devices or sim cards. Its range of services, fast turnaround time, and user-friendly interface make it more efficient, effective, and valuable. But unlike other software, it takes more time to work.
Price
Depends on model, country, and carrier.
2. FreeUnlocks
FreeUnlocks is another powerful software that offers phone unlocking services for various mobile devices. With this software, users can unlock their phones to use with any carrier, anywhere in the world. FreeUnlocks is designed with simplicity and works great on most common mobile brands. Its official website has a straightforward process for unlocking phones, with clear instructions for each step.
Important Features
This software comes with SIM card unlocking and IMEI repair options.
It offers a free trial version and a full refund policy.
This is a legal app, and it leaves no risk for your phone.
It takes only a few minutes to unlock a phone using this software.
Our Verdict
This app has only three steps to unlock the phone: select the phone model, enter their IMEI number, and choose a payment method. FreeUnlocks also offers a 100% money-back guarantee if the unlocking process is unsuccessful.
Price: Free for the trial version only, and price varies based on the network database.
3. Unlock Base
Let's dig into Unlock Base, one of the best software to unlock Android and iPhone without hiccups. You will be surprised to see how it works. The software interface is also very materialistic and welcoming. It will unlock your phone automatically and let you know the cost of the process before moving to the work phase. Another great thing is that it will inform you of the time of the unlocking process beforehand.
Important Features
The system handles all the unlocking processes; you have to pay and wait.
Users will get consistent support from the team as it offers 24/7 customer support.
It offers a money-back warranty with all the offered services.
Unlock Base offers affordable prices compared to its competitors.
Our Verdict
Unlock Base would be the right choice if you want a professional solution for your locked phones without any hassles. It offers paid yet successful services where the software team does all the work for you. It is not free to use, which could be a significant downside. But, if you are unfamiliar with technology, paid services would be the better option.
Price
From 0.75USD to 39.99 USD (based on network database and package)
4. DC-unlocker
DC-unlocker is another software that allows users to unlock various types of mobile devices, including smartphones, tablets, and modems. Users can use this software to unlock devices from various manufacturers, including Apple, Samsung, Huawei, and many others. DC-unlocker also has a user-friendly interface that makes it easy to use, even for those unfamiliar with unlocking devices.
Important Features
This software can unlock devices that are locked to a particular network or carrier.
The official website of this software includes pertinent details on the unlocking process step by step.
It comes with a firmware update tool that allows users to update the firmware on their devices.
It is free of restrictions and almost free of failures.
Our Verdict
Undoubtedly, DC-Unlocker is a handy tool, especially for smartphone users. If you buy a dedicated smartphone for a specific carrier, you can use this software to unlock the phone to any network. Eventually, it is free of cost.
Price
Totally Free.
5. UnlockR
If you are looking for a mobile app to unlock your device, this option is for you. UnlockR is an IMEI mobile app designed to help Android and iOS users conveniently unlock their phones. It offers a variety of features that make the process of unlocking your phone simple and hassle-free.
Important Features
UnlockR allows users to unlock their phones with just one click.
You can use it to unlock more than 15 thousand mobile phone varieties worldwide.
It is even suitable to unlock encrypted mobile phones.
UnlockR has an easy-to-use interface that guides users through the unlocking process step by step.
Our Verdict
UnlockR is a powerful and convenient tool that helps users unlock their phones effortlessly. Its one-click unlock feature, multiple unlocking methods, and compatibility with multiple devices make it a versatile and user-friendly app. But it sometimes takes more time to detect the unlocking codes.
Price
Start from $11.59
6. CellUnlocker.Net
CellUnlocker.Net is an effective software to unlock phones to any network. This app usually offers mobile phone unlocking services for various brands and models. With the help of this platform, users can easily unlock their phones and use them with any carrier or network of their choice. It works fast, reliably, and securely.
Important Features
This software supports most smartphone brands, such as Apple, Samsung, LG, HTC, Huawei, and more.
It claims to offer reliable services to its users, ensuring they can unlock their phones without any issues.
CellUnlocker also offers different secure payment options to its users.
It indeed comes with fast unlocking solutions with easy tutorials.
Our Verdict
CellUnlocker.Net is a reliable and convenient platform for unlocking mobile phones. With its wide range of supported brands and models, fast unlocking process, reliable services, and excellent customer support, it is an excellent choice for anyone looking to unlock their phone.
Price
Totally Free.
Final Calls
Unlocking a phone provides liberty for the users to choose their career and take their phone with them when traveling internationally. It is essential to carefully research and compare these options and select software to unlock phones to any network so that you can find the one that best meets your needs and budget. You will find it easy once you check the details of each software. We'll appreciate it if you share this article with others and leave your valuable advice in the comment box. Thank you.