If your cox contour box stuck on boot, generally there are two possibilities. Either, the internet signal is unstable or the wiring between the contour box and TV is interrupted. To solve the boot stuck issue on Cox contour box, you just tap on the Cox box reset button, and TV, then check all physical cables. Make sure all are connected properly.
Additionally, update your Cox cable box, also try to perform a factory reset that will remove residual files and make the contour box fast. However, there are few solutions behind the cox contour box stuck on the boot. I request you not to skip any single step!
Why Did My Cox Contour Box Stuck on Boot?
There could be a reason that you have a software issue or problem in setting up the DVR box. Also, a false configuration may prevent running the cox contour box. Before spending time on troubleshooting determine these issues and fix them easily. Let's exclude this possibility if nothing works for fixing the box issue. Take a look at the below possibilities that could have an impact on contour box stucking.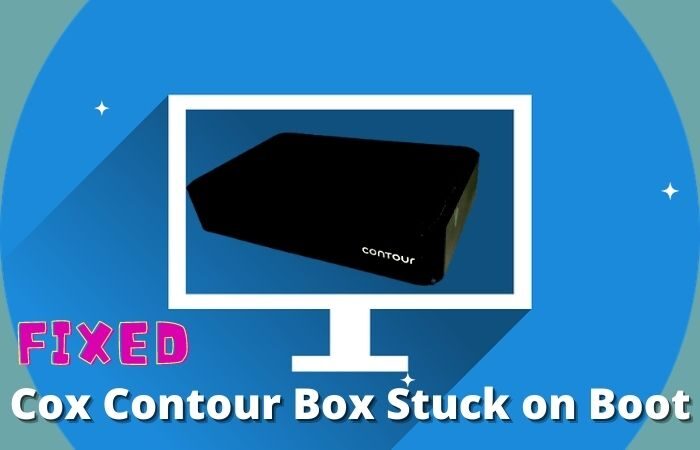 1) Cable Issue
Cable problem is one of the most annoying matters that occur box is stuck. In some cases, it acts as a barrier to cox box no signal. To establish a stable cable connection, we may unintentionally use faulty cable connections that result in no signal or stuck issue on Cox Box.
2) Cox Cable Box Software Issue
Software glitches may hamper running box connection. If there is an issue with the cable box software itself, there could be a showing stuck. Due to continuous use, cox cable box sometimes stops working or did not respond a few times. It is one kind of stuck, that will be solved by clearing the software cache.
3) Failed to Connect with Cox Cable TV Box
Connection error with Cox Cable TV Box is common for each TV Box user. If you failed to set up a connection with the TV, the Contour box will be stuck at boot option. To bypass the stuck issue, set up the box properly, and recheck a tiny tiny cable joint. Ensure nothing is missing to establish a cable tv box connection.
4) Outdated Equipment
To use the Cox contour box with a TV, establishing a connection is necessary. For a long time, you are using the Pro Connect service. It may be outdated or not cope with modern devices. Outdated equipment is always disturbed in entertainment. Anytime old equipment can stop working and let you see a stuck screen on the contour box boot. Fortunately, the new Cox self-installation kit will save you time and money both. You don't need any experience to connect Cox Contour Box to TV. So, forget about the old kit, and install a new contour kit.
Cox Contour TV self-installation kit:
Power cord
Coax cable
HDMI cable
Contour box
Voice or non-voice remote control
How to Fix Cox Contour Box Stuck on Boot Issue Easily?
After seeing the insights of possible issues, have you ever tried to reboot once? Sometimes a simple reboot or ON/OFF can solve the malfunction errors. If a reboot does not work for you, try the proven solutions below that will surely help and fix the contour box stuck issue.
Solution #1- Perform a Hard Reset
Unlike a simple reboot, you can also try to perform a Hard Reset on your Cox Box. Hard Reset is also known as Power Cycle. Reasons for power cycle the contour box include software crash, software stuck, hanging device, crash situation, unresponsive situation, and not respond situation. This type of resetting fully clears boatable files and lets the device clean like a fresh device. Here's how to hard reset the cox contour box easily.
How to Reboot Cox Contour Box
Unplug the power cord from the wall socket
Wait 20-30 seconds
Plug the power cord back into the wall
Wait 2-4 minutes for the receiver to reset
When the Clock on your cox receiver activates
The reset is complete
Within 3-5 minutes, your TV guide will load
Now, It's time to be entertained!
Need more help? Visit Cox.com/support
Generally, after performing a hard reset or reboot, the contour box works well. If the issue still exists on your side. Please plug the necessary cable with a standalone or portable wall outlet to avoid malfunction from the outlet or dividers.
Solution #2- Reconnect All Necessary Cables
Another thing that could be a reason of stuck on the boot. Faulty cables cause signal interruptions, that's why you have to wait in the cox welcome screen. Cables go often faulty when any irregular outage from Cox-end. For continuous outage, necessary cables may damage, which leads to cox issue. The following solution will help you to inspect and fix potential damage to cables.
Turn off both TV and Cable box
Now unplug Power Adapter
Disconnect your Coaxial Cable
Also, disconnect the HDMI cable
Change the cable's end
Then plug all cables back again
Fill up all ports with cable
Perform a simple reboot bot TV and Contour Box
Once the device is alive in its own era, check if the connection ok or not. If not, let's continue with further solutions.
Solution #3- Re-configure Contour TV Box
If still cox contour box stuck on welcome screen, you might have configured wrong source. For this reason, the contour box can't run smoothly to the next step. This error comes from contour box. To configure the contour tv box again, follow these steps attentively.
Make sure your cable box is plugged behind TV with all HDMI port
Go to TV Source Menu
Choose corresponding port
Now select Cable Box source
Solution #4- Update Cox Contour Cable Box
If the stuck screen appears on welcome screen when you are trying to open the cox contour box to access fresh entertainment content. Initially, you have to update Cox box firmware asap. First, check the current firmware version, if a new update is available for installation, you have a great chance to fix stuck issue on boot by just installing a new firmware. Follow the step-by-step process to successfully update the cox contour box.
Tap on Contour Button from remote
Find the Settings button, then tap on it
Go to the Preference tab
Tap on General then go to "Daily Update TIme"
Check and apply "Newest Update Scripts"
If unfortunately no updates are available here, or updating can't help you. Relax and move on to the next solution.
Solution #5- Factory Reset the Contour Box
By doing a factory reset of the Contour Box, you have a good chance to make the box alive. A factory reset makes all settings default and also erases all unnecessary data that cause an unresponsive screen. To reset cox connection, you have required to log in with your existing Cox account. Here is how you can perform a factory reset easily.
Go to Cox.com/reset
Now follow the on-screen instruction
Find "Reset My Cable Connection" tab
Tap on "Reset My Connection" blue button
Now factory resetting process will start. It will take a minimum of 15 minutes to complete. So, be patient and wait for a successful mark.
Solution #6- Replace Contour Box
Old contour box occurs several problems. You have to upgrade it after a certain time. Usually, the old box shows a history of failed hard drive sector also having problems in re-playing shows, frequent freezing, unresponsive screens, stuck screens, and spontaneous reboots. So, you should change or replace the box from the cable store. Go to near cox store, they will check the box issue or replace it without any charge.
Solution #7- Use Cable Signal Amplifier
If you use a TV service provider like Mediacom, Comcast, or Cox, you might need to use a cable signal amplifier. Signal strength really matters a lot it comes to talking about online entertainment. Low signal occurs buffering or stuck issue. Cable Signal Amplifiers are designed to boost TV signals. That means, when you use a signal amplifier, you will get blazing speed in the contour box and the stuck issue may disappear. So, try it.
Solution #8- Install Moca POE Filter
MoCA filters or MoCa immunity filters are used at "POE=Point of Entry" ahead of each MoCa device. It can filter and secure any internet signal from DOCSIS easily. To avoid interfering signals, you need to install a MoCA filter. Having a MoCa filter helps to enhance network performance, prevent mix-up connections, and prevent unwanted signals from neighbors. Eventually, it boosts the signal so you can run the contour box smoothly without any lagging.
Solution #9- Xfinity Help & Support
Cox contour box stuck on welcome connecting to your entertainment experience. However, if no solution works for your contour box. You should request help from Cox Help and Support team. As a valued customer, they will surely help you!