Sometimes it happens that we have no available balance in our account but we have to draw money by using ATM. This time just a few banks have brought this facility to their clients. So to avail of this facility, you have to know the banks that let you overdraft at ATM. No doubt this facility of banks becomes very helpful and useful to persons who need an immediate overdraft. There are a variety of overdraft ways, charges, limits, times, and other terms & conditions from bank to bank. I am going to know you about a few banks with the best overdraft facility and conditions.
What is Overdraft Protection?
Overdraft Protection is a bank service that helps clients to complete transactions though there is an insufficient balance in the account. The bank will cover the shortage amount of transactions. Without overdraft protection, for insufficient balance transactions will remain unpaid. This may fall into great trouble and can be expensive. Overdraft protection is mostly used for checking accounts. It can be applied to saving accounts too. For opt-in overdraft protection, banks may allow you immediate overdraft at ATM and make payments.
How Does Overdraft Protection Work?
For overdraft protection services, usually banks link a saving account, line of credit, and credit card to cover the shortfalls. When a client makes an overdraft the bank covers the short amount by transferring money from a credit card or a linked account. Banks may apply an overdraft fee or transfer fee for this service. The overdraft fee and transfer fee vary from bank to bank. By setting up an alert, linking accounts, and using 'low cash mode' overdraft fees can be avoided. Overdraft fees also can be waived by contacting banks if clients do it mistakenly.
What Banks Let You Overdraft at ATM?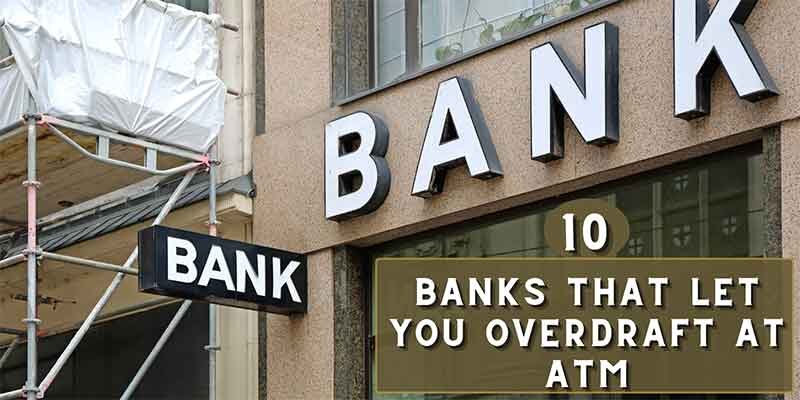 Here is a complete list of banks that let you overdraft at ATM and necessary information are described below.
1. Academy Bank
Academy Bank situated in Kansas City is a community bank that has assets worth $1 billion. This is a smaller bank compared to others but in a short time, it has gained notorious popularity with the powering of finances. Academy Bank provides three options to handle overdraft transactions. Good to hear, all accounts are at AB's standard overdraft practice. For Academy saving accounts, you can skip all overdraft fees by linking to a checking account associated with its Overdraft Protection Transfers program. If the checking account balance is turned to $0, the bank will transfer $100 increments to your linked account. See AB's overdraft policy below.
What is Academy Bank's overdraft policy?
$100 increments when the balance is $0 but a $5 overdraft fee will cause
General, AB's overdraft fee is $20, and 5 overdraft transactions per day cost $100 per day
No transaction fee under $5
The insufficient funds' fee is $20 when an item is returned and unpaid
2. Bank of America
Bank of America also provides an overdraft facility but you must opt-in to its overdraft protection to access cash at the ATM. An overdraft will allow if your account balance is $1 or a few more. Before enrolling in overdraft protection, if you purchase or pay for anything with the amount, your transaction will decline. In 2022, Bank of America reduced overdraft fees from $35 to $10. This bank only allows overdrafts for checks, scheduled payments, and emergency ATM withdrawals. You can withdraw only $1500 each day at an ATM and of course, the bank will charge $10 from the account. If you want to avoid overdraft fees you can use BOA O/P, no-fee overdraft apps like Chime SpotMe, or Cash advance apps like PockBox.
What Is Bank of America's Overdraft Policy?
The overdraft fee per transaction is $10, with a Maximum 2 times overdrafts per day, and a Maximum daily cost of $20
The insufficient Funds Fee and Linked Account Transfer Fee is $0
Checking accounts carry a monthly fee of $12 and are waived on avg. $1500
You can withdraw up to $1,500 from an ATM
3. BMO Harris Bank
BMO Harris is always on your side when you are out shopping, dining or just having a great time with buddies, and you make purchases with a debit card but you have a shortage of balance. This bank can help with an overdraft. And this happens when you spend more than you have in your account balance. As a BMO Harris customer, you must be aware of overdraft limits, policies, and fees. You may be eligible to overdraft at an ATM and debit card purchases if you opt into the Overdraft program. Just like other banks that let you overdraft at an ATM, BMO Harris will link saving and checking accounts together to send your overdraft amount to the checking account when your fund is below $0. It's called overdraft funding.
How Much Are BMO Harris Bank's Overdraft Fees?
Overdraft Fee $15, Max 3 times, Max daily cost $45
Insufficient Funds Fee $48, Max 1 time, Max daily cost $48
Linked Account Transfer Fee $0
Checking accounts monthly fee $5 – $25
No fee for $5 or less
No fee if overdrawn by $50
4. Capital One 360
There are almost 70,000+ Capital One 360 ATMs nationwide. It is one of the largest credit card issuers also. As an account holder, you can withdraw from savings, and checking accounts as well as deposit money from an ATM. It is a stressful situation when you are short on cash and can't cover payments or important expenses. That's why, Capital One 360 offers overdraft coverage in those conditions such as check payments, Electronic payments, and Recurring debit card payments. But, you must opt-in to the overdraft program to avail of this offer. Then you can overdraft at an ATM and in One-time debit card purchases.
How Much Are Capital One 360's Overdraft Fees?
$0 overdraft fee
For free overdraft, you need to receive at least $250 per month
$1,000 overdraft per day
Learn More: Top 10 Free Virtual Bank Account No SSN Required
5. PNC Bank
PNC is a large regional bank situated in Pittsburgh, Pennsylvania with over 2500+ branches and 18000 ATMs in 21 states. They offer numerous financial products such as checking accounts, mortgage, online banking, overdrafts, etc. If you are a PNC account holder, it helps you to know about overdraft fees that apply when you are short of funds and need immediate cover. We make it organized for you! The overdraft limit is set based on your account balance, account history, usage, linking to an eligible checking account, etc. You can overdraft through ATM transactions, debit card transactions, checks, and automated bill payments when needed.
How Much Are PNC Overdraft Fees?
Reduction in overdraft fee cap 4 to 1, and incurs $36 overdraft fee even in multiple overdrafts
Reduction in daily max overdraft fee from $144 to $36
PNC charges a $36 overdraft fee per transaction
Offers a $5 margin error as a safety buffer
No overdraft fee if overdrawn by $5 or less
After 5 days in red, a $7 charge in extended overdraft fees for each day overdrawn (up to 14 days for $98)
The overdraft limit for a checking account is $10 to $1000
6. Wells Fargo Bank
Wells Fargo has about 8050 branches and 13000 ATMs. It offers an overdraft for any transaction when a customer has insufficient funds to cover the transaction. Wells Fargo bank provides clients with an overdraft facility for a check, ATM withdrawals, Automatic bill payments, debit card transactions, and electronic transactions. I'm really confused with their overdraft limits, fees, and overdraft protection. It may be subject to no overdraft fees or a $105 fee for the same transaction if the overdraft protection setup is complete.
How Much Are Wells Fargo Bank Overdraft Fees and Limits?
$35 overdraft fees
$105 for daily overdraft fees and the same transactions
Wells Fargo NSF fees are $0.
Learn More: How Can I Activate My Wells Fargo Credit Card? – 5 Easy Methods
7. TD Bank
TD Bank is also an age-old bank in the USA. They have about 1220 branches and 700 ATMs across the country. If you are finding banks that let you overdraft at an ATM, TD Bank is a great choice to go for. You must know its rules, regulations, and overdraft policy while using an ATM with a debit or credit card. TD Bank's debit card allows overdraft at ATMs 3 times per day and Saving OD protection will help to allow withdrawal at ATMs. However, to utilize overdraft protection, you can link other bank accounts with TD easily.
How Much Are TD Bank's Overdraft Fees and Limits?
Overdraft Fee $35, Max 5 times, Max cost $105
Insufficient Funds Fee $35, Max 5 times, Max cost $105
Linked Account Transfer Fee $25, Max 3 times, Max cost $75
$50 Overdraw before an overdraft fee
$35 fee for each transaction when the balance is below $10
8. Fifth Third Bank
Fifth Third Bank is one of the largest consumer banks in the USA. The bank has about 1136 Branches and 2469 ATMs in several states. Fifth Third Bank allows overdrafts on checks, ACH, Automatic Bill Payments, ATM transactions, and debit card purchases. This bank will issue overdraft fees when you are out of balance and have no money to cover a transaction, but the bank is aside from you. They will not even check your account history for overdraft facilities. You just need to enroll in the overdraft program. Fifth Third Banks has no specific amount of overdraft limit. It depends on the account's activity, transaction amounts, account history, etc.
How Much Are Fifth Third Bank's Overdraft Fees and Limits?
Overdraft Fee $37, Max 3 times, Max cost $111
Transfer Fee $12
$25 extended overdraft fee, up to a maximum of four weeks
O/D fees will incur if overdrawn by $5 or less
No max o/d limit at ATMs but the bank can deny overdraft requests at an ATM at their discretion
9. Regions Bank
Regions Bank is a reputed and large bank in Birmingham-USA founded in 1971. It has about 1454 banking offices and 1952 ATMs. Like most banks, you have to be enrolled in its overdraft protection program to access overdraft transactions. Region Bank doesn't charge you extra costs for overdraft protection. You just need to link your credit card, checking account, and savings account. Once you enroll in the overdraft program, you can overdraw at an ATM when out of balance.
How Much Are Regions Bank's Overdraft Fees and Limits?
Overdraft Fee $36, Max 3 times, Max cost $108
Insufficient funds and linked account fee is $0
$100 increments
No fee for overdraft protection
No O/D fee if the balance is negative or less than $5
Credit line of up to $1,000
Learn More: 16 Banks in Arizona That Don't Use ChexSystems
10. Chase
No doubt, Chase is the most profitable bank in the United States. As per a report, they earned $1 billion in revenue from overdraft fees in 2021. While other banks like Citibank and Capital One 360 eliminate overdraft fees and help customers for smooth banking, Chase doesn't want to sacrifice this profit. Recently, they announced a new policy for an overdraft to make it a little bit customer-friendly. By understanding Chase, new overdraft rules could help you to use overdraft features when the balance is $0. Remember, Chase allows overdrafts only for recurring purchases with a debit card, checking accounts payments, and checking account transactions.
How Much Are Chase's Overdraft Fees and Limits?
$34 overdraft fee per transaction
No charge for less than $5 products payment
No fee for Unpaid or declined payment
No fee for an overdraw of less or equal to $50
Get max $102 overdraft fee in one business day
Final Word
There are much more banks that let you overdraft at ATM. But most banks expect clients to opt in for overdraft protection and repay overdraft amounts promptly. Commonly most banks keep the right of discretion about the authorization of overdrafts at ATMs. In this situation, you have to opt-in or contact with relevant bank for your immediate overdraft at ATM. The overdraft amount may be determined by the bank based on your account activity, account history, and account transactions. The overdraft fee also varies from bank to bank.
Frequently Asked Question
What banks let you overdraft immediately?
Several banks offer overdrafts at atm. Any bank holder like you can use these banks to withdraw money when you have an insufficient amount. I have listed some of the best banks above. However, check also these banks out and say bank let me go overdrawn. SunTrust Bank, Bank of Huntington, Fifth Third Bank, Discover, Citizen's Bank, PNC Bank, TD Bank, U.S. Bank, Wells Fargo, etc.
Can you overdraft cash at an ATM?
Overdraft is possible when a bank offers an overdraft facility. You should keep good relationships with banks that give you overdrafts. If you meet a certain condition, you will definitely get overdraft cash at ATM. For an opt-in debit card at ATM overdraft, you can make withdrawals even if you have an insufficient balance.
How much money does Wells Fargo let you overdraft at ATM?
If you need an Overdraft in your Wells Fargo account at ATM. Make sure you take the maximum limit which is $300. No clarification on the minimum overdraft amount.
How much does Bank of America let you overdraft ATM?
Bank of America gives you the opportunity to Overdraft $1500 per day. It is possible when you have checks, schedule payments, or ATM withdrawal access.
How much will PNC let you overdraft at ATM?
Short on Funds? Looking for Fast cash? PNC is a great option for the overdraft at ATMs. No clarification of minimum and maximum ATM withdrawals from the PNC end. That means it depends on accounts.
Can you overdraft at an ATM US bank?
US Banks also have no exact information about minimum and maximum atm withdrawals. It depends on a bank account, credit score, account history, etc.