Cox Communications, a telecommunication company that deals with wireless networking services and digital cable broadcasting. The ISP offers internet speeds ranging between 10 Mbps to 940 Mbps. If your internet speed is not up to date, there are several measures you can take to get the most out of your internet service.
Before pursuing any other solution, determine how much speed your internet is capable of providing. The reason why Cox Internet keeps disconnecting is due to the connection failure between the user's modem and their ISP. This is usually indicated by the router signals when it changes from blue to red. Here are some simple solutions which are shown shortly related to Cox Internet Servers:
Cox Internet Keeps Disconnecting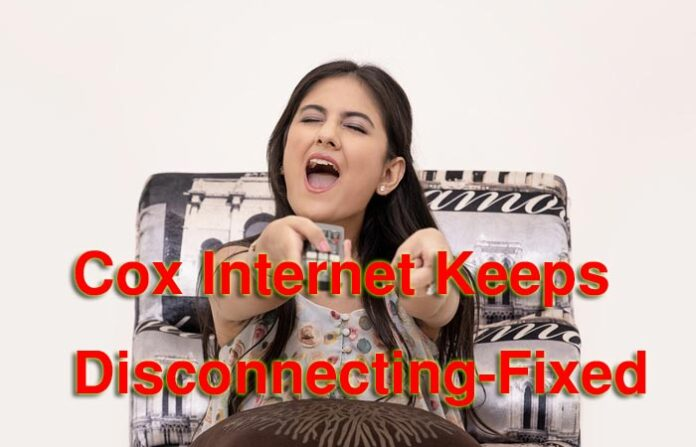 1. Examine Network Speed
Ensure the network speed for which you are paying. There might be differences between Cox Internet Packages which are usually found on internet bill payments. Check your Wi-fi range by going to all the corner areas of the house and lastly, compare the results. If the internet speed test is similar to what the user is paying for but not good enough, users need to increase their internet service. For casual browsing, 10 Mbps is acceptable. But, if the user frequently streams HD videos, watching ESPN sports, then 50 Mbps package is excellent. The user can contact customer support if they think they are not getting what they paid for.
2. Reboot Wi-Fi Connection
Sometimes rebooting the Modem might fix the connection problem. How to reboot your Wi-Fi router? Read the following steps,
Remove the cable out of the adapter. 

Before turning it on, wait for 60 seconds.  

Reconnect your Wi-fi router.

Plug the coaxial cable into the cable port.
3. Using a default connection
Consider using the default Cox connection instead of third-party devices. If you are at a great distance from the modem, which on 5 GHz could be only a few meters inside, the connection may be poor. 
4. Acquiring a New Router
Use devices that are suitable for your internet speed. If you have a internet service provider but you are not able to see results, it is high time that the Wi-fi router needs to be changed or upgraded. Users can switch to Wi-Fi 6 for their fast and smooth service.  
5. Optimize your Wi-Fi Signals
Sit closer to the Modem for a stable speed. If the internet is slow for low signal interference, invest in Wi-Fi signal boosters.    
6. Examine the Connectors
Examine coaxial connectors carefully. They might appear to be in good condition, but a weak connection within the mesh can cause signal interference. The Internet keeps dropping on Cox because most connectors often get damaged and they are to be replaced by new ones.
7. Reduce Wireless Interference
Routers often work at 2.4 and 5 GHz. 2.4 GHz is more efficient than 5GHz. Most wireless networks that function with the 2.4 GHz frequency can find interference in their Wi-Fi signals. Lastly, a tiny percentage of electronics are compatible with specific Wireless connections. This can range from no connection at all to a bad connection with random failures.
Keep a little distance between your household items and your Wi-Fi connection:
Microwave distance of 40 feet.

A baby monitor should be placed at a distance of 20 to 40 feet.

Wireless house phones have a range of 20 feet.

Bluetooth connections have a range of 20 feet.   
8. Examine the Cable Connections
If there is a power failure, the connection may be disrupted. Examine all cables for any severe bending. Users can also replace their cables to fix disconnecting problems on Cox. These are typical wires that are simple to locate and purchase online.
9. Avoid Internet Peak Hour
There are occasions when there is no technical error at all; you are simply utilizing the internet during peak hours. This peak hour occurs around 6 to 10 pm. Since several users are connected to the network during that moment, users will be unable to use their Cox services, even if they have subscribed with the largest amount.
Run a speed test during peak hours to discover how much speed is being obtained and plan the data usage accordingly. It is never a suitable time to install or upgrade any application, play games, or stream videos.    
10. Getting Rid of Unwanted Social Network Devices  
The more devices that log in to your Wi-Fi network, the slower speed received by each mobile user. This is why Cox is dropping connections. When compared to mobile devices, televisions and PCs require more data. The Wi-fi and broadband connection are separated, and occasionally the router is the only problem. Can you connect to the internet if you attach an Ethernet cable to the device? Yes, but it will depend on the type of network your smartphone can handle. 
11. Using ADSL Connection
In the case of an ADSL connection, this could indicate that users have cellular devices, a FAX machine, or even a Smart tv or safety monitor connected to the network without a proper firewall being installed. This is the reason Cox keeps dropping connection.
12. Satellite Internet Services
A drop-out can occur when there is a fault with the cable or hardware at the end of the coaxial cable. This also applies to ADSL. Dropouts in satellite internet services can be caused by a mismatched antenna or by a bad weather forecast. Mobile Internet speeds might result in poor signal strength.
Read More: 5 Best Satellite TV No Credit Check No Deposit Providers
13. Contact Customer Service
Some issues are unsolved on your own. If you've tried everything within these points and your Internet service is still causing issues, it's possible that there may be a network disruption or a security issue. Contact your ISP and describe your issue, they will ask about the current status of status lights and they will solve your issue after some time. 
14. Standard Cable Services
Cox services take pride in supplying its customers with basic HD cable TV providers. Presently, the package includes a stable cable provider. The firm also offers Digital Video Recorders to the customers. Along with cable, the service also provides unlimited internet and high-quality telephone services. The organization offers internet connections with speeds up to 1000 Mbps which could help fix Cox disconnection issues.      
15. Hit Restart
Shut down the devices that are connected to your Wi-Fi network. Sometimes users connected to the network more than the limit is the reason why Cox internet is constantly disconnecting. Turn off your smartphones and tablets, shut down your PC or laptops.
Final Words
In the US, there are numerous digital channel internet service providers. As a result of its high-quality features, Cox Internet users may expect a better networking experience. The above guidelines have explained to the customer to go through examining cables to optimize Wi-Fi signals by reducing Wireless interference.
The reason why Cox Internet keeps disconnecting is that the amount of time-out errors being found on the router causes the connection to a dropdown. Lastly, contact the company's customer service department to explain the situation of your Cox Services to a technician. Remember to tell them you've tried all of the basic solutions so they can help you further.
Read More: