The popularity of Samsung TV is worldwide and none can deny it. Usually, Samsung TVs offer a platform for viewers to access various streaming apps in the most convenient way. Indeed, this platform is now jam-packed with thousands of TV apps. For this reason, people often look for the best Samsung Smart TV apps for adults. To fill their quests, we've compiled a list of the best Samsung TV apps for adults. Whether you prefer TV shows, movies, or documentaries, these apps offer an abundance of entertainment options. Read on to discover the top Samsung TV apps you are wishing to learn about earlier.
What Are Best Samsung Smart TV Apps for Adults?
For sure, there are thousands of free TV apps available for Samsung smart TVs. But you cannot guarantee that all of them are worth your time and money. However, before you install some apps for your Samsung TV, how about having a glance over the best Samsung TV apps for adults? Let's check it.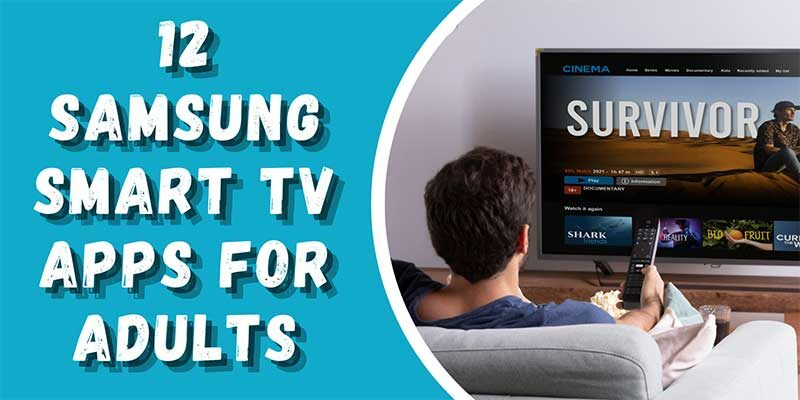 1. Samsung TV Plus
If you have bought a Samsung TV, you already have Samsung TV Plus on your TV. This free app offers a bucket full of live TV channels, including news, sports, entertainment, and lifestyle programs. And for that, you don't need a cable or satellite subscription. Unlike traditional cable or Satellite TV, there is no need to install additional hardware or sign up for a subscription.
Features
Channels are organized into categories such as News, Movies, Sports, and Lifestyle.
Offers over 100 channels, including popular networks such as NBC News, CBS News, Bloomberg TV, and Cheddar.
You will get thousands of on-demand content, including movies, TV shows, and documentaries.
Can be upgraded to a premium version of the app, which offers an ad-free experience.
Free for Samsung TV users.
Learn More
2. AccuWeather
If you are always concerned about the weather, this is for you. AccuWeather is a popular weather forecasting application that is available for Samsung TV users. You will get all the real-time weather updates and detailed forecasts for your current location and other locations worldwide. This app will simply bring you almost all weather information, including temperature, humidity, wind speed, and precipitation.
Features
You can check the weather conditions and forecast for your location without having to switch to another device.
Lets you track severe weather conditions such as thunderstorms, hurricanes, tornadoes, and other natural disasters.
Also, provide alerts and updates on severe weather in your area.
Comes with a simple and intuitive interface that makes it easy to use.
You can also customize the weather forecast display to suit your preferences.
3. Steam Link
Hello, Gamers! Would you like to stream your PC games directly onto their Samsung smart TV? If yes, Steam Link is a game-changing app for you. This app simply lets you enjoy your favorite games on a bigger screen. For that, you don't need a gaming console or a dedicated gaming PC at all. Its FULL HD resolutions simply make it an ideal app, especially for gaming enthusiasts who want the best possible gaming experience.
Features
This app is designed to work seamlessly with almost all Samsung smart TVs.
It offers a high-quality streaming experience with low latency and high resolution.
Lets you play games in Full HD resolution at 60 frames per second.
It is easy to browse your Steam library and select the game you want to play.
Also, it can stream games from the PC to the TV without losing the original quality or performance.
4. Plex
Usually, Plex is a popular media server and well-known streaming platform that lets users organize and access their personal media library from any device with internet connectivity. And now, it has launched its TV app for smart TV users, especially Samsung TV owners. You can get this app in the Samsung app store and install it from here for free. After signing in, you can enjoy unlimited transcodes media files.
Features
Plex simply makes it easy to access and stream your media library.
Lets you browse your media files by the library or individual files.
You can also search for specific titles or genres to find specific files with this Samsung Smart TV app for adults.
It indeed lets you convert files to a compatible format for your TV, regardless of the original file type.
This app offers a bucket full of streaming options, including access to free, ad-supported content and premium channels
5. Netflix
Regardless of the topic, if it's about just any TV apps, the list won't be completed with Netflix. It is indeed the best app for Samsung TVs to access the vast library of movies and TV shows available on the streaming platform. You will simply get this app pre-installed on your TV if it's a smart one. It offers outstanding video quality so that you can enjoy your favorite shows and movies in stunning detail and clarity.
Features
It comes with a clean and intuitive interface that makes it easy to navigate through the extensive library of content.
You can simply browse movies and TV shows by genre, popularity, or release date.
It lets you stream content in high-definition (HD) or ultra-high-definition (UHD) quality.
You can create separate profiles for each member of the household, with personalized recommendations, viewing history, and watchlists.
Users can use the built-in search function of this app for newly released recommendations.
6. HBO Max
I'm sure that you are familiar with HBO as the most popular TV channel. And HBO Max is a streaming service that offers a variety of TV shows, movies, and original content to subscribers. Now, HBO Max is available for Samsung TV users in the form of an application. HBO Max is specially optimized for Samsung TVs so that users can enjoy high-quality video and audio on their TVs.
Related Article: What Channel is HBO Max on Spectrum? Update Guide 2022
Features
By creating a profile, you can save your favorite shows and movies in the library.
The user experience of this app is almost a hundred percent customizable.
Lets you turn on or off the Autoplay feature, adjust the video playback quality, and customize the subtitle settings.
You can also stream content in 4K Ultra HD resolution with this Samsung Smart TV app for adults.
A compatible Samsung TV and a high-speed internet connection is the only requirement for this app.
7. Prime Video
Prime Video is a creation of Amazon, and I'm sure you are familiar with it. Usually, this one is a popular streaming service that allows users to watch movies, TV shows, and original content from Amazon Studios. Currently, it is available on a variety of platforms, including Samsung smart TVs. If you love shows like The Marvelous Mrs. Maisel, Jack Ryan, and The Boys, this one is your must-have.
Related Article: Prime Video Not Working on Firestick? – 13 Solutions
Features
It is popular for its vast library of content, including popular TV shows, movies, and original content produced by Amazon Studios.
This app offers parental controls to restrict access to content that is not appropriate for children.
You can simply create multiple profiles for different members of your household, each with your own watchlist and viewing history.
It also uses your viewing history and preferences to suggest new content that you might like.
You can also download your favorite movies and TV shows to watch offline.
More Samsung TV User Apps for Adults
These are the most popular Samsung Smart TV apps for adults though there are many others like these ones. If you are wondering to learn more, you can check out some more options, listed below.
Final Call
Whether you're into movies, TV shows, documentaries, or live TV, there is an app that caters to your needs in your Samsung TV. The apps listed above are some of the best Samsung smart TV apps for adults that provide unlimited access to quality content. With these apps, you're guaranteed hours of entertainment. Best of luck and thank you for your time.