Genie Mini is a device that connects DirecTV to the main Genie DVR and it comes with both wired and wireless design. To access a huge number of programming, record content and install free TV apps these devices are greatly demanded. You can also watch recorded programs and contents in four divided parts at once using these devices. Genie Mini is very easy to use because it's come with a remote controller.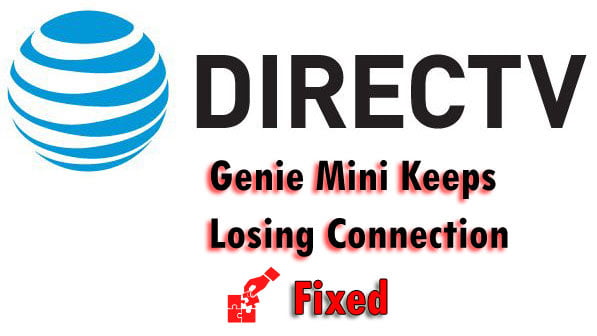 So, using this you can move your programs, stream/watch live tv shows; record, rewind and pause-proceed your content on television. This remote is great because of its reliability and little structure. Although some users, especially those who are new to Genie have faced some problems. One of the common issues marked by few users is that their Genie Mini keeps losing connection for over a few months.
If you're also facing the same situation, operate the system test to the receiver. If you can't figure out a valid reason for this error, there are a few steps you can put up with to troubleshoot DirecTV issue.
3 Steps to Fix Genie Mini Keeps Losing Connection
1. Using Reset button
Several users use their Genie Mini to replace their original mini device. Often non-wiped and rebuilt device models are given to them. Genie Mini can't find the wireless video bridge with what it was connected to as a consequence.
To resolve this you just need to hold down the red reset button for a minute. Your device will be reset 2 times. After this process, your earlier cached data will be wiped and your device will work freshly. afterwards, you're able to connect using the add client switch.
2. Move Towards to Video Bridge
If the first step didn't work for you to fix the connectivity issue, you can do another thing is shifting wireless mini nearby video bridge. There isn't a necessity to be plugged into your TV's port. Simply move toward your mini to the power jack and notice the LED light.
Green fine light indicates good signal, yellow fine light indicates moderate signal and finally red fine light indicates bad signal. This also indicates your mini isn't recognizing the video bridge. There may be technical issues that occurred to your mini device as well.
3. Ensure Your Mini's Connectivity
Check your mini whether it's connected or not. If you notice not connected, connect it using the leading Genie box. Check "Settings And Help" Then go Settings and Whole-Home afterwards. Now select "Manage Client" You'll find an option to add clients. Select the options and follow added instructions.
What to do when these steps are no longer accessible?
There might be some inward issues that occurred that's why you're finding it a little hard to fix connectivity. Contact a Genie technician near your location or mail them to notify the current problem and to resolve it.
DirecTV Related Posts: