When looking for a new cell phone plan, you should compare carriers based on what you need. Think about how much data and apps you use, as well as any extras you might want, to figure out which plans give you the most for your money even though the plan isn't well known.
Selectel Wireless is a new company that wants to be an ISP. It has some of the best unlimited plans in the industry, great coverage, and a fast-growing 4G network that offers speeds. It's one of the most powerful prospects out there, no doubt about that.
So, is Selectel Wireless worth the money? We think you'll like Selectel Wireless' options if you're looking for the best coverage and no limits. Read on to find out everything you need to know about selectel wireless plans.
Selectel Wireless Plans Overview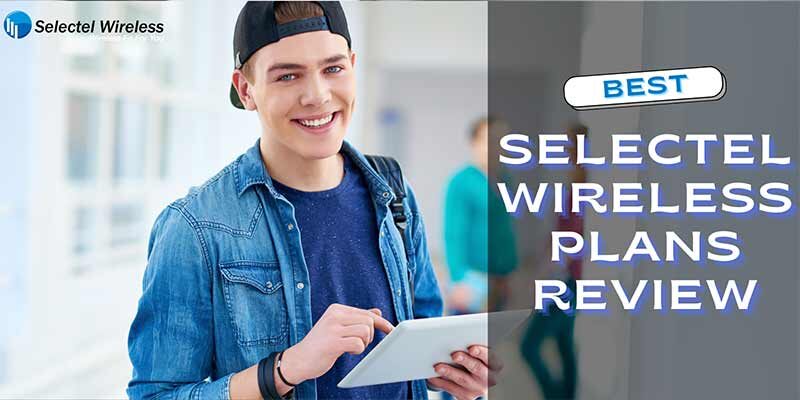 Founded in 2008, Selectel Wireless has now expanded to become a part of the national prepaid mobile industry. What's more, Selectel provides trustworthy countrywide options that include low-cost mobile phones with no commitments.
Selectel Wireless began operations as a local exchange carrier that resold landline service from Verizon and CenturyLink. After opening its first retail location in Fremont, Nebraska in 2013, when it started providing cellular service to local landline customers, the firm expanded into other areas. Over a decade later, the company has over 13 brick-and-mortar locations in the states of Nebraska and Kansas and more than a thousand independent dealers throughout the United States. Also, you can buy Selectel plans and SIM cards online on their website or from independent sellers on eBay.
When it comes to cost-effective data plans, it is one of the few MVNOs, if not the only, that can match the quality of service that Verizon's postpaid customers get.
What Plans Does Selectel Wireless Offer?
Selectel Wireless provides free phones and cheap prepaid plans at a wider range of minutes than its competitors. There are a total of six different Monthly plan options for mobile phones.
$15 Monthly Plan
This plan is the most cost-effective option offered by Selectel Wireless. 500 voice minutes, limitless texting, and 250 MB of data are all included in the package. You'll be covered everywhere in the country by Verizon, one of the largest networks in the United States. Selectel Wireless' BYOP (Bring Your Own Phone) service allows consumers to preserve their existing phone number while using their own unlocked 4G LTE and VoLTE devices. Children and older people don't need a lot of data, so this plan is perfect for them.
$25 Monthly Plan
Selectel Wireless' package for light to moderate data users is just $25 per month. The package includes HD Voice, Unlimited National Talk Time and Texting, and 250MB of 4G LTE data per month. In addition, with their BYOP service, consumers may use their own unregistered 4G LTE and VoLTE-ready smartphones.
This one is fantastic if you need to use it just sometimes. Like Selectel's previous plans, this one will automatically switch between 4G and 5G networks, whichever has a better signal in your area.
$30 Monthly Plan
If you're in the middle of the pack as far as data use goes but would like a little extra data, this is the plan for you. This plan offers unlimited talk and text throughout the nation, 5GB of data on LTE before dropping to 2G speeds, and nationwide coverage from the largest and most secure network in the United States. Like the other tiers of data, the 5GB can be used for hotspots at full speed.
Instead, you can take advantage of extras like a complimentary mobile hotspot, free HD video streaming, and a Bring-Your-Own-Phone (BYOP) program. Since their network is based on Verizon's, they have excellent coverage. Many people believe it to be the most cost-effective data plan available.
$40 Monthly Plan
If you use the internet often, the Selectel Wireless $40 Package is your best option. From an objective standpoint, the price is hard to beat when considering the inclusion of unlimited calling, texting, and downloading up to 10GB of 4G LTE data, after which you'll be downgraded to 2G. Except if you are a heavy user of streaming video or online gaming, 10GB of data should be more than plenty for your smartphone.
As the only totally limitless option, the $40 plan is a no-brainer for our pick as the best. Cell phone users get one month of unlimited data, perfect for online gaming and video streaming.
$50 Monthly Plan
The companies' $50 monthly plan includes the standard features like unlimited talk time, texts, and data throughout the country. For the second time, the very first 15 GB will be available at 4G speed, and after that, you'll drop to 2G. By doing so, you can take advantage of unlimited domestic calling without increasing your monthly cellphone bill. At this price, the package is cheaper than major carriers' unlimited plans.
Those who do business or attend school online and need video call coverage will find this to be an excellent solution. Customers who primarily need to engage in casual online gaming might also benefit from this package.
$60 Monthly Plan
There is no better Selectel Wireless plan than this one. Voice Minutes, Text Messages, and Data are all Unlimited. After 45 GB, the internet rates go down, but the total amount of data is uncapped. If you're a gamer that needs a lot of processing power for MMOs, this is your best option. iPhones come with the Mobile Hotspot functionality pre-installed. You can get this function on Android smartphones too, but you have to request it first.
Data Speed can change depending on a number of factors, such as the number of customers, the abilities of each device, and also the availability of the right equipment. Those who often download huge files, watch films online, or do academic or professional activities from home would benefit the most from this service.
Learn More: The Best Mint Mobile Deals for Existing Customers 2022
Selectel Wireless ACP
Selectel Wireless is one of many providers that are taking part in the new Affordable Connectivity Program, which is run by the FCC (ACP). Free government mobile phones and discounted internet connectivity each month let low-income families remain connected via this initiative.
Selectel Wireless ACP offers a $30 per month plan at no cost to those who participate in government assistance programs such as SNAP, Medicaid, WIC, SSI, etc.
Get New Phone
Switching to a different carrier is a great way to get a free phone. Selectel Wireless often gives out a small number of phones to new subscribers without requiring a trade-in. These free phones probably won't be as high-end but they'll still be useful. Here are the phones they offer: Samsung Galaxy A42 5G, Motorola One Ace 5G, Samsung Galaxy A12, Samsung Galaxy A03, or Moto G Play,
Parting Words
Selectel Wireless is the upcoming great no-contract mobile phone service provider in the country, offering low-priced phones and excellent unlimited data packages. There are several internet options available to Selectel Wireless clients, each with its own download and upload speeds and price point.
This network has some problems, like slow data speeds, no international roaming, and no 5G network. But there are no contracts, they provide free phones, are one of the cheaper options, and customer service is available 24/7. Then why wait? It's time to start using the fantastic Selectel Wireless Plans.
More Post to Learn