The Dasher Direct Card is a banking solution provided by Stride bank and powered by Payfare and Visa to give dashers exclusive rewards and more flexibility and control over their wages. The Dasher direct card is specifically for dashers (DoorDash delivery drivers). Cardholders get to enjoy wonderful benefits like no-fee daily deposits on their earnings, cash-back rewards plus so much more. So how to activate Dasher Direct card? Read on to find out.
How to Activate Dasher Direct Card?
To activate the Dasher Direct Card (or as it's also known as the DoorDash Direct card), you need to download the Dasher app from Google Play Store or the App store. After you install the Dasher direct app, follow the steps below:-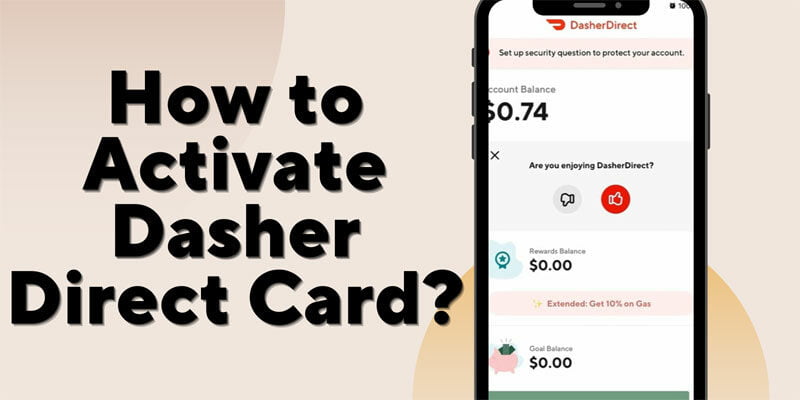 Open the app on your phone
Next, click on the get started option
Follow the instructions provided until you're prompted to activate your card.
You can activate the card in two ways (1). Scan the QR code on the DasherDirect card. (2). Manually enter the card details.
Next, create a pin for your DasherDirect card.
After that, you can make transactions using the card.
The other way to activate your Dasher Direct card without login details entails:
Open the DasherDirect app on your mobile phone
On the main menu option, tap on the Manage card
Next, tap on the 'Activate your card' option
Type the last four digits of your DasherDirect card number and the expiry date
Alternatively, you can scan the QR code on your card
Lastly, you complete activation by creating your pin.
The DasherDirect app is vital for activating the Dasher Direct card. You also need the app if you want to use the card before getting the physical one. It's important to note that the Dasher Direct app differs from the Door Dasher Driver app as the former is designed to help with digital financial transactions.
How to Activate the Dasher Direct Virtual Card?
The Dasher Direct automatically gives users a virtual card as they wait for a physical card. This card allows you to access your earnings automatically daily, pay bills, make online purchases and complete money transfers as you wait for your physical card. This card automatically becomes inactive once you activate your physical card. First, you'll need to apply for the Dasher Direct card. You're required to provide your basic information, including your:-
Name
Date of Birth
Home address
Social security number
Copy of your driver's license
You can apply online or go to the 'Earnings' tab on your Dasher app and fill out the application. Moreover, you must have an updated DasherDirect app, should be an active DasherDirect employee, and must be at least 18 years old. Most applicants are approved right away once they complete their application. They'll email you if Dasher requires more information to complete your application. It may take up to three business days for you to receive a response on your approval.
Once approved, get the app from Google Pay or the App store. You follow the steps listed above to activate your dasher direct card to activate the virtual card. Your virtual card number has the same number as your physical card. The only difference is the expiration date and the security code (CVV) will differ. You get immediate access to your Dasher Direct virtual card as soon as you set up your details in the Dasher Direct app. It may take up to 10 days for your card to arrive via mail.
How Does the Dasher Direct Card Work?
The Dasher Direct Card/Dasher, Direct Visa card, is designed to provide unique and convenient services to dashers in the U.S. One of these services is a loyalty and rewards program that provides users with:-
Instant Pays for No Fee
DasherDirect lets you deposit your earnings from your deliveries instantly at the end of every dash for no cost, making it convenient for you to access cash when you need it. For security reasons, DirectDash has a daily payout limit of $1000. The balance is forwarded to your next payout if it exceeds $1000. Other platforms like Fastpay will require you to pay almost $2 to get money daily. If you want to get your funds quicker without incurring fees, DasherDirect is your best option.
Similar to a traditional debit card, you can perform any purchases and access no-fee ATMs within the AllPoint network. You can manage the functions of the card via your DasherDirect app.
You get 2% cash back on gas at any station, anytime, which helps you save a lot over time. If you spend $100 weekly at the pump, you save $2, which accrues to about $96 a year.
Instant access to your earnings (including tips).
The DasherDirect card is a prepaid visa card that you can use anywhere where a visa is accepted and at any ATM. You can use the DashDirect app to find any free or low-cost ATM near you. Since it's a debit card, you only spend what's in your account, so you should always check your balance.
What to Do if I Lose My Dasher Direct Card?
Now that we've covered how to activate Dasher Direct card and how the card works, questions abound on what steps to take should you lose the card. The steps you should take are:-
Go to the DasherDirect app
Click "Manage card."
Mark the card as lost
Complete the steps to order a new card
Once you do that, you'll get temporary access to a virtual card that you can use to make online purchases, pay bills, transfer money, and receive direct deposits while you wait to get your new card.
Learn More
To Conclude
The DasherDirect card is a must-have for any dasher in the U.S. The card comes with many perks, including 2% cash back on gas. DasherDirect offers a simple way to manage your earnings, all without worrying about overdraft fees or minimum balance requirements. You can activate your DasherDirect card via their app and begin enjoying the benefits instantly.